Database Overview
Grand View Research's insulation industry database is a collection of market sizing information & forecasts, trade data, pricing intelligence, competitive benchmarking analyses, macro-environmental analyses, and regulatory & technological framework studies. Within the purview of the database, such information is systematically analyzed and provided in the form of outlook reports (1 detailed sectoral outlook report) and summary presentations on individual areas of research.
Insulation Industry Data Book Scope
Attribute

Details

Areas of Research

Insulation Market
Industrial Insulation Market
Building Thermal Insulation Market
Active Insulation Market
Electric Vehicle Insulation Market
Aerospace Insulation Market

Number of Reports/Presentations Covered in the buddle

1 Sector Outlook Report + 7 Summary Presentations for Individual Areas of Research

Cumulative Coverage of Countries

15+ Countries

Cumulative Coverage of Application

10+ Products

Highlights of Datasets

Demand/Consumption, by Countries
Competitive Landscape
Insulation, by region
Insulation Industry Data Book Coverage Snapshot
Markets Covered

Insulation Industry

USD 65 billion in 2022

Insulation Market Size

USD 65,064.2 million in 2022

5.7% CAGR (2022-2030)

Industrial Insulation Market Size

USD 8,384.5 million in 2022

5.1% CAGR (2022-2030)

Building Thermal Insulation Market Size

USD 33,576.6 million in 2022

4.8% CAGR (2022-2030)

Active Insulation Market Size

USD 272.54 million in 2022

4% CAGR (2022-2030)

Electric Vehicle Insulation Market Size

USD 1,792.1 million in 2022

19.5% CAGR (2022-2030)

Aerospace Insulation Market Size

USD 9,822.2 million in 2022

4.2% CAGR (2022-2030)
Insulation Industry Outlook
The economic value generated by the insulation industry was estimated at approximately USD 65 billion in 2022. This economic output is an amalgamation of businesses that are involved in the manufacturing of insulation materials, distribution & supply, and application of insulation.
Stringent regulations regarding safe environmental conditions and rising development of sustainable buildings & infrastructure are expected to promote the use of insulation materials in industrial processing facilities, transportation and construction sector.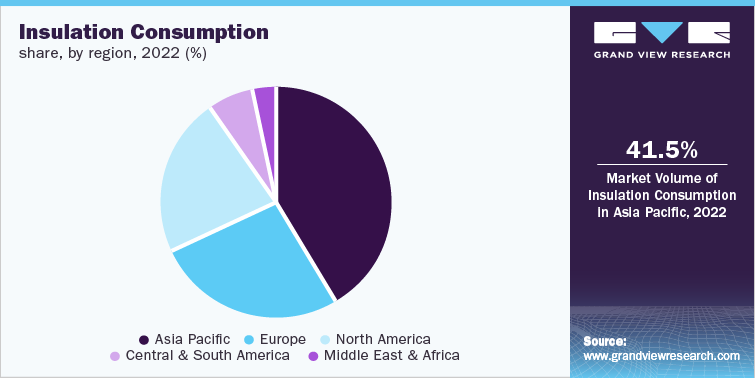 Asia Pacific dominated the market in 2022 with revenue share of over 41%. Rapid economic development in the emerging economies in the region is leading to the expansion of the building infrastructure and industrial clusters, thus promoting the usage of insulation materials across various sectors. In addition, workplace safety regulations and environment protection policies by local authorities have mandate the facility operators to use advanced insulation materials to maintain safe working environment.
Industrial Insulation Market Analysis And Forecast
Power generation segment dominated the industrial insulation market in 2022, with a share of over 29%. The demand for insulation materials in the thermal power generation industry to minimize the energy losses is one of the primary reasons driving the industry growth. The use of insulation materials for turbine insulation is also expected to promote the growth of the industry over the forecast period. The market is also expected to rise on account of increasing energy requirements by the economies across the globe. In addition, growing concerns regarding the energy management among the power generation industry across the globe is expected to drive the market growth over the forecast period.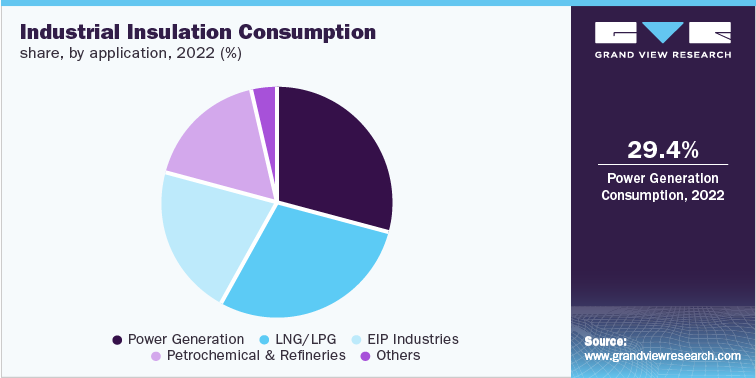 LNG/LPG segment accounted for the second largest share of the insulation materials market in 2022, with a share of 28%. This is attributed to the demand for natural and petroleum gas across the globe has led to the establishment of an extensive storage and transportation infrastructure for the same. High risk involved in the transportation and storage of the aforementioned products leads to the usage of extensive insulation products by the players in the industry.
Building Thermal Insulation Market Analysis And Forecast
Increasing demand for energy-efficient buildings, owing to the stringent government regulations, and rising awareness regarding environmental degradation, is anticipated to fuel the demand for thermal insulation for residential, non-residential, commercial, and industrial buildings. Favorable government policies coupled with increasing awareness in regions such as Asia Pacific and Central & South America is expected to remain the key driving factor for the growth of the market. World Green Building Council (WorldGBC) and International Energy Agency (IEA) are the key organizations working on green building concept and guiding builders for energy-efficient construction, which is likely to further propel the demand for the thermal insulation.
EPS exhibit excellent dielectric strength, and resistance to chemicals, heat, and moisture, making it a preferred material for insulation of electric component in building applications. Foamed plastics are expected to witness significant demand for building insulation applications, owing to the energy efficiency regulations imposed by various governments across the globe. In addition, the various advantages provided by the product such as cost effectiveness and resistance to dust & moisture accumulation is expected to boost its demand.
Active Insulation Market Analysis And Forecast
The demand for active insulation solution is growing at a significant pace owing to its inherent property of thermal management to various products like textiles and construction elements. The demand for active insulation products is fueled by consumer preference, product innovation, and increasing market penetration. The products are widely used in the textile industry and most of the demand arises from the active wear and sportswear segments.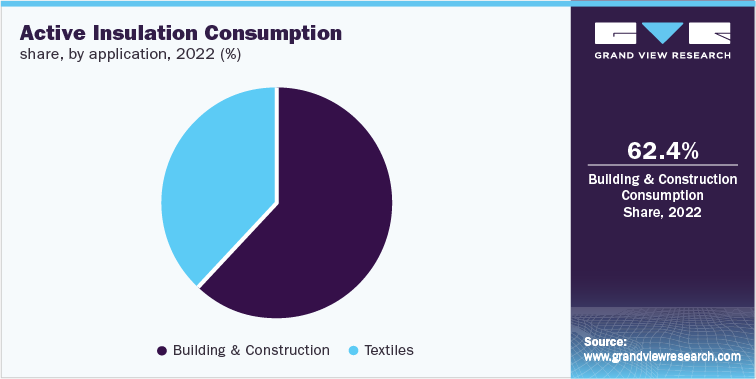 The broad variety of fibers are used for manufacturing garment active insulation as no single fiber structure could provide all required properties for high-performance apparel such as activewear and sportswear. Several types of fibers are used for different utilities depending upon application requirements, as the characteristics of fabric are primarily dependent on its base fiber's properties. The major properties considered while selecting the fiber are fiber type, thickness or weight of the material, weave construction, and presence of chemical treatment.
Electric Vehicle Insulation Market Analysis And Forecast
An exponential rise in demand for hybrid and electric vehicle segments following to curb the vehicle emissions across the globe has created a growth prospectus for the insulation materials in the said market. China and European regions are major manufacturing destinations for advanced vehicles owing to the presence of prominent manufacturers, thus has influenced the insulation manufacturers to target these regions.
Various factors are contributing to the substantial rise in the electric vehicle demand for instance the electric vehicles are increasingly becoming more competitive in several countries in terms of total cost ownership. In addition, governing bodies across various countries are offering fiscal incentives that bolstered electric vehicle purchases.
Aerospace Insulation Market Analysis And Forecast
Global aircraft manufacturing industry is expected to strengthen its growth in the coming years. Stable commodity prices, recovery passenger demand post-covid, and recovery in global gross domestic product (GDP) are likely to ramp up the growth of commercial aircraft market, consequently boosting the demand for aircraft. Heightened security threats and increased military expenditure from rising global powers such as India, China, and Japan are expected to drive the demand for military aircraft, thereby driving the growth of aircraft building materials, thus influencing the insulation materials demand.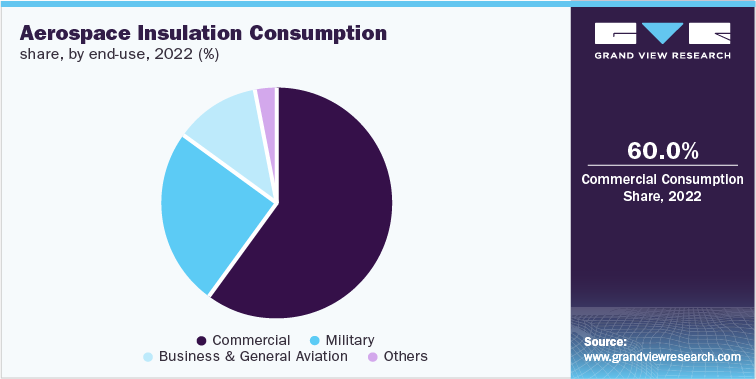 North America contributes the largest share to the market, owing to the presence of key aircraft parts manufacturers coupled with the huge aircraft manufacturing industry in the region. Europe ranks second, followed by Asia Pacific, which represents the one of the fastest growing region, due to the huge growth in passenger traffic owing to increasing per capita income and growing population.
Competitive Insights
Global insulation market is competitive nature, owing to the presence of large number of major players in the market. Major players, such as Rockwool Technical insulation, Paroc Group, Knauf Gips KG hold the majority of market share, due to their vast product portfolio and wider geographical reach. These companies develop a strong business model in order to adapt to the market volatility and any technological & geographical change. The players prefer to maintain strategic relationship with their raw material suppliers in an attempt to maintain a steady supply.
Unlike other markets, the player in the global market is more inclined towards increasing their market share through organic growth, rather than mergers and acquisitions. Companies in the market are focusing on expanding their product portfolio by developing cost-effective insulation products with enhanced properties.
In October 2019, the Knauf Insulation announced the launch of its new rock mineral wool plants in Illange, France, with an investment of USD 124.78 million. This new plants is expected to have an annual production capacity of 110,000 tonnes of rock mineral wool.
In April 2018, the Owens Corning announced the acquisition of Guangde SKD Rock Wool Manufacture Co. Ltd., a China-based mineral wool manufacturer for building & technical applications. The acquisition is expected to expand company's technology portfolio and broaden its customer reach.
In February 2018, the Owens Corning announced the completion of acquisition of Paroc Group, a Europe-based producer of mineral wool for building and technical applications, for USD one billion. This acquisition is expected to broaden its product portfolio and geographic scope in Europe.