Database Overview
Grand View Research's insulation sector database is a collection of market sizing information & forecasts, trade data, pricing intelligence, competitive benchmarking analyses, macro-environmental analyses, and regulatory & technological framework studies. Within the purview of the database, such information is systematically analyzed and provided in the form of outlook reports (1 detailed sectoral outlook report) and summary presentations on individual areas of research.
Insulation Industry Data Book Scope
Attribute

Details

Areas of Research

Board Insulation Market
Blanket Insulation Market
Pipe Insulation Market
Other (Foam) Insulation Market

Number of Reports/Presentations Covered in the buddle

1 Sector Outlook Report + 4 Summary Presentations for Individual Areas of Research

Cumulative Coverage of Countries

10+ Countries

Cumulative Coverage of Application

5 Application

Highlights of Datasets

Demand/Consumption, by Countries
Competitive Analysis
Insulation Market, by Application
Insulation Industry Data Book Coverage Snapshot
Markets Covered

Insulation Industry

USD 53.34 billion in 2022

4.7% CAGR (2022-2030)

Board Insulation Market Size

USD 12.85 billion in 2022

3.6% CAGR (2022-2030)

Blanket Insulation Market Size

USD 14.50 billion in 2022

5.6% CAGR (2022-2030)

Pipe Insulation Market Size

USD 17.71 billion in 2022

5.3% CAGR (2022-2030)

Other Insulation Market Size

USD 8.26 billion in 2022

3.1% CAGR (2022-2030)
Insulation Sector Outlook
The economic value generated by the insulation industry was estimated at approximately USD 53.34 billion in 2022. This economic output is an amalgamation of businesses that are involved in the manufacturing of insulation, distribution & supply, and application of insulation.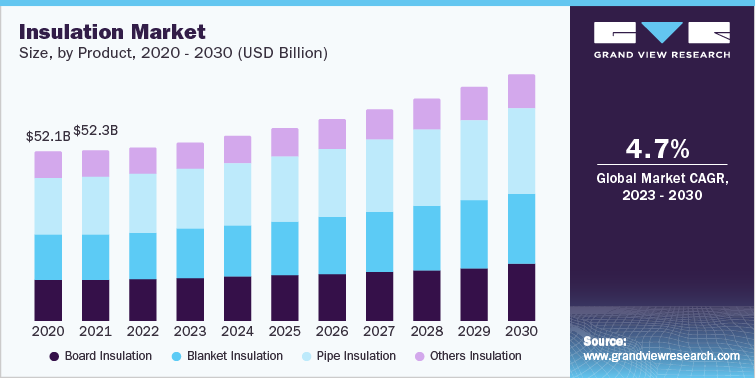 The growth of the chemical processing industry globally is expected to have a significant impact on the demand for pipe insulation materials. Industrial pipe or process piping is generally used to transport water, steam, and industrial gases at varying temperatures around an industrial facility. The term industrial pipes is inclusive of various types of plumbing systems that carry liquids and gases used for heating and cooling purposes. Industrial pipes are expected to withstand highly aggressive environments. These pipes are generally made of steel, cast iron, copper, or specialty metals such as brass. Insulation of these piping systems helps reduce heat loss and conserve the energy required for heating and cooling the processed liquids.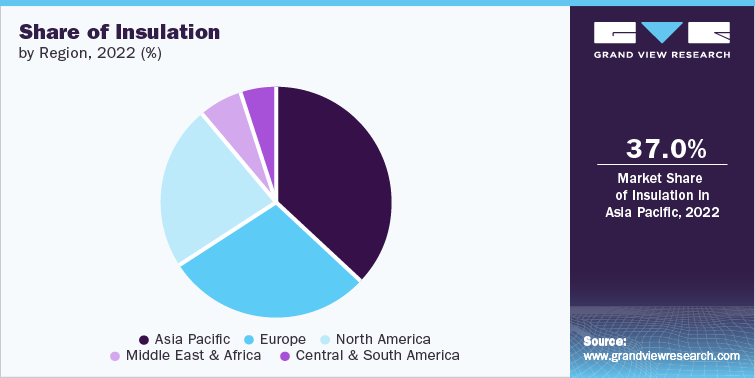 The market is characterized by the presence of emerging and developed countries, including China, the U.S., India, Japan, Germany, and the UK. Rapid economic growth, industrialization, and a growing population are a few factors driving the demand for insulation in these countries.
Board Insulation Market Analysis & Forecast
The board insulation market is growing at a significant rate owing to a rise in infrastructural and residential development as a result of the growing population across the globe. In addition, board insulation provides excellent thermal performance from ambient to high temperatures for mechanical, power, and process systems. Board insulation is widely used for industrial applications; owing to the low shrinkage it exhibits at high temperatures, to prevent the formation of gaps at joints to prevent thermal leaks.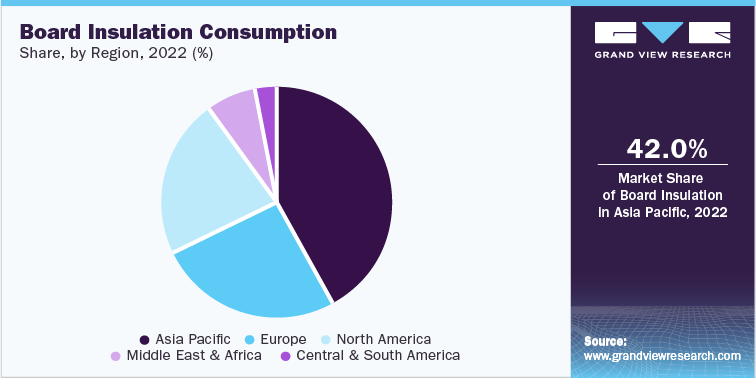 China dominated the Asia Pacific board insulation market and accounted for a revenue share of 54.6% in 2022, followed by Japan and India. The rapid development of the industrial and construction sectors in China and Japan is likely to propel the market in Asia Pacific. The stringent laws and guidelines introduced by regulatory bodies at the regional as well as international levels regarding equipment & facility protection are likely to trigger overall growth prospects.
Blanket Insulation Market Analysis & Forecast
Removable and reusable insulation blankets are commonly used for industrial applications, such as boiler, metal, and masonry walls. These blankets are self-contained insulation systems, which lower the operation costs by reducing energy consumption, and shorten the downtime. Removable insulation blankets are used where installation of conventional insulation is difficult; hence reduce the labor costs associated with installation, thereby driving the market. Additionally, increased infrastructure spending in the emerging markets of Asia Pacific and Latin America is expected to propel the blanket insulation market's growth.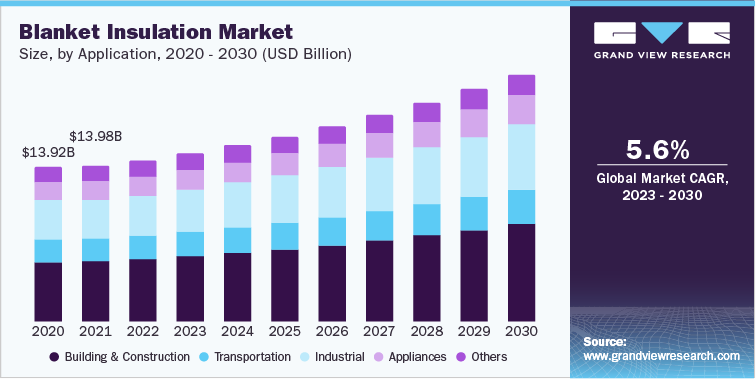 Blanket insulation is designed to provide excellent handling characteristics, thermal performance, and dimensional stability in applications including heat exchangers, storage tanks, stack installations, cooling towers, air conditioning ductwork, and large-diameter piping, among others. Increasing construction spending to improve residential, public, and industrial infrastructure in the region, coupled with the increasing adoption of energy conservation initiatives, is expected to drive the demand for blanket insulation over the forecast period.
Pipe Insulation Market Analysis & Forecast
Insulation products improve product performance by making manufacturing processes more efficient and providing exposed equipment and piping a finished and durable appearance. Industrial insulation offers frost protection of pipes at low ambient temperatures. Insulation is one of the economical and secure techniques of energy conservation. In addition, rising awareness regarding the benefits of insulation in industrial application and its related costs are expected to drive the market for industrial insulation across the globe.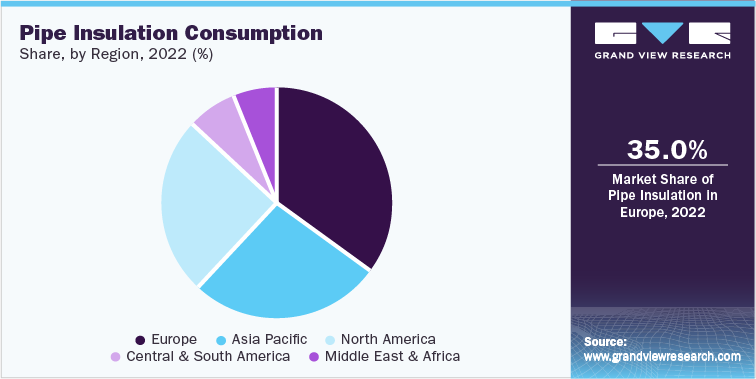 Europe has been at the forefront of the adoption of cogeneration or combined heat and power (CHP) technology. It refers to the simultaneous generation of electricity and heat recovery that was otherwise wasted during the power generation. According to statistics by the European Association for the Promotion of Cogeneration, approximately 11% of the total electricity within the European Union (EU) is generated using cogeneration. Additionally, cogeneration accounts for almost 15% of the total heat generated within the EU and has helped reduce the energy expenditure on heating and reduce greenhouse gas emissions. Thus, the growing popularity of cogeneration in various district heating systems within Europe is expected to drive the demand for pipe insulation over the forecast period.
Other Insulation Market Analysis & Forecast
The other insulation market includes foam-based blocks, materials in the form of loose-fill, foil-faced craft paper. The market is expected to grow at a significant rate over the coming years due to rising construction and renovation activities across the globe. In addition, increasing demand from the cryogenic application industry for specialized and customized insulation requirements, growth in remodeling activities, and government initiatives for the construction of affordable housing solutions are expected to fuel the growth of the other insulation market in the coming years.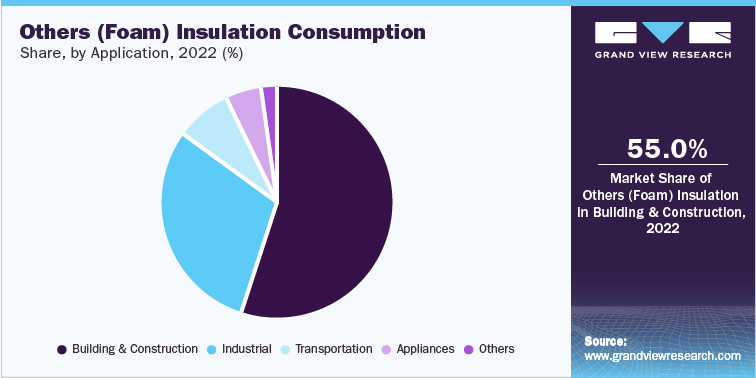 Building & construction and industrial application together accounted for the major market share of about 85% in 2022. Factors such as the rising population, rapid urbanization, commercialization, and growing investments in the construction of houses with smart technology saving energy are expected to boost the growth of the market in the country.
Competitive Insights
The global insulation industry is competitive, owing to the presence of a large number of major players in the market. Major players, such as Rockwool Technical Insulation, Paroc Group, and Knauf Gips KG hold the majority of the market share, due to their vast product portfolio and wider geographical reach. These companies develop a strong business model to adapt to market volatility and any technological & geographical change. The players prefer to maintain strategic relationships with their raw material suppliers in an attempt to maintain a steady supply.
Unlike other markets, the players in the global insulation market are more inclined towards increasing their market share through organic growth, rather than mergers and acquisitions. Companies in the market are focusing on expanding their product portfolio by developing cost-effective insulation products with enhanced properties. For instance:
In October 2019, Knauf Insulation announced the launch of its new rock mineral wool plants in Illange, France, with an investment of USD 124.78 million. This new plant is expected to have an annual production capacity of 110,000 tonnes of rock mineral wool.

In April 2018, Owens Corning announced the acquisition of Guangde SKD Rock Wool Manufacture Co. Ltd., a China-based mineral wool manufacturer for building & technical applications. The acquisition is expected to expand the company's technology portfolio and broaden its customer reach.

In February 2018, Owens Corning announced the completion of the acquisition of Paroc Group, a Europe-based producer of mineral wool for building and technical applications, for USD one billion. This acquisition is expected to broaden its product portfolio and geographic scope in Europe.