Database Overview
Grand View Research's Lubricants Industry database is a collection of market sizing information & forecasts, trade data, pricing intelligence, competitive benchmarking analyses, macro-environmental analyses, and regulatory & technological framework studies. Within the purview of the database, such information is systematically analyzed and provided in the form of outlook reports (1 detailed Industrial outlook report) and summary presentations on individual areas of research along with a statistics e-book.
Lubricants Industry Data Book Scope
Attribute

Details

Areas of Research

Industrial Lubricants Market
Automotive Lubricants Market
Marine Lubricants Market
Aerospace Lubricants Market

Number of Reports/Presentations Covered in the buddle

1 Sector Outlook Report + 4 Summary Presentations for Individual Areas of Research + 1 Statistic ebook

Cumulative Coverage of Countries

50+ Countries

Cumulative Coverage of Application

4 Application Categories

Highlights of Datasets

Product Data, by Country
Trade Data, by Country
Demand/Consumption Data, by Country
Industrial Lubricants , by product
Automotive Lubricants , by product
Marine Lubricants , by product
Aerospace Lubricants , by product
Statistic e-book
Competitive Landscape
Lubricants Industry Data Book Coverage Snapshot
Markets Covered

Lubricants Industry

USD 42.49 million tons in 2022

3.0% CAGR (2023-2030)

Industrial Lubricants Market Size

USD 16.24 million tons in 2022

3.1% CAGR (2023-2030)

Automotive Lubricants Market Size

USD 24.18 million tons in 2022

2.8% CAGR (2023-2030)

Marine Lubricants Market Size

USD 1.93 million tons in 2022

3.4% CAGR (2023-2030)

Aerospace Lubricants Market Size

USD 0.14 million tons in 2022

4.2% CAGR (2023-2030)
Lubricants Industry Outlook
The economic value generated by the lubricants industry was estimated at approximately USD 134.65 billion in 2022. This economic output is an amalgamation of basic lubricant product categories namely, industrial, automotive, marine, and aerospace lubricants.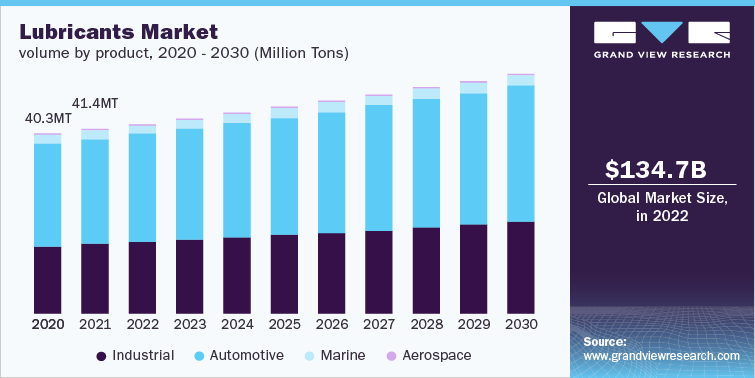 The global lubricant industry has been witnessing a significant change, particularly in terms of raw materials, owing to the rising demand for bio-based lubricants. Asia Pacific has emerged as one of the largest consumers of lubricants owing to the rapidly growing automotive industry along with industrial development in the region. The most extensively used lubricants in the Asian market include automotive engine oils, greases, and hydraulic fluids. The market in the Asia Pacific has started mirroring the American and European regulatory systems, and countries like Japan and South Korea are thus emphasizing eco-labeled lubricants.
Developing economies such as China, India, and Indonesia etc. are driving the manufacturing Industry across the globe. With an increased number of downstream and midstream projects, such as pipeline network expansion, LNG terminals, and downstream capacity expansion, the use of equipment has also increased, thus demand for specialized lubricants used for proper functioning of machineries will in turn increase for the forecast period.
Lubricants are extensively used in processing industries and automobile parts, especially in brakes and engines which need lubrication for continuous smooth functioning. With the growth in sales of automotive industry the projected consumption of lubricants in the manufacture and maintenance of vehicles is also expected to rise in the coming years. The following graph depicts the number of registered cars in the U.S. during the period 2016 to 2021.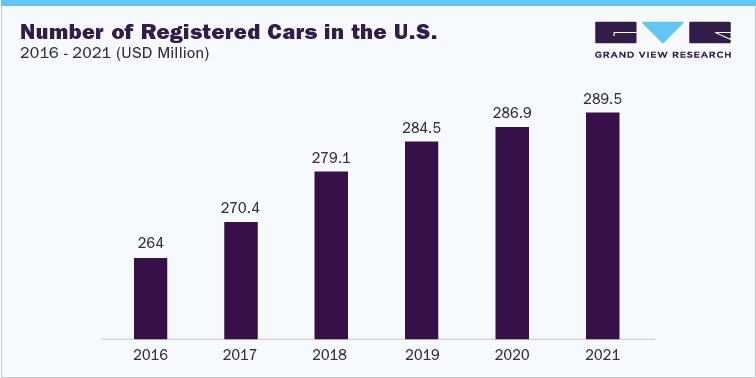 The top ten automakers in the U.S. include Volkswagen Group, Daimler, Subaru, Hyundai KIA, Honda Motors, Nissan Motor Company & Mitsubishi, Fiat Chrysler Automobiles, Toyota Motor Corporation, Ford Motor Company, and General Motors, which have been structuring automotive industry.
As per OICA the global motor vehicle production reached 8,01,45,988 in 2021. Growing disposable income of consumers is also expected to result in an increased demand for lubricants for automotive maintenance. Normalization of situation post Covid -19 has increased worldwide car as it grew to around 66.7 million automobiles in 2021, up from around 63.8 million units in 2020.
The growth of the lubricants is driven by rising focus of consumers on enhancing vehicle performance coupled with introduction of innovative & premium product offerings. The future growth will be highly dependent on motor vehicle production and miles covered by each vehicle.
Consumers are looking for standard and specialized lubricants for their regular vehicles to ensure the smooth functioning of their vehicles and reduce long-term maintenance costs. Automotive lubricant manufacturers are focusing on formulating products to enhance the performance of engine components while simultaneously reducing environmental degradation by minimizing carbon emissions.
The global lubricants industry is scrutinized by stringent regulations ranging from their production to use & disposal. Furthermore, the additives used in lubricant manufacturing are checked for their toxicity and potential to harm the environment. Some of the regulatory bodies influencing market dynamics include Occupational Safety & Health Administration (OSHA), Environmental Protection Agency (EPA), Registration, Evaluation, Authorization and Restriction of Chemicals (REACH), EU Council Directive & European Registration, Evaluation, Authorization & Restriction of Chemicals (REACH) standards.
Regulatory Body/Agency

Impact on the Lubricants Market

OSHA
(Occupational Safety & Health Administration) - Code of Federal Regulations

Breaks down the accumulative amount of bulk lubricant storage into 1,320 gallons of above-ground & 42,000 gallons of underground storage, which is set at 55 gallons by the EPA.

U.S. EPA (Environmental Protection Agency)

The EPA has categorized Environmentally Accepted Lubricants (EALs) in EPA Vessel General Permit based on ISO 15380. EALs have been segmented as HEPR, HETG, HEPG, & HEES and all new build vessel operators have been recommended to use seawater-based systems for their stern tube lubrication to eliminate the discharge of oil to the aquatic environment.

U.S. Department of Energy Weatherization Assistance Program (WAP)

Strategies implemented to improve the energy efficiency of low-income families such as granting USD 4.7 billion to weatherize more than 600,000 low-income homes in the U.S.

U.S. Department of Transportation (DOT)

Formulates fuel economy standards along with the National Highway Traffic Safety Administration (NHTSA), an agency within the U.S. Department of Transportation (DOT). It ensures that sustainable principles & practices are incorporated into the nation's transportation system to reduce environmental impact.

Deep Draft Lubricant Association

The focus of the association is to promote the common interest of firms and people engaged in the delivery of petroleum lubricants to deep-draft vessels in the waters of the U.S.

American Chemistry Council (Petroleum Additives Panel), 1990

The Petroleum Additives Panel aims to pursue the advocacy interests of the manufacturers, developers, and the additives used in the market to enhance the performance of industrial and automotive lubricants and fuels.

Automotive Oil Change Association (AOCA)

AOCA is a non-profit trade organization representing the expedient of automotive service industry. AOCA is devoted to enhancing the competency of fast lube owners, educating the consumers about the benefits of preventive automotive maintenance, and maintaining a favorable business environment for automotive industry.

California State Administration, U.S.

The Air Resource Board (ARB) regulated by the California State Administration has enforced guidelines for auxiliary diesel engines of various marine vessels, effective from January 2017. The airborne toxic control measurements formulated by the authority primarily aid in providing flexibility to vessel fleets that use shore powers or other alternative control technologies. Marine lubricants are expected to meet the terms with the requirements of these regulations to reduce harmful emissions.

Independent Lubricant Manufacturers Association

ILMA promotes integrity and quality in lubricant manufacturing, blending, packaging, marketing, and promoting. It also monitors technological development to assure the availability of the highest-quality product and the imposition of the most stringent standards in lubricant industry.
The lubricants market structure is highly fragmented with a large number of small, medium, and large players. The major differentiating factor is the depth of the product mix. Major companies are investing in upstream facilities to support their high margin downstream operations. The tie-ups with distribution companies and increasing territorial expanse are expected to influence market penetration over the forecast period.
Automotive Lubricants Market Analysis And Forecast
Automotive lubricants dominated the market with a share of over 55% in 2022. Growing sales of consumer automotive such as trucks, buses and other forms of passenger transport is expected to drive commercial automotive lubricants demand over the forecast period. Economic growth in emerging markets such as China, India and Brazil have led to betterment in public transportation in these regions. This trend is expected to further strengthen commercial automotive lubricants demand. Increasing sales of commercial vehicles such as heavy-duty trucks and construction automotive such as bulldozers, cranes and concrete mixers in the region is expected to complement the Middle East & African market growth over the forecast period.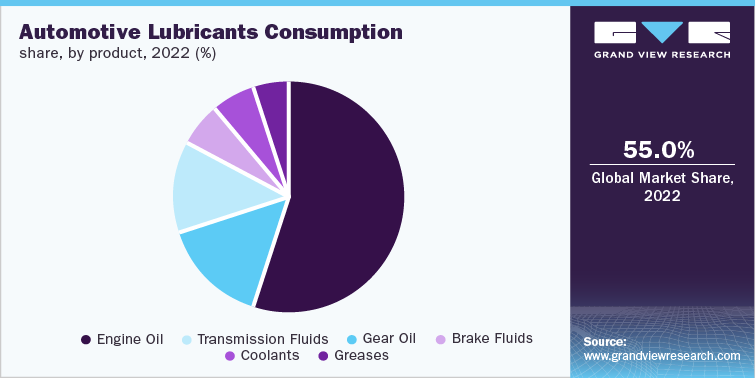 Engine oil accounted for more than 55% of the automotive lubricants share in 2022. Several associations such as SAE International and others have established a standard scale for engine oils globally. The grades depend on the type of engine, viscosity requirements, vehicle capacity, temperature and weather conditions, and other matrices. While fully synthetic engine oils provide high performance, good cold start in freezing temperatures, and minimize deposit build-up, synthetic blends provide benefits such as good component protection and increase the intervals of oil change. Mineral-grade oils provide basic protection to engine components and the oil needs to be changed often to attain the desired performance characteristics of the mineral oils.
Engine oil is classified under two main categories, which include viscosity-based (Society of Automotive Engineers) classification and performance-based (European Automobile Manufacturers' Association and American Petroleum Institute) classification. According to SAE International classifications, multi-grade engine oils are classified based on their resistance to temperatures, wherein, for a typical passenger vehicle running at temperature grounds of 32°F, the types of oil preferred are 20W-50, 10W-30, 5W-30, 10W-40, and 5W-20, whereas for vehicles operating at 0°F, oil grades preferred are 10W-40, 5W-30, 10W-30, and 5W-20. For temperature conditions below 0°F, 5W-30 and 5W-20 are preferred.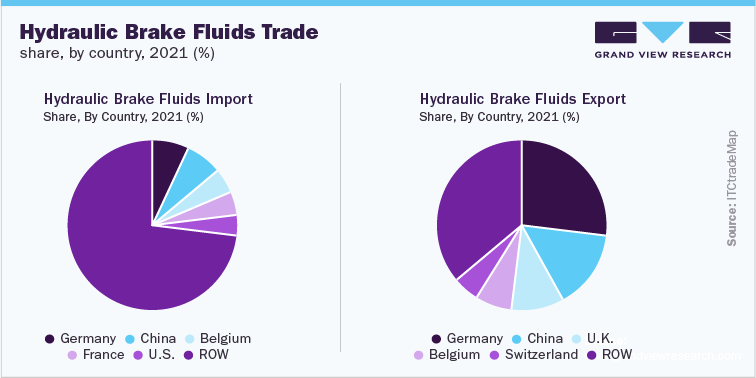 Brake fluids and hydraulic fluids are used across clutch and hydraulic brake applications in vehicles. The typical function of a brake fluid includes its role as an incompressible medium to transfer manual foot pressure into the brake pedal to lock the friction in the disc metal. In the U.S., brake fluids are categorized into 3 major types, namely DOT5, DOT3, and DOT4. Moreover, brake fluids are expected to meet certain characteristics for the braking system to work properly, which include high boiling point, constant viscosity, corrosion resistance, and low level of compressibility.
Industrial Lubricants Market Analysis And Forecast
Industrial lubricants accounted for a share of over 38% in the industry in 2022. Industrial lubricants are water-based, or petroleum-based substances used to prevent metal-to-metal contact in dyes, tooling or finished components by reducing friction and protecting against corrosion. These lubricants are widely utilized in numerous industrial applications such as gas engines, hydraulics, air compressors, auxiliary equipment, heat transfer systems, paper machines, turbines, metal working, bearings, food machinery, and natural gas compressors.
Increasing industrial production in emerging markets of Asia Pacific and Central & South America is anticipated to drive industrial lubricants demand over the forecast period. Mining, unconventional energy and chemicals industries are projected to be one of the largest markets for industrial lubricants. This trend is expected to further strengthen industrial lubricants demand in industrial engines, compressors, hydraulics, bearings and centrifuges.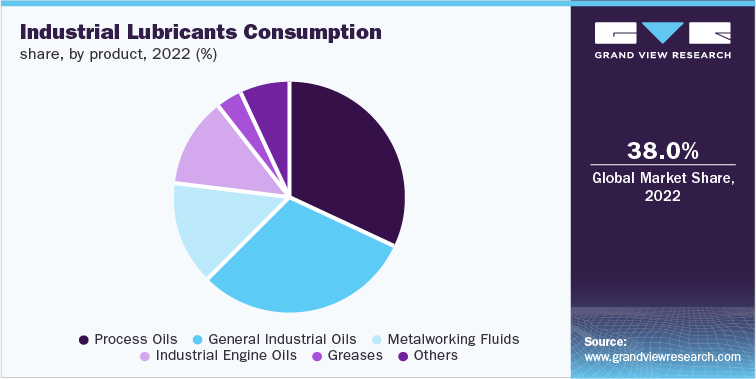 Industrial engine oils are projected to witness significant over the forecast period as these oils are designed to offset the operating costs and rising fuel. These fluids have the potential to reduce fuel consumption as they possess lower friction coefficient and also helps to keep engine components clean and fully functional thereby effectively delivering maximum combustion efficiency. Industrial engine oils broadly help in keeping piston, filters, ports and crankcase clean for a longer period of time.
Industrial engine oils are majorly utilized to reduce wear & tear, inhibit corrosion, minimize friction and more of the engine components. Majority of the engines used for industrial purposes are fueled by diesel which in turn has raised the demand for high-quality engine oils with specified viscosity index as well as shear resistance to optimize operating life of the machines.
Metalworking fluids are also anticipated to witness high growth rate in upcoming years due to rising popularity of these fluids to improvise tool life and surface finishing. Metalworking fluids are also increasingly gaining significance in niche applications such as medical machining and more. These factors are projected to fuel demand of the fluids across the globe.
Marine Lubricants Market Analysis And Forecast
Marine lubricants accounted for a share of nearly 5% in the industry in 2022. Marine lubricants are widely used in high speed engine oils, medium speed engine oils and slow speed marine engines. The product helps to extend the engine life and protects the components at high temperatures. Some of the lubricants offer additive technology in order to provide protection against crankcases, camshaft areas, under-crowns and ring belt. Further, lubricants are used in slow-speed cylinders as they offer high-performance lubrication, enhanced protection from mechanical wear and helps to mitigate cold corrosion.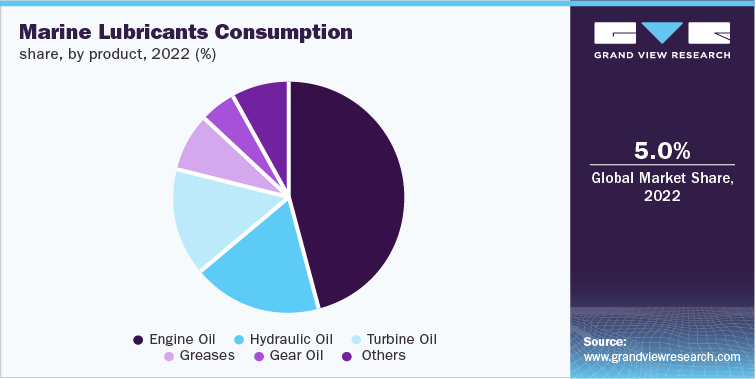 Lubricants provide robust protection to hydraulic pumps which also contain anti-wear additives, corrosion and oxidation inhibitors, foam and aeration suppressants and a shear stable viscosity index improver. The key lubricated hydraulic components are vane pumps, piston pumps and gear pumps. Usually lubricants are available in multi-viscosity ISO 15, 22, 32, 46, 68 and 100 grades. The multi-viscosity feature promotes smooth power transmission over a wide range with a minimum of shudder and maximum accuracy.
It is essential for the hydraulic oil to meet the fish & wildlife Department's and the toxicity test required for marine life. Marine lubricants extend the service life under extreme temperature and pressure conditions. It is also cost beneficial for the consumers as it helps in the reduction of operating costs and machine maintenance. The use of the product minimizes the energy consumption and improves productivity of hydraulic oils.
Economic growth in Asia Pacific coupled with increasing international co-operation is driving growth in the marine industry. International trade agreements and rising environmental concerns among the consumers will lead to a growth in the demand for marine lubricates. The shift in trend from conventional lubricants to those containing performance boosting additives in order to meet stringent carbon emission regulations is also driving growth in Latin America and MEA.
Aerospace Lubricants Market Analysis And Forecast
Aerospace lubricants accounted for a share of nearly 2% in the industry in 2022. Aerospace lubricants are used to provide reliability, long-lasting lubrication for critical components in order to operate efficiently in high vacuum and extreme temperature. They undergo regular scrutiny with increasing regulatory intervention and specific military standards. Increasing air passenger traffic coupled with significant rise in defense budgets across the globe are anticipated to remain the key driving factors for market growth over the forecast period. Countries including the U.S., Germany, India and Brazil have made substantial increase in defense spending resulting in boost to overall aerospace industry.
Asia Pacific emerged as the leading regional market driven by strong economic growth paired with increasing lavish lifestyles among middle class population. Commercial aerospace Industry is set to witness the strong growth in terms of revenue and operating revenue owing to continued record production levels driven by strong demand for next-generation aircraft.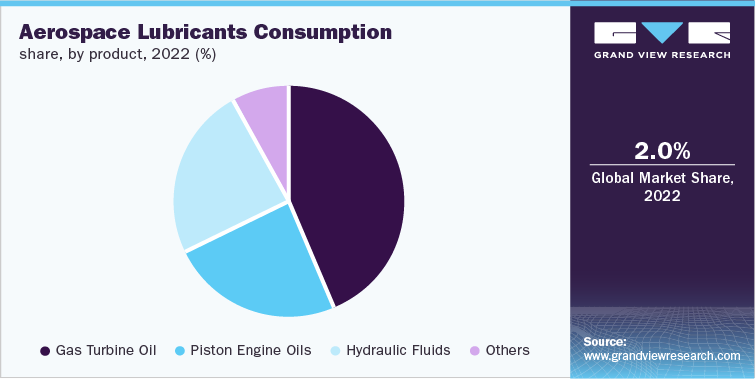 Piston aerospace lubricants was a substantial segment in 2016, since these oils reduce over 50% of friction & contribute to better fuel efficiency. The product also acts as a viscosity improver, sealant and coolant in engine assemblies. Straight mineral oil with zero dispersants are usually recommended by manufacturers for the first 50-hour break-in period on new or newly overhauled engines.
The oil allows faster piston ring seating & allows the accumulation of some advantageous deposits which lead to better oil loss control. These factors are expected to boost product demand over the forecast period. Hydraulic fluids also offer properties including high anti-wear, thermal stability, longevity, constant viscosity during escalated operating pressure and temperatures in aerospace applications. Other segments such as grease is anticipated to experience high growth over the forecast period owing to their ability to offer water wash resistance and more.
Competitive Insights
The global lubricants market is competitive markets with a large number of well diversified regional, and independent small scale and large scale manufacturers and suppliers. The small-scale companies majorly compete on the basis of price, after sales service and delivery timelines. Whereas the large scale companies focus on product development and innovations as well as marketing strategies. Some companies are also redefining their supply chain to reduce cost and customer delays.
Global as well as regional players are developing direct sales channels, especially for automotive lubricant users at their local service centers. Some companies also participate in annual events of their end users and showcase their products at offer prices. Direct sales through such platforms reduces the dependability towards retailers and wholesalers at the same time offering better margins and operational costs. Such sales also develop a strong database of customers which enables the manufacturer to develop a better understanding about the demands.
Lubricants have also shown high price fluctuations owing to its dependency on the cost of petroleum products such as crude oil. The price trend of both the primary raw materials is also highly volatile and hence has an impact on lubricant cost.
Prominent players as well as new entrants are focusing on the development of bio-based lubricants, owing to the future concerns of energy security for petroleum products. Bio-lubricants being in the immature phase have certain restrictions such as temperature resistance and oxidative stability. Companies are hence investing in the R&D activities for these products. The production capacities of key lubricant manufacturers is mentioned below:
Company

Contact Details

Capacity ('000 Tons/Year)

BP P.L.C

1 Saint James's Square

London SW1Y 4PD

England, UK

Tel: +44 (0)20 7496 4000

1.85 Million Barrels per day

Chevron Corporation.

6001 Bollinger Canyon Road

San Ramon, CA 94583

U.S.

Tel: +1 (925) 842-1000

1.8 Million Barrels per day

Total Energies

Tour Coupole - 2 place Jean Millier

92078 Paris,

France

Tel: +33 (0)1 47 44 45 46

1.36 kilo ton per day

Petrobras

Avenida República do Chile, nº 65 - Centro

Rio De Janeiro, 20031-912,

Brazil

Tel: +55 08 00282 8280

521 thousand barrels per day

Royal Dutch Shell PLC

Carel van Bylandtlaan 16,

2596 HR The Hague,

The Netherlands

Tel: +31 70 377 9111

2.1 Million barrels per day (Shell)

Petronas Lubricant International

Tower 1, PETRONAS Twin Towers

Kuala Lumpur City Centre

Kuala Lumpur, 50088

Malaysia

Tel: +60 (0)3 2051 5000

265.7 Million tons per day

Philips 66 Company

Post Office Box 421959

Houston, TX 77242-1959

U.S.

Tel: +1 (281) 293-6600

2 Million barrels per day

ExxonMobil Corporation

5959 Las Colinas Boulevard

Irving, TX 75039

U.S.

Tel: +1 (972) 940-6000

5 Million barrels per day

Lukoil

11, Sretensky Boulevard

Moscow, 101000

Russia

Tel: +7 (8)495 627 4444

0.21 Million tons per day