Database Overview
Grand View Research's Machine Learning Industry data book is a collection of market sizing information & forecasts, competitive benchmarking analyses, macro-environmental analyses, and regulatory & technological framework studies. Within the purview of the database, all such information is systematically analyzed and provided in the form of presentations and detailed outlook reports on individual areas of research.
The following data points will be included in the final product offering in 3 reports and one sector report overview:
Machine Learning Industry Data Book Scope
Attribute

Details

Research Areas

Machine Learning Market
Deep Learning Market
Natural Language Processing Market

Number of Reports/Deliverables in the Bundle

3 Individual Reports-PDF
3 Individual Reports-Excel
1 Sector Report-PPT
1 Databook-Excel

Cumulative Country Coverage

27+ countries coverage

Cumulative Product Coverage

30+ Level 1 & 2 Products

Highlights of Datasets

Component Revenue, by Country
Enterprise Size Revenue, by Country
Solution Revenue, by Country
Application Revenue, by Country
Deployment Revenue, by Country
End-use Revenue, by Country
Regulatory Framework, by Country
Competitive Analysis
Pricing Analysis

Total number of Tables (Excel) in the bundle

270

Total number of figures in the bundle

47
Machine Learning Industry Data Book Coverage Snapshot
Markets Covered

Machine Learning Market Size

USD 25.58 billion in 2021

35.6% CAGR (2022- 2030)

Deep Learning Market Size

USD 34.83 billion in 2021

34.3% CAGR (2022- 2030)

Natural Language Processing Market Size

USD 18.51 billion in 2021

41.3% CAGR (2022- 2030)
The industry data book is a combination of the market data from four reports namely, machine learning, deep learning, and natural language processing market. The machine learning market was valued at 25.58 billion in 2021 with a CAGR of 35.6% during 2022-2030. Deep learning market and natural language processing market are also expanding with a CAGR of 34.3% and 41.3% respectively. These technologies have been integrated in a variety of industries, including robots and drones, facial recognition on social networking sites and automated image arrangement on visual websites, among others. The requirement for monitoring and upgrading large data computational models has become a significant priority among end users, subsequently, augmenting the market growth over the forecast period.
Machine Learning Market Analysis & Forecast
The global machine learning market size was valued at USD 25.58 billion in 2021 and is expected to expand at a compound annual growth rate (CAGR) of 35.6% from 2022 to 2030. The increasing use of technology and automation aids the growth of the machine-learning market. Growing market growth is anticipated as cloud-based platforms are widely adopted owing to their numerous advantages. As a result of networking systems, AI-integrated processors, and integrated memory systems, market shares are also becoming more important. The expansion of the market is majorly driven by the increased use of AI technologies and machine learning algorithms that supports technological advancements.
The growing prominence of cloud computing and technical improvements are projected to boost the machine learning market growth. Systems can learn, anticipate, and refine their algorithms with the help of machine learning. For Instance, anti-virus software knows to filter new threats as they are identified. Even in dynamic or unpredictable contexts, the algorithms can manage multi-dimensional and multi-variety data. Additionally, it is anticipated that the usage of Generative Adversarial Networks (GAN) and the Internet of Things (IoT) will expand throughout the forecast period.
The emergence of cloud-based services is one of the major factors fueling the growth of the machine-learning industry on a global scale. Enterprises will be encouraged to incorporate cloud-based solutions in their business models for the numerous advantages of cloud computing, including its low-cost computing, network and storage infrastructure, reliability, scalability, and high resource availability. Utilizing cloud computing also aids in lowering operating costs since it curtails the requirement for in-house IT support employees. The availability of advanced, scalable infrastructure at a low cost and pay-per-use subscription plans will speed up adoption and encourage vendors to create more specialized plans. For instance, In December 2020, HP Enterprises announced the availability of its solutions as a service through HPE Greenlake. Other considerations, such as outsourcing the duty of maintenance, software update, and repair to avoid the direct expenses of machine learning implementation and use, will further assist market expansion.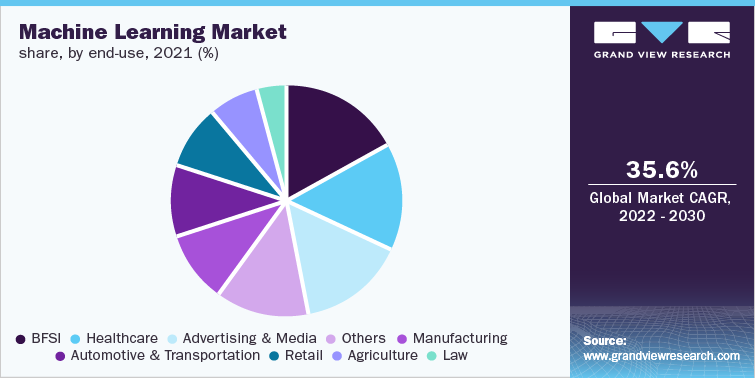 Healthcare & life science and BFSI industries produce enormous amounts of data every second. The increased need for data management technologies is augmenting the growth in demand for machine learning and predictive analytics to derive business-critical insights from this constantly growing data. The other industrial verticals, including manufacturing, telecommunication, energy and utilities, retail, government, and defence, strongly impact the machine learning market. These industries are also predicted to see significant growth rates throughout the projection period on the back of increasing concerns for managing business operations with higher efficiency and minimized overall costs.
Deep Learning Market Analysis & Forecast
The global deep learning market size was valued at USD 34.83 billion in 2021 and is expected to expand at a compound annual growth rate (CAGR) of 34.3% from 2022 to 2030. The emergence of deep learning is aiding new businesses to enter various industry verticals by providing specialized application-specific solutions. Moreover, companies are also engaging in mergers and acquisitions to gain competitive advantages. For instance, In March 2022, Microsoft Corporation acquired Nuance Communication Inc., by utilizing security-focused, cloud-based solutions infused with effective, vertically optimized AI, this acquisition is aimed to enable their consumers across industries to accelerate the achievement of their business goals.
Deep learning uses multiple layers of algorithms to analyze data, comprehend spoken language, and visually identify objects. These algorithms are utilized for automated computation, reasoning, and data processing. The necessity to upgrade these algorithms in order to offer better and more effective solutions for various end-use applications has been expanding significantly in recent years. AI and deep learning researchers are constantly attempting to improve algorithms for diverse applications. Since standard algorithms are more accurate and efficient, manufacturers and technology developers are concentrating on developments in standard algorithms.
As a result of technical abilities to extract high-level and sophisticated abstractions through a hierarchical learning process, deep learning is becoming important for big data. The development of deep learning in big data analytics is driven by the need to mine and extract meaningful patterns from large amounts of data. Additionally, the technology aids in overcoming difficulties related to big data analytics, including the validity of data analysis, variations in the format of raw data, widely dispersed input sources, and unbalanced input data. As data is gathered in vast amounts and made accessible across many domains, another issue is the ineffective storage and retrieval of information. Semantic indexing helps with comprehension and knowledge discovery, solving these problems.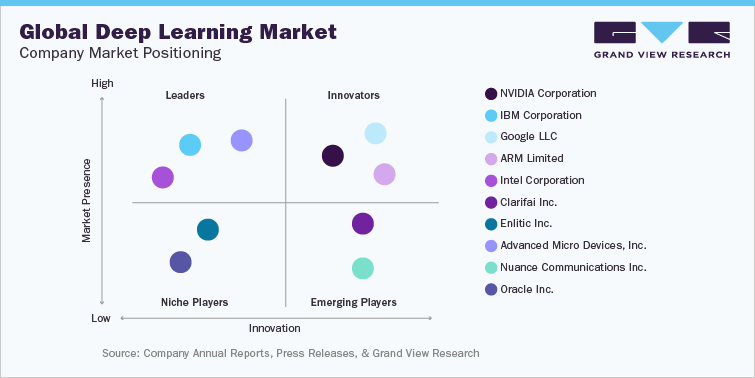 Deep learning is becoming more widely used in the Asia Pacific region for a variety of applications as a result of product introductions and technical advancements made by local technology suppliers. For instance, with its DeepID facial recognition technology, China-based SenseTime provides its customers with image recognition, intelligent video analysis, and medical image recognition services. Similarly, a smart retrofit video surveillance solution, SuperSecure - a platform that works on any CCTV to deliver a contextualized AI solution to recognize objects and behaviours, was developed by DeepSight AI Labs, an India-based start-up.
Natural Language Processing Market Analysis & Forecast
The global natural language processing market size was valued at USD 18.51 million in 2021 and is expected to expand at a compound annual growth rate (CAGR) of 41.3% from 2022 to 2030. The expanding demand for text analytics across various companies and the rising popularity of social media monitoring are major drivers fueling the growth of the natural language processing (NLP) market. Various enterprises use natural language processing-based models which reduce customer effort, enhance analytical capabilities, and enable automation.
With the advent of virtual assistants using natural language processing, customers can communicate with organizations in regional languages via an online chat box, improving customer experience. Additionally, NPL supports businesses in enhancing their analytic capabilities. Medical departments utilize NLP to keep track of patients and diseases in the form of medical history forms that clinicians may use globally to track and operate on patients with comparable diseases in different parts of the world.
The increasing usage of digital technology-based software by organizations and worldwide corporations is propelling market growth. Several industry leaders are investing in developing superior technology-based NLP software to improve corporate processes. For instance, In May 2022, One Al launched its own natural language processing technology company. Ariel Maislos, SentinelOne Inc., Tech Aviv, and several other unnamed venture angel investors and capital firms raised USD 8 million to create this business. The organization offers numerous artificial intelligence-related services and various natural language processing services.
The rise of next-generation technologies, such as artificial intelligence and machine learning, is increasing the utility of industrial applications to end users. New cognitive computing projects include development, corporate operations automation, data analysis for insights, and interaction with customers and employees made possible by AI & ML. For instance, In November 2022, Reddit acquired MeaningCloud LLC, a natural language processing company. Through this acquisition, Reddit's platform provides the community with the relevant information they need more quickly with the help of MeaningCloud LLC. With the inclusion of MeaningClound's technology, the company can keep up its commitment to helping users by offering easier, richer, and more relevant content. Additionally, it assists with all of its NLP based products and services.
Competitive Landscape
The market participants are implementing several organic and inorganic growth strategies, including new product launches, product modernizations, collaborations, corporate expansions, and acquisitions and mergers. Further, the companies are also focusing on developing new products and services with enhanced capabilities. For instance, In May 2022, Meta announced the launch of a new Al platform MyoSuite. It is developed for building accurate musculoskeletal simulations for accelerating prosthetics development. In addition, researchers are also leveraging the platform for developing new prosthetics and novel surgery and rehabilitation practices. MyoSuite would also help in creating avatars with more realistic movements in the metaverse.
This section in the final deliverables also highlights various strategic initiatives taken by the key companies in the recent past that strongly impacts this market space. Increasing mergers & acquisitions and collaborations are anticipated to capitalize on the economic and environmental advantages for the market players and enable them to share ideas and enrich their internal skills and technologies. For instance, in July 2021, Google Cloud and SAP SE announced a strategic collaboration for assisting consumers to achieve business transformations, transferring vital business structures over to the cloud, and enhancing prevailing business systems with Google Cloud's proficiency in artificial intelligence and machine learning.
Key Drivers
Increasing applications of ML algorithm

Rising adoption of advanced technologies

Introduction of new hardware for deep learning applications

Improvement in deep learning algorithms

Increased penetration in big data analytics

Increase in the adoption of AI software and cloud-based NLP among SMEs

Rising Cross-Industry Partnerships and Collaborations