Database Overview
Grand View Research's Magnetic Resonance Imaging scanners and accessories industry data book is a collection of market sizing information & forecasts, regulatory data, reimbursement structure, competitive benchmarking analyses, macro-environmental analyses, and regulatory & technological framework studies. Within the purview of the database, all such information is systematically analyzed and provided in the form of presentations and detailed outlook reports on individual areas of research.
The following data points will be included in the final product offering in 3 reports and one sector report overview:
MRI Scanner and Accessories Industry Data Book Scope
Attribute

Details

Research Areas

Magnetic Resonance Imaging Scanners and Accessories

Magnetic Resonance Imaging Market
MRI Coils Market
MRI Motion Tracking Systems Market

Number of Reports/Deliverables in the Bundle

3 Individual Reports - PDFs
3 Individual Reports - Excel
1 Sector Report - PPT
1 Data book - Excel

Cumulative Country Coverage

50+ Countries

Highlights of Datasets

Product Revenue, by Countries
Technology Revenue, by Countries
Competitive Landscape
Regulatory Guidelines, by Countries
Reimbursement Structure, by Countries

Total Number of Tables (Excel) in the bundle

595

Total Number of Figures in the bundle

338
MRI Scanner and Accessories Industry Data Book Coverage Snapshot
Markets Covered

Magnetic Resonance Imaging Scanners and Accessories Industry

USD 13.25 billion in 2022

8.2% CAGR (2023-2030)

Magnetic Resonance Imaging Market Size

USD 5.26 billion in 2022

7.1% CAGR (2023-2030)

MRI Coils Market Size

USD 7.99 billion in 2022

8.9% CAGR (2023-2030)

MRI Motion Tracking Systems Market Size

USD 2.76 million in 2022

20.8% CAGR (2023-2030)
Magnetic Resonance Imaging Market Analysis & Forecast
The global magnetic resonance imaging market generated over USD 5.26 Billion in revenue in 2022 and is projected to grow at a CAGR of more than 7.1% from 2023 to 2030, reaching USD 9.1 billion by end of the forecast period.
Despite high prices of scanners, the increasing scan volume is driving the demand for new scanners. High returns on investments and favourable government policies are major impact-rendering factors. The rising number of scans is majorly due to the factors such as rising awareness of early diagnostics, expanding applications of MRI, and the safety of these scanners
Recent advancements have enabled the development of multicontrast and cardiac MRI, which are better imaging tools. Software updates allow users to upgrade their systems with a more enhanced workflow. For instance, in November 2021, Philips announced the launch of an AI-enabled MR imaging portfolio, which is intended to improve the efficiency and sustainability of radiology operations by speeding up MR exams, streamlining workflows, improving diagnostic quality, and ensuring the efficiency and sustainability of radiology operations.
The medium strength scanners market is dominating at the global level. This is primarily due to the pricing and wide range of applications of medium-strength scanners. The purchase of high-strength magnetic resonance imaging scanners is still limited to large-size teaching hospitals and academia.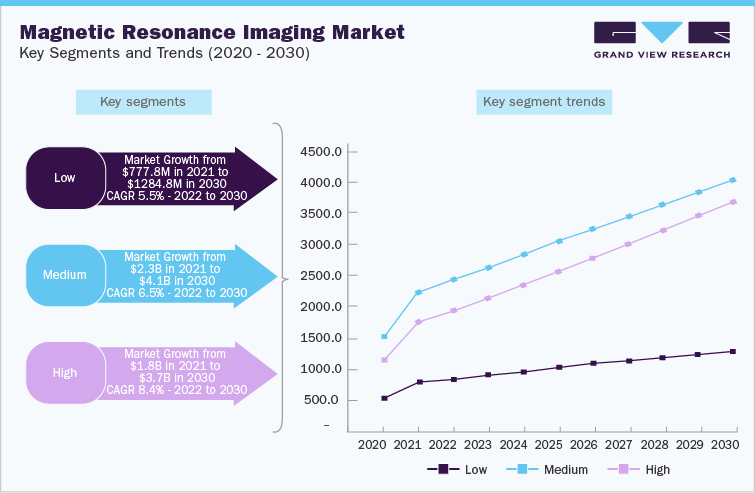 MAGNETOM Terra by Siemens was the first 7T MRI machine approved by the U.S. FDA in 2017. Images captured by this device are acquired two times faster compared to other systems. In addition, the images obtained are more detailed, helping physicians in precise diagnosis. Similarly, in November 2020, GE Healthcare received clearance from the U.S. FDA for its SIGNA 7.0T MRI scanner.
MRI Coils Market Analysis & Forecast
MRI systems cannot be considered a one-time investment. It comes with significant expenditure in operations and subsequent maintenance. A large portion of this expenditure is directly spent in these coils. Many of the operators and technicians prefer third party radiofrequency coils over the coils offered by OEMs. In addition, these coils service providers make a huge customer pool for these products. On an average, an off-site repair of these coils takes around 15 days. To ensure no delays in the schedule's scans, these service providers offer loaner coils in exchange for the one that is taken for repair. High failure rate of the existing magnetic resonance imaging coils is driving the demand for services providers. The report covers detailed volume estimates for each type of RF coils and their prices in each region.
Mentioned below are top 5 countries with highest number of MRI scanners installed and potential markets for advanced these coils:
| | |
| --- | --- |
| US | 12,803 |
| Japan | 7,210 |
| Germany | 2,895 |
| Italy | 2,065 |
| Korea | 1,755 |
The radiofrequency coil segment dominated the market in 2021. Several players are focusing on technological advancements and novel product launches of radiofrequency coils to expand their global reach. For instance, in April 2022, Philips initiated the manufacture of radiofrequency magnetic resonance imaging coils under the government's Production Linked Incentive (PLI) scheme in India. Currently, India is a global hub for manufacturing MRI coils. These coils are supplied to several OEMs throughout the world.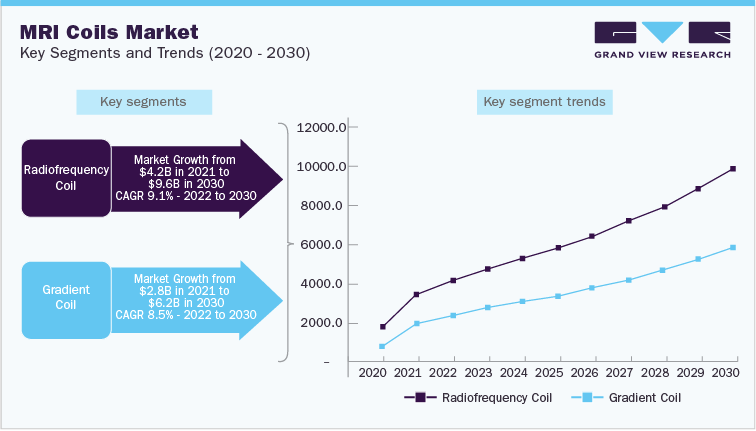 Our team is currently working on a special report on the market for these coils. This will include all the coil repairing service providers and their business models.
MRI Motion Tracking Systems Market Analysis & Forecast
The global MRI motion tracking systems market was valued at USD 2.7 million in 2022 and is expected to grow at a CAGR of 20.76% during the forecast period. Key factors contributing to the market growth are the rising volume of MRI scans, increase in the workload of radiologists, errors in captured images due to motion artifacts, revenue loss associated with unnecessary examinations, prolonged scanning time, and increased resource wastage. Movement of patients during MRI examinations has resulted in the need for a repeat sequence in around 20% scans till date. Hence, there is a growing need to correctly track motion without compromising on the scanner workflow and patient comfort.
The market is still in the nascent phase the first commercialized magnetic resonance imaging motion tracking system was approved in 2020. Currently, there are only two market players- TracInnovations and Kineticor. Metria Innovations is still in the product development phase. Most of the current market is focused on the developed regions.
Competitive Landscape
The high price is one of the most impeding factors for the sales of these systems. The major players are focusing on minimizing the prices for medium-strength MRI systems using various methods. Technological advancements in manufacturing and the high influx of these systems in the market is expected to bring the prices down in the upcoming years.
Some of the recent strategies by major players include:
In February 2022, Siemens Healthineers entered into an agreement with Universal Medical Imaging to promote 5G remote imaging diagnosis in China. This agreement is aimed at building a primary medical ecosystem for 5G remote diagnosis.

In May 2022, Philips received FDA 510(k) clearance for its new MR 7700 3.0T MR system. In both research and advanced clinical diagnostics, this system is anticipated to offer unequalled performance and precision.

In January 2022, the company & the University Hospital Brandenburg a der Havel signed a 10-year partnership deal of USD 18.75 million for advanced patient care. Under the terms of this agreement, the company will renew and expand the hospital's diagnostic options through the delivery of advanced technology solutions.

In April 2022, GE Healthcare entered into a partnership with Unilabs, a leading European diagnostic services provider, to provide advanced imaging equipment and digital technology in Portugal. The agreement covers, MRI, CT, ultrasound devices, mammography, and X-ray machines.

In August 2022, GE Healthcare collaborated with Boston Scientific-a global medical device manufacturer-to provide end-to-end innovative interventional cardiac care solutions in India.

In April 2021, the company received FDA clearance for its markerless motion tracking system, Tracoline, which is compatible with the scanner of Siemens, GE, and Philips.