Database Overview
Grand View Research's mass-engineered timber sector database is a collection of market sizing information & forecasts, trade data, pricing intelligence, competitive benchmarking analyses, macro-environmental analyses, and regulatory & technological framework studies. Within the purview of the database, such information is systematically analyzed and provided in the form of outlook reports (1 detailed sectoral outlook report) and summary presentations on individual areas of research.
Mass-Engineered Timber Industry Data Book Scope
Attribute

Details

Areas of Research

Cross laminated Timber Market
Laminated Veneer Lumber Market
Glue Laminated Timber Market

Number of Reports/Deliverables in the Bundle

1 Sector Outlook Report + 3 Summary Presentations for Individual Areas of Research

Cumulative Coverage of Countries

10+ Countries

Highlights of Datasets

Demand/Consumption, by Countries
Competitive Analysis/Region
Mass-Engineered Timber Industry Data Book Coverage Snapshot
Markets Covered

Mass-Engineered Timber Industry

USD 9.49 billion in 2022

6.5% CAGR (2023-2030)

Cross-laminated Timber Market Size

USD 1.18 billion in 2022

15% CAGR (2023-2030)

Laminated Veneer Lumber Market Size

USD 1.07 billion in 2022

6.6% CAGR (2023-2030)

Glue Laminated Timber Market Size

USD 7.24 billion in 2022

4.6% CAGR (2023-2030)
Mass-Engineered Timber Sector Outlook
The economic value generated by the mass-engineered timber industry was estimated at approximately USD 9.49 billion in 2022. This economic output is an amalgamation of businesses that are involved in the manufacturing of mass-engineered timber materials, distribution & supply, and application of mass-engineered timber. The positive growth outlook exhibited by the construction industry, along with the growing penetration of advanced construction sustainable materials is expected to bolster the mass-engineered timber materials industry as they are key to green building.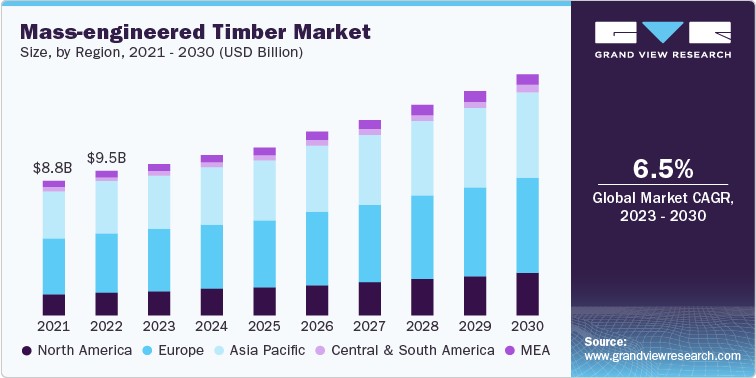 Europe dominated the market in 2022 with a revenue share of over 40%. Europe is expected to remain the largest regional segment and witness notable growth over the forecast period owing to rising awareness about the use of sustainable building materials backed by the expected implementation of the stringent emission norms in the future. In addition, Europe also exhibits the largest production base for these materials due presence of several major manufacturers.
Cross-laminated Timber Market Analysis And Forecast
The global cross-laminated timber (CLT) market growth is anticipated to be driven by the rising demand for lightweight, durable, and sustainable construction materials in residential, institutional, and commercial applications. In addition, growing awareness regarding energy conservation and sustainability is likely to fuel market growth.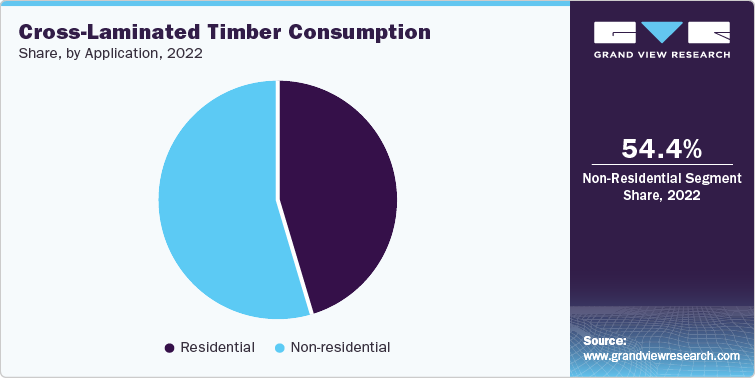 The usage of cross-laminated timber in several commercial buildings such as offices, malls, hospitals, and restaurants is expected to rise over the forecasted period, owing to its wide benefits such as fast installation, design flexibility, and high fire resistance. As CLT is prefabricated as per predefined measurements, the usage involves the installation of CLT at the required application, which reduces the construction time.
Laminated Veneer Lumber Market Analysis And Forecast
The laminated veneer lumber (LVL) product category is one of the most cost-effective sustainable building materials that offer high reliability and extreme structural strength. LVL material offers a wide range of products for construction applications such as headers, roadway signposts, I-joists, columns, beams, and lintels formwork. In addition, the high strength capabilities of LVL material when compared with solid timber positions it as an ideal choice for the construction of trusses, truss chords, pitched rafters, and purlins.
Although currently, the residential application segment is dominating the market for laminated veneer lumber, the non-residential applications are expected to witness significant growth over the forecast period. This growth is expected to be backed by the effective, efficient, and economical structural solutions provided by the LVL portal frame material.
Glue Laminated Timber Market Analysis And Forecast
Glue laminated timber, commonly known as glulam is a structural composite of lumber and adhesives. It is a wooden panel product which is manufactured from sawn softwood spruce or any other wood. Each piece of wood or lumber is end-jointed and arranged in horizontal or vertical layers or laminations. Glulam is being used for making columns and beams and for curved members that are being loaded in combined bending and compression.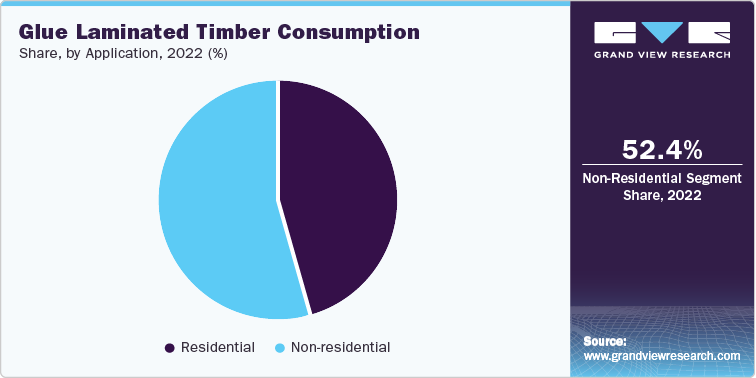 Increasing demand for glulam owing to high thermal and insulation properties coupled with high resistance to chemicals is also a major driving factor for the market growth in both residential and commercial applications. A shift in the trend toward the replacement of conventional construction materials, such as steel and concrete, with lightweight, high-performance, and durable glulam has also spurred market growth.
Competitive Insights
The mass-engineered timber market is less competitive owing to the presence of a limited number of manufacturers consolidated majorly in Europe and North America, serving major geographies across the globe including Asia Pacific. These manufacturers compete based on product quality such as wood thermal resistance, surface finish, and prices to increase their applications in commercial, industrial, and residential buildings. The market players focus on gaining various construction projects in institutional and industrial construction, replacing concrete as a primary building material to gain a competitive advantage.
Prominent manufacturers have been adopting various strategies including investments, agreements, partnerships, contracts, production capacity expansions, joint ventures, and collaborations, to gain greater market presence and to cater to the changing requirements of application industries. Stora Enso Oyj, Binderholz GmbH, KLH Massivholz GmbH, Mayr-Melnhof Holz Holding AG, and Eugen Decker & WebMan among other prominent market players focus on the development of multi-story wooden buildings. These companies have been filing new patents and adopting performance-enhancing technologies, which are also followed by emerging players in the market.
In 2022, Schilliger Holz AG invested in an automated cross-laminated timber production line in Volgelsheim, France

In December 2020, Binderholz Group acquired Klausner Lumber Two in North Carolina in the U.S. to expand its operations in the country

In November 2020, Stora Enso Oyj received approval for the production and distribution of cross-laminated timber panels in the U.S. in accordance and compliance with the U.S. International Building Code, the Standard for Performance-rated Cross-laminated Timber, and the North American CLT standard ANSI/APA PRG 320-2019. This has further expanded the growth of the company in North America.

In September 2020, Stora Enso Oyj decided to invest an amount of USD 96.1 million in a new production line for cross-laminated timber at its sawmill in Ždírec, the Czech Republic. The investment is expected to enhance the market positioning of the company as a global provider of cross-laminated timber panels and wooden elements.