Database Overview
Grand View Research's Metal Cans industry data book is a collection of market sizing information & forecasts, trade data, pricing intelligence, competitive benchmarking analyses, macro-environmental analyses, and regulatory & technological framework studies. Within the purview of the database, such information is systematically analyzed and provided in the form of outlook reports (1 detailed sectoral outlook report) and summary presentations on individual areas of research along with a statistics e-book.
Metal Cans Industry Data Book Scope
Attribute

Details

Areas of Research

Aluminum Cans Market
Beverage Cans Market
Food Cans Market
2- Piece Cans Market

Number of Reports/Presentations Covered in the buddle

1 Sector Outlook Report + 4 Summary Presentations for Individual Areas of Research + 1 Statistic ebook

Cumulative Coverage of Countries

50+ Countries

Cumulative Coverage of Products

10+ Products

Highlights of Datasets

Readt-to-Eat Food Revenue, by Countries
List of Key Canned Food & Beverages Manufactures
List of Cans Manufactures Companies
Aluminum & Steel Metal Trade, 2021
Avg Pricing of metal cans
Competitive Landscape
Aluminum Cans Market , by Application
Beverage Cans Market , by Material
Food Cans Market , by Application
Metal Cans Industry Data Book Coverage Snapshot
Markets Covered

Metal Cans Industry

USD 61.7 billion in 2021

Aluminum Cans Market Size

USD 45.6 billion in 2021

6.4% CAGR (2022-2030)

Beverage Cans Market Size

USD 37.4 million in 2021

5.3% CAGR (2022-2030)

Food Cans Market Size

USD 16.09 billion in 2021

3.3% CAGR (2022-2030)

2- Piece Cans Market Size

USD 16.09 billion in 2021

3.3% CAGR (2022-2030)
Metal Cans Industry Outlook
The economic value generated by the Metal Cans industry was estimated at approximately USD 61.7 billion in 2021. This economic output is an amalgamation of businesses that are involved in the manufacturing of metal can products, distribution & supply, and application of the product in the end use industry.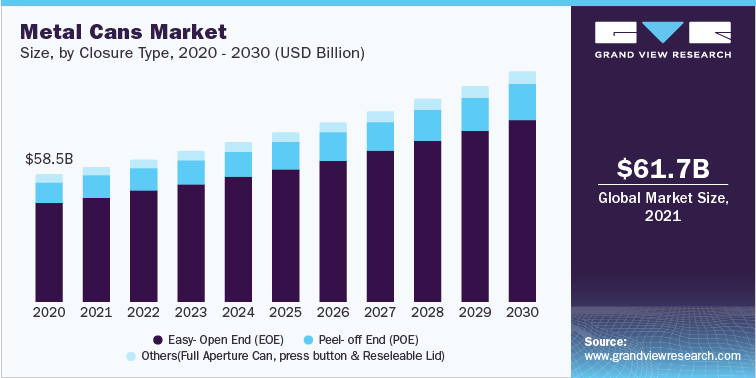 The value chain of the Metal Cans market comprises raw material suppliers, manufacturers, suppliers/distribution channels, and end-use industries. Metal Cans products primarily include with various capacity sizes depending on the applications. The key raw materials used for manufacturing the cans include aluminum and glass.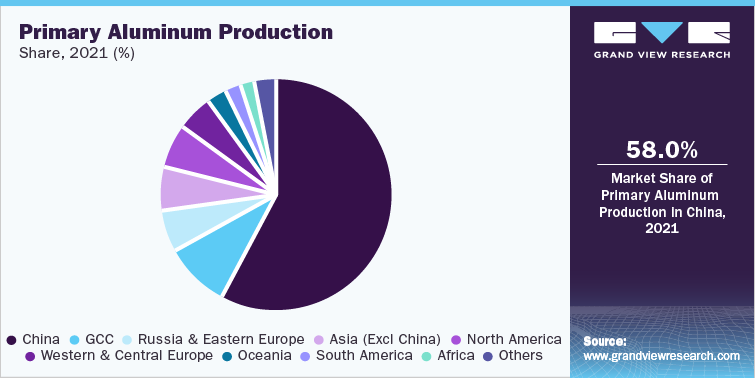 The global primary aluminum production reached 67,243 kilotons in 2021, with China emerging as the largest producer, accounting for 58% of the total production with 37,337 kilotons. The country is followed by Gulf Cooperation Council (GCC) and Russia & Eastern Europe with 5,833thousand tons (9%) and 4,153 thousand tons (6%), respectively.
Aluminum Cans Market Analysis And Forecast
The increasing awareness about the sustainability benefits associated with aluminum packaging coupled with easy recycling at infinite times without losing quality and less energy consumption is the major factor driving the market growth. According to the Metal Packaging Europe and European Aluminum, the recycling rate of aluminum beverage cans in the European Union including the United Kingdom, Switzerland, Norway, and Iceland was 73% in 2020.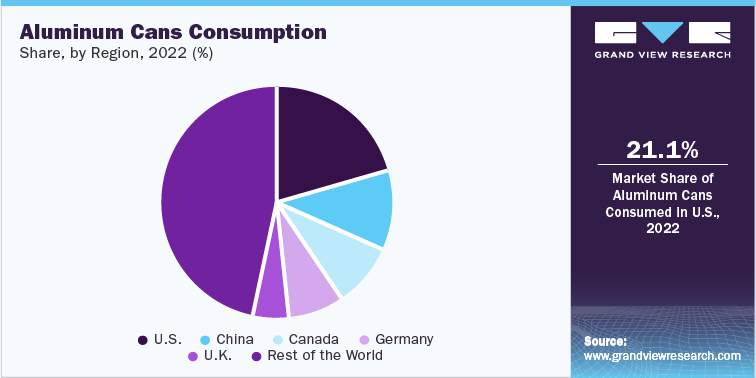 Furthermore, as per the proposed new draft for a Packaging & Packaging Waste Regulation of the EU, aluminum cans meet the highest recyclability performance grade of 95%. Additionally, it allows varied customization including closure type, size, quality, and logo printing as per the requirement of end users also one of the major factors supporting the growth. These are some of the major factors supporting the growth and demand for aluminum cans in the global market. Therefore, the aluminum cans are expected to grow at a faster pace over the forecast period in contrast with steel cans.
The market has experienced significant growth because of the increased demand for canned beverages in the global market. The pandemic has raised awareness about the environment and its subsequently deteriorating condition of it. This has diverted the focus of packaging manufacturers towards environmentally friendly packaging. Thus, the demand for metal cans has increased during and after the covid-19 pandemic. Therefore, the increased focus of craft breweries and soft drink manufacturers toward environment-friendly packaging solutions are bolstering the demand for aluminum cans across the globe.
Beverage Cans Market Analysis And Forecast
The global beverage cans market is expected to register substantial growth driven by the rising demand for aluminum cans. The demand for highly portable and superior beverage packaging for protection from external environment is primarily contributing to market growth. The market for beverage cans is highly dominated by the use of aluminum cans on account of superior properties such as lightweight and growing aluminum recycling, primarily in Europe, North America, and Brazil. In addition, increasing demand for aluminum cans for use in packaging alcoholic beverages such as beer is expected to drive the market growth over the forecast period.
The demand for beverage cans is expected to be driven by the rising consumption of non-alcoholic beverages. In addition, increasing introduction of fruit juices and sports drinks in can packaging are expected to benefit the market growth. The market for beverage cans is expected to register high growth due to growing consumption of ready to drink beverages that primarily use cans as a packaging option.
The demand for aluminum cans is likely to register higher growth compared to its steel counterpart driven by low weight and high corrosion resistance offered by the former. The aluminum cans demand is also expected to be driven by rising demand for craft beer that is primarily packaged in lightweight containers. In addition, ease of can shipping due to low weight is also expected to emerge as the primary growth driver for aluminum cans over the forecast period.
The demand for beverage cans is expected to grow on account of high consumption of carbonated soft drinks in Asia Pacific and Mexico that account for a high per capita consumption of carbonated beverages. In addition, introduction of new flavors in CSDs is expected to attract consumers to the product, leading to a spurt in the demand for beverage cans over the forecast period.
The beverage cans industry is highly fragmented with the presence of a number of global companies such as BALL CORPORATION, CANPACK, Crown Holdings, Inc., and Ardagh Group S.A. Competitive prices and advancements in technologies, coupled with innovative packaging solutions, are followed in the beverage cans industry to gain a competitive advantage. The presence of small players such as Mahmood Saeed Beverage Cans & Ends Industry Company Limited, Kian Joo Can Factory Berhad, Toyo Seikan Co., Ltd., and Bangkok Can Manufacturing that serve regional and international markets is anticipated to further fuel the competition in the market.
Food Cans Market Analysis And Forecast
The demand for processed and ready to eat foods including canned foods have been high in demand owing to their longer shelf life and convenience in usage. Convenience food includes a variety of products like frozen vegetables, soups, meat, and fruits. The cans holds properties such as strength, recyclability, rustproof, protection against oxygen and light weight properties that protects the contents very efficiently by maintaining nutritional value, flavor, and aroma of the food product. Therefore, the canned food doesn't require specific temperatures for storage yet offers longer shelf life.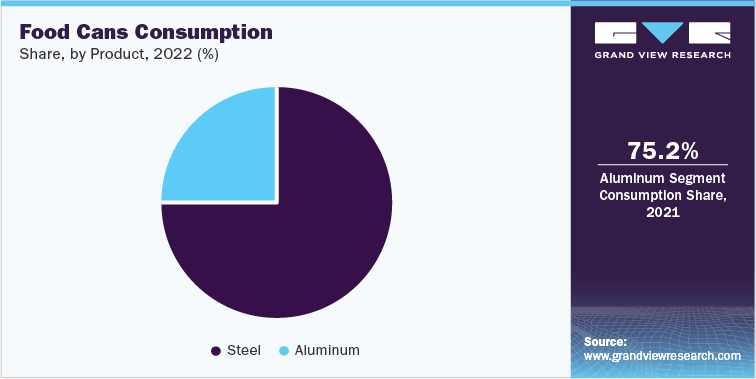 Various technologies in can filling and can manufacturing such as vacuum filling, gas filling and multi-fill capabilities have been further contributing to the demand of food cans in the market. Furthermore, the demand for canned food products increased tremendously following the outbreak of COVID-19 in 2020 as people across the globe were stockpiling canned food due to its good sustainability. Due to the uncertainty of food supplies, people preferred canned beans, vegetables, fruits, and meat products as these can be preserved for a long time as compared to fresh food products.
The increasingly busier lifestyles are resulting in an increased reliance on packaged food & beverages, which, in turn, is favoring the growth of the food can seamer market as packaged food products are majorly packed in cans. Furthermore, several U.S. states including California, Connecticut, Delaware, Hawaii, Maine, New York, Oregon, and Vermont have banned the retail use of single-use plastics to curb plastic pollution. Such regulations on single-use plastic packaging are likely to benefit the growth of alternative packaging solutions such as aluminum, glass, and paper cans in the coming years. This, in turn, is expected to benefit the food can seamer market.
2- Piece Cans Market Analysis And Forecast
2-piece cans include and 2- Piece Draw Redraw (DRD), 2- Piece Drawn and Ironed (DWI) types. The laminated flat tinplate undergoes stamping of the circular disc, thus forming a shallow cup by drawing through a circular die, and then the cup is re-drawn on a second or third die to produce a can body of desired shape and size. The cans are manufactured using the aforementioned process termed DRD cans. Furthermore, DWI cans are made from a metal coil sheet, which is drawn into a cup shape and then wall-ironed into a can shape with several stages of wall ironing.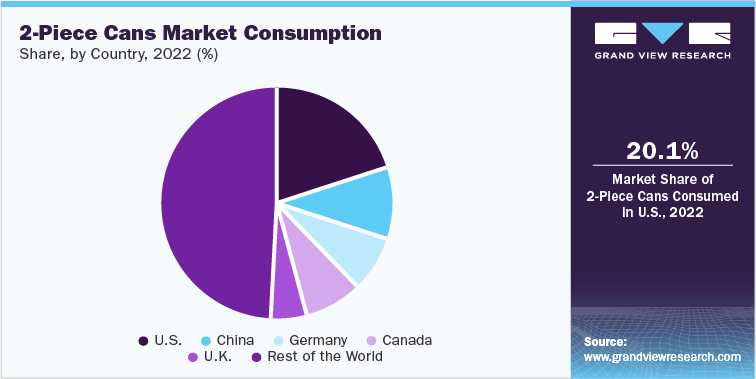 The 2- piece drawn and ironed (DWI) cans are leading the market with a maximum revenue share as of 2022 and the segment is also projected to continue with its dominance throughout the forecast period. Additionally, the growth of the segment is also anticipated to be the fastest with a CAGR of 6.4% from 2022 to 2030. Companies including Kian Joo Can Factory Berhad provide 2-Piece DWI Steel Cans for the protective packaging of processed food, evaporated milk, and sweetened condensed milk. Thus, the use of these cans in a variety of applications is supporting the dominance and growth.
Competitive Insights
The metal cans market is highly fragmented with the presence of various small-sized and medium-sized players. Metal Cans manufacturers are also making strategic efforts to expand their production capacities and geographical footprints along with the increase in the profit share in the global market. Metals cans market players are also focusing on sustainable packaging solutions and their reuse or recycling owing to the increasing rules and regulations by the respective government for suppressing the use of plastic packaging.
Additionally, metal cans application industry players like PepsiCo and Coca-Cola Inc. are also expanding their product reach to the end users via online marketing channels due to their ability to reach an effective target audience further supporting the growth. Furthermore, the continuously rising efforts by the respective government of the countries the protection the environment from increasing packaging waste are likely to exhibit significant changes in the manufacturing practices of players in the market over the forecast period..
In January 2022, Ball Corporation has invested around USD 131.4 Million (Rs 1,000 Crore) in two two aluminum cans and bottles manufacturing plants in India.

In March 2022, Crown Holdings, Inc. has announced its plans for expansion in Peterborough, the UK with the manufacturing of a new beverage can facility. This expansion is projected to meet the expanding customer requirements.

In September 2021, CANPACK partnered with RUSAL, a producer of low carbon aluminum, and ELVAL, an aluminum rolling expert, to launch a pilot to produce a can with the lowest ever carbon footprint for AB InBev beer can in Europe. This experimental pilot scheme will use inert anode aluminum technology to produce five million ultra-low carbon Budweiser 440 ml cans using renewable electricity. The cans will be sold in retail outlets throughout the UK by December 2021 and will have the lowest carbon footprint of Of any can produced by AB InBev.