Database Overview
Grand View Research's micro mobility industry data book is a collection of market sizing & forecast insights, regulatory & technology framework, pricing intelligence, volumetric analyses, competitive benchmarking analyses, and macro-environmental analyses studies. Within the purview of the database, such information is systematically analyzed and provided in the form of summary presentations and detailed outlook reports on individual areas of research. The following data points will be included in the final product offering in four reports and one sector report overview.
Micro Mobility Industry Data Book Scope
Attributes

Details

Research Areas

Electric Kick Scooters Market
Electric Skateboards Market
Electric Bicycles Market

Details of the Product

3 Individual Reports - PDFs
3 Individual Reports - Excel
1 Data book - Excel

Cumulative Country Coverage

40+ Countries

Highlights of Product

Battery Revenue, by Countries
End Use Revenue, by Countries
Voltage Revenue, by Countries
Competitive Landscape

Total number of tables (Excel) in the bundle

110+

Total number of figures in the bundle

15+
Micro Mobility Industry Data Book Coverage Snapshot
Markets Covered

Micro Mobility Industry

USD 21.43 billion in 2021

13.9% CAGR (2022 - 2030)

Electric Kick Scooters Market Size

USD 2.61 billion in 2021

11.5% CAGR (2022 - 2030)

Electric Skateboards Market Size

USD 980.3 million in 2021

7.8% CAGR (2022 - 2030)

Electric Bicycles Market Size

USD 17.83 billion in 2021

14.5% CAGR (2022 - 2030)
Micro Mobility Sector Outlook
The global electric kick scooter, skateboards, and bike markets combine to account for USD 21.43 billion in revenue in 2021, which is expected to reach USD 60.71 billion by 2030, growing at a cumulative rate of 13.9% over the forecast period. The combination bundle is designed to provide a holistic view of these highly dynamic market spaces.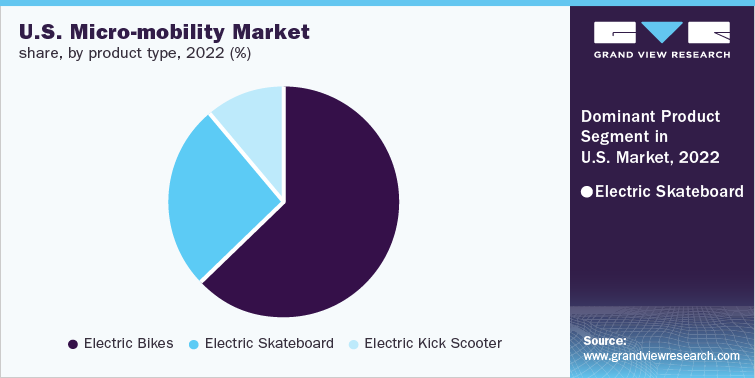 Electric Kick Scooters Market Analysis & Forecast
The electric kick scooters segment is anticipated to grow at a promising CAGR over the forecast period because of the growing preference for cleaner transportation, aggressive investments in lightweight vehicles, and favorable government policies to promote electric mobility as a step toward reducing vehicular emissions. Electric kick scooters are popular in cities and are used as a substitute for bicycling or walking. They are highly cost-effective for shorter distances.
In February 2021, the government of Ireland regularized e-scooters as common means of transport, which would not attract any road tax and would not require a driver's license. Prior to that, in November 2019, WHILL, a leading manufacturer of personal mobility vehicles, announced the trial of autonomous driving electric vehicles at Dallas Fort Worth International Airport and Winnipeg Richardson International Airport as part of the efforts to further accelerate mobility-as-a-service worldwide. Such developments coupled with favorable government policies are expected to drive the growth of the electric kick scooters segment over the forecast period.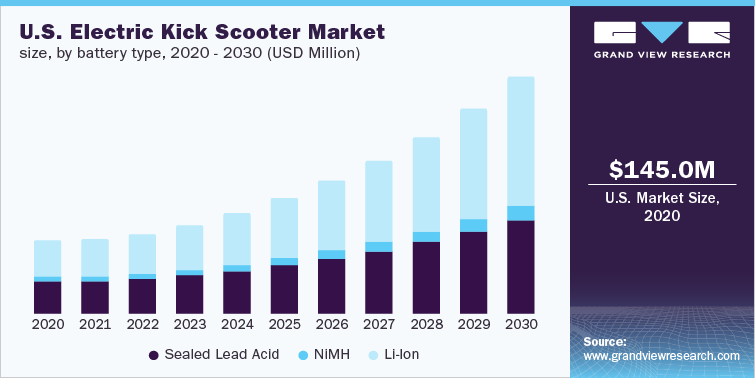 Consumer demographic features vary among different regions. Drivers from North America and Europe tend to see electric motorized scooters more as a lifestyle, while those from Latin America, Middle East and Africa, and Asia Pacific use electric motorized scooters more as a practical transportation means. Consumer satisfaction, which can be measured with various parameters such as durability, maintenance expense, performance, is an essential factor for the vendors trying to retain existing customers or tap new ones. However, vendors trying to attract the consumer during the launch of any vehicle focus on two main factors, design/style, and specifications. This can be viewed as a way of instilling a sense of reliability into consumers and challenging the common sentiment that electric scooters are weak or not capable of carrying loads like conventional scooters. Therefore, electric motorized scooter manufacturers are trying to maintain a mix of both lightweight and bulky scooters in their product portfolios.
Moreover, to target the younger audience, the old generation, and females, several companies have launched sleek scooters and lightweight vehicles.
Improvements in lithium-ion technology have enabled manufacturers to develop lightweight and cost-effective scooters. Moreover, companies are focused on increasing the efficiency of these scooters using advanced-technology batteries such as lithium-ion polymer batteries, which help to extend the battery life owing to large number of charging cycles. Extended battery charging time is another major issue associated with electric scooters. Manufacturers are focused on using materials such as polymers to reduce the charging time of batteries. This, in turn, is expected to drive market growth over the forecast period.
Electric Bikes Market Analysis & Forecast
The electric bikes/bicycles segment is anticipated to witness significant growth over the forecast period. The favourable government initiatives, advances in technology, growing awareness about performance-based adventure, and rising preference for leisure activities are some of the factors that are expected to drive the growth of the segment. For instance, connected e-bikes feature a Subscriber Identity Module (SIM) that allows riders to exchange data over the cloud without a smartphone connection.
These bikes also offer features, such as integrated navigation, remote diagnostics, social-media connectivity, ant-theft systems, and automatic emergency calls. However, the outbreak of the COVID-19 pandemic took a severe toll on the production of electric bikes/bicycles as the lockdowns imposed in various parts of the world forced the manufacturing units to suspend their operations temporarily. Nevertheless, the demand started picking up gradually after the lockdowns were lifted as individuals opted for e-bikes or bicycles to avoid the use of public transport in the wake of the outbreak of the pandemic.
Electric bicycles play a major role in addressing challenges associated with traffic congestion in cities. The market is growing moderately as electric bikes are mostly used for intra-city commutes and are mostly preferred across the younger age group as these are usually categorized under non-motorized vehicles. Moreover, market players are diversifying their product portfolio through investments, mergers & acquisitions, and innovations in connectivity applications, such as Vehicle-to-everything (V2X), which can potentially alert and protect riders against risks and faults. For instance, in April 2022, Trek Bicycle Corporation announced the acquisition of David's World Cycle. The company acquired 21 retail chains to increase its dealer network. Exhibitions, government subsidies, and marathon events aimed at promoting electric bicycles are also expected to drive the growth of the segment over the forecast period.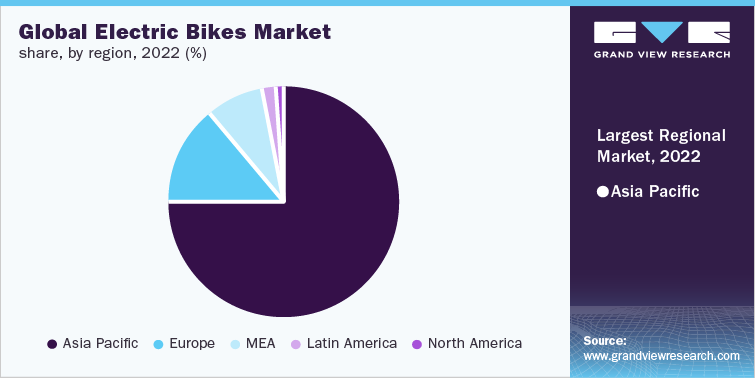 Changing customer preferences and behaviour because of the constantly changing global market dynamics are also expected to have a significant positive impact on the e-cargo bike sector. However, the governments of several regions offer subsidies and tax breaks for e-bikes. Several European countries are providing incentives for e-bikes as part of green initiatives. In January 2020, the Netherlands implemented new leasing rules for e-bikes with lower taxes, which will aid the industry's growth. During the COVID-19 pandemic, key industry players responded positively to the e-bike sector with aggressive investments to meet future consumer demands. For instance, Hero Cycles, an Indian bicycle manufacturer, announced strategic investments in the production of e-bikes in India.
Electric Skateboards Market Analysis & Forecast
Electric skateboards exhibited a low growth rate until 2018 owing to government regulations concerning the ban of e-skateboards in Germany, the U.K., and the Netherlands. Governments globally have categorized these micro-mobility vehicles under electric skateboards and have banned their use on roads to avoid traffic congestion and accidents. However, some countries allow the use of e-skateboards on footpaths and bicycle tracks and categorize them under Personal Light EV (PLEV). Hence, the increased government regulations and safety concerns have led e-skateboards to be regarded as a sports equipment rather than a transport medium.
The price of raw materials is directly proportional to the prices of electric skateboards, kick scooters, and bicycles. The major components for micro-mobility vehicles include batteries, vehicle frames, electric motors, controllers, tires, brakes, and other plastic components. Continuous fluctuations in the prices of raw materials, especially electric motors, and batteries, directly affect micro-mobility scooter manufacturers' revenue. However, prices of electric motors and batteries are, in turn, affected by fluctuations in the prices of commodities such as steel, copper, iron, and lead. Over the past five years, excessive demand for batteries and electric motors has contributed to the continuous decline in their prices.
Regional Insights
Asia Pacific region accounted for a dominant revenue share of the overall market in 2022. Factors such as the adoption of electric vehicles, specifically kick scooters, and bikes, in emerging economies such as India and China. Furthermore, the rising in the fuel price coupled with growing awareness of the rising pollution will further boost the market growth. Asian economies such as China and Japan are also among the top producers and sellers of electric vehicles. Furthermore, China is expected to lead the regional market throughout the forecast period, as the country accounts for the majority of EV demand.
North America region is anticipated to grow at the highest CAGR of 19.9% from 2023 to 2030. U.S. held the largest revenue share in 2022 owing to the excessive demand from the companies, such as Bird, Bikeshare, Spin, and Uber Technologies, Inc., among others entering the U.S., shared micro-mobility service market. The country has regulated the use of e-scooters, skateboards, bicycles, and other forms of small e-transportation on roads, and these regulations are framed by different U.S. states in line with the laws of the Department of Transportation. For instance, California has allowed e-scooters on roadways that have a 35 mile per hour speed limit if the local authorities (township, city, county) pass an ordinance permitting it, but they don't surpass the speed limit of 15 miles per hour.
Market Share Insights
The key market players such as Yadea Technology Group Co., Ltd.; JIANGSU XINRI E-VEHICLE CO., LTD.; Xiaomi; SEGWAY INC.; SWAGTRON; Boosted USA; Air wheel Holding Limited; YAMAHA MOTOR CO., LTD.; Accell Group; and Derby Cycle are continuously pursuing various initiatives such as strategic partnerships, mergers and acquisitions, and new product launches. These vendors hold expertise in the micro-mobility industry and have strategic footprints spread across various parts of the world. Hence, these companies have been able to successfully defend their position in the market. At the same time, small and niche vendors are also introducing micro-mobility vehicles with an extended range. As a result, the competition is gradually intensifying and prompting market players to pursue various initiatives, including strategic partnerships, mergers and acquisitions, and new product launches, to cement their position in the market.
The market has witnessed several new product launches in recent years. For instance, in April 2020, Xiaomi launched Mi Electric Scooter 1S, which was made available across China's e-commerce platforms and offered shipping options internationally. The scooter has a range of 30 km on a full charge with a maximum speed of 25 km/h.
The micro-mobility market has witnessed several new product launches in recent years. For instance, In March 2022, Yamaha Motor Corporation. U.S.A. launched two new E-bikes: the CrossCoreRC and the Wabash RT for the U.S. market. The Wabash RT E-bike is designed for long hauls off-road, while CrossCore RC is a fitness-focused bike with ergonomic grips, a flat handlebar, and a riding position made of extended fitness.
Some of the prominent players operating in the market are:
Yadea Technology Group Co., Ltd.

JIANGSU XINRI E-VEHICLE CO., LTD.

Xiaomi

SEGWAY INC.

SWAGTRON

Boosted USA

Airwheel Holding Limited

YAMAHA MOTOR CO., LTD.

Accell Group

Derby Cycle.