Database Overview
Grand View Research's movies and video industry data book is a collection of market sizing information & forecasts, competitive benchmarking analyses, macro-environmental analyses, and regulatory & technological framework studies. Within the purview of the database, all such information is systematically analyzed and provided in the form of presentations and detailed outlook reports on individual areas of research.
The following data points will be included in the final product offering in 2 reports and one sector report overview:
Movies and Video Industry Data Book Scope
Attribute

Details

Research Areas

Video Production Market
Video Streaming Market

Number of Reports/Deliverables in the Bundle

2 Individual Reports-PDF
2 Individual Reports-Excel
1 Sector Report-PPT
1 Databook-Excel

Cumulative Country Coverage

27+ countries coverage

Cumulative Product Coverage

2022

Highlights of Datasets

Genre Revenue, by Country
End Use Revenue, by Country
Regulatory Framework, by Country
Macroeconomic Analysis
Competitive Analysis
Strategic Framework

Total number of Tables (Excel) in the Bundle

200

Total Number of Figures in the Bundle

40
Movies and Video Industry Data Book Coverage Snapshot
Markets Covered

Movies and Video Industry

USD 159.43 billion in 2022

28.1% CAGR (2023-2030)

Video Production Market Size

USD 70.40 billion in 2022

33.5% CAGR (2023-2030)

Video Streaming Market

USD 89.03 billion in 2022

21.5% CAGR (2023-2030)
Movies And Video Sector Outlook
The movies and video industry was estimated at 159.43 billion in 2022 and is projected to grow at a compound annual growth rate (CAGR) of 28.1% from 2023 to 2030. The video production market has seen many transformations over the years. Rapid innovations in video production technology have been made each year, with constant research and development. For instance, from evolutions in aerial video shooting using drones to 4K video production and virtual reality, video production technology has witnessed considerable technological advancements.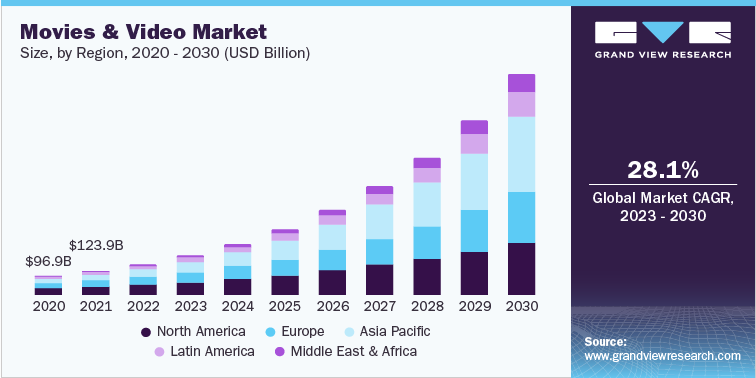 The trend of using drones and aerial videography has gained popularity in the movies & video industry. Drones consist of a steady camera that provides non-constrained usable footage that can be used for several purposes. Aerial photography has paved the way for drone technology in the video production industry for leisure and business purposes. Also, high-end aerial photography has become more affordable and safer, which helps companies expand their aerial videography services.
Video Production Market Analysis & Forecast
The increasing demand for immersive video content and individualization is one of the key developments in the video production market. Video production companies focus on creating highly customized films that appeal to specific target audiences and employ data-driven insights to create experiences as customers want content that speaks to their interests and beliefs. Additionally, immersive video formats like Virtual Reality (VR) and Augmented Reality (AR) are receiving more attention because they give viewers engaging and participatory experiences. Video production firms are using modern technology and innovative narrative strategies to generate captivating, personalized, and immersive video content are some of the trends that are fueling the market growth.
The increasing demand for digital platforms and social media has led to significant growth in the demand for video content. A growing number of individuals, firms, and organizations are noticing the importance of video as an interesting and effective medium for communication purposes. Additionally, the widespread use of social media users and the adoption of smartphones are increasing significantly, and the high-quality cameras and features have increased the number of people who can create videos. Vlogging, short-video content creation, and live streaming are some forms of mobile video production that have grown drastically in popularity as video production can be created easily and are convenient, fast, and affordable.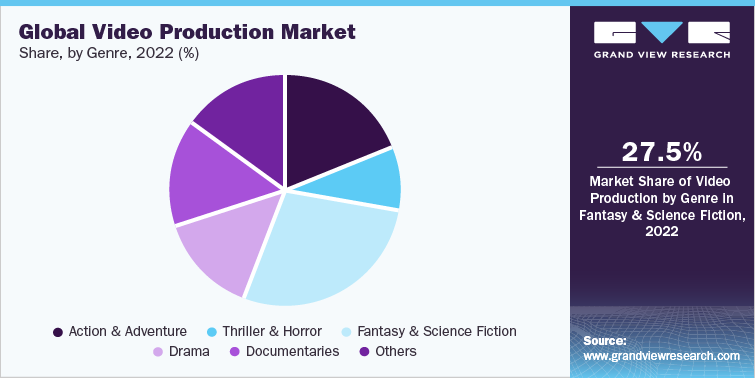 The demand for diverse and inclusive storytelling is increasing in many genres, including Fantasy and Science Fiction. Video production teams infuse different characters, opinions, and cultures into their storytelling, producing more inclusive and representative content that connects with a wider spectrum of people. For instance, crowdfunding websites like Indiegogo and Kickstarter have given independent filmmakers and video production teams a chance to raise money for their Fantasy and Science Fiction projects. The number of independent projects in the genre has increased, delivering distinctive and advanced narrative techniques that would have needed to be more viable through conventional funding routes.
Consumers increasingly engage with video content across several platforms, including social media, streaming services, and websites. To cater to this, businesses and organizations have invested in video production to provide engaging content to draw in their target audience. Additionally, people are consuming more video material on mobile devices due to the growing use of smartphones and tablets. In response, video production businesses have created vertical or square movies, optimized their content for mobile viewing, and taken advantage of mobile-specific capabilities, including interactive components and immersive experiences.
The development and distribution of original series are made possible by streaming services, which have greatly influenced the drama market. Streaming services like Netflix, Amazon Prime Video, and Hulu have spent much money producing interesting, varied dramas for international audiences. The opportunity to produce content specifically for streaming platforms has increased thanks to this trend for video production businesses. Moreover, dramas are no longer restricted to traditional television networks because of the expansion of digital platforms and streaming services. Video production businesses are looking at multi-platform distribution techniques to reach a larger audience. It involves publishing dramas on streaming and social media platforms and generating companion online material to enhance the viewing experience.
Video Streaming Market Analysis & Forecast
One of the key developments in the virtual streaming market is immersive technology. Utilizing AR and VR may give viewers more participatory and engaging experiences. It includes online sporting events, trade exhibits, and competitions for virtual reality games that let players become more involved and engaged in the virtual world. Another trend is the advent of hybrid events, which integrate real-world and virtual components. By transmitting live material to virtual attendees while accommodating in-person attendees, hybrid events allow organizers to reach a broader audience. This pattern is anticipated to persist as businesses work to develop inclusive experiences that serve both local and remote participants.
The growing demand for digital media devices, as well as the availability of faster internet for online media access, are driving the growth of the live streaming market. Ad-free content, mobile viewing, analytics monitoring, using a large amount of material, a large audience potential, and high-quality broadcasts are key factors that improve live video streaming. Live material like sports and musical events has been preserved with the high value of live video streaming. Non-linear streaming is expected to advance significantly in the coming years since it is practical and supports series linking. The industry's non-linear streaming segment is growing for several reasons, including an absence of buffering, watch-time viability, and live pause are some factors fueling the segment's growth.
The popularity of online streaming platforms has significantly surpassed traditional television, driving the rise of the video streaming business. The ease of streaming, the abundance of available material, and the availability of content on various devices have all contributed to the growth of this trend. Additionally, Over-the-Top streaming services, which provide material directly to internet users, have grown in popularity. These services allow material to be accessed anytime, anywhere, and on many devices, circumventing conventional distribution routes.
The Pay-TV segment accounted for a significant share of worldwide GDP due to strong demand for Pay-TV services in countries including Mexico, China, Brazil, and India. Since the cost of content for Pay-TV and IPTV services is increasing, customers are increasingly favoring OTT services. Due to the growing accessibility of unlimited mobile data plans and free public WiFi, the number of OTT service providers has also increased. For instance, Home Box Office, Inc. launched HBO Now, an internet streaming service that enables online viewing of HBO shows.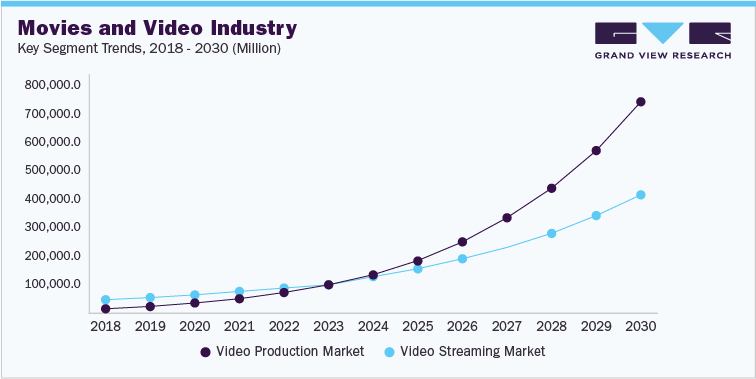 Movies And Video Industry Key Segments

Video Production Market

Revenue estimate at USD 70.40 billion in 2022 and USD 746.88 billion by 2030

Video Streaming Market

Revenue estimate at USD 89.03 billion in 2022 and USD 416.84 billion by 2030
Competitive Insights
The market players employ several organic and inorganic development tactics, including introducing new products, updating existing products, partnerships, corporate expansions, and acquisitions and mergers. For instance, in April 2023, intoPIX SA partnered with Panasonic Connect Co., Ltd to include JPEG XS technology enters its PTZ and studio cameras. Through this partnership, Panasonic Connect proactively shifted to JPEG XS technology by implementing into the intoPIX TicoXS IP cores and enabling their camera line-up to natively interact with live production processes that meet SMPTE ST 2110 and IPMX standards.
This section in the final deliverables also highlights various strategic initiatives taken by the key companies in the recent past that strongly impact this market space. The below figure represents the various strategies initiated by these market participants and the impact analysis: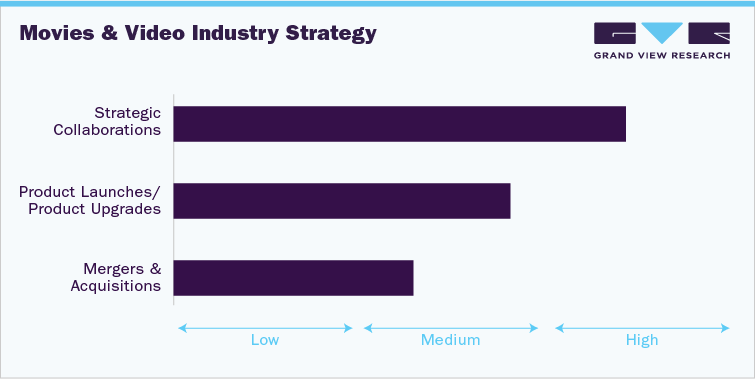 | | |
| --- | --- |
| Strategy | Spearheads |
| Strategic Collaboration | Amazon Web Services Inc., Netflix Inc., Kaltura Inc., |
| Product Launches/Product Upgrades | The Walt Disney Company, Sony Corporation, Viacom Inc., |
| Mergers & Acquistions | IBM Corporation, Google LLC |
Increased mergers, acquisitions, and partnerships are projected to take advantage of the market participants' economic and environmental benefits, allow them to exchange ideas, and improve their internal capabilities and technologies. For instance, in February 2023, Brightcove Inc, a software business company, unveiled an online video platform, Brightcove Communications Studio, a video streaming solution designed to aid HR & communications professionals create stronger relationships and engage with internal stakeholders. A branded and seamless approach to contacting and involving stakeholders both within and internationally is Brightcove Communications Studio.
Key Drivers
Increased demand for video content fuels market growth for video production

The growing demand for virtual events and webinars is fueling the increase in video production demand.

Extensive growth of online video streaming and the rising demand for on-demand streaming

Growing demand for high-speed internet connectivity

Increasing usage of videos in corporate training