Database Overview
Grand View Research's nylon sector database is a collection of market sizing information & forecasts, trade data, pricing intelligence, competitive benchmarking analyses, macro-environmental analyses, and regulatory & technological framework studies. Within the purview of the database, such information is systematically analyzed and provided in the form of outlook reports (1 detailed sectoral outlook report) and summary presentations on individual areas of research along with a statistics e-book.
Nylon Industry Data Book Scope
Attribute

Details

Areas of Research

Nylon 6 Market
Nylon 66 Market

Number of Reports/Presentation in the Bundle

1 Sector Outlook Report + 2 Summary Presentations for Individual Areas of Research + 1 Statistic ebook

Cumulative Coverage of Countries

38 countries

Cumulative of Application

10 Products

Highlights of Datasets

Production Data, by Countries
Import/Export Data, by Countries
Demand/Consumption, by Countries
Competitive Analysis
Nylon 6, by Application
Nylon 66, by Application
Nylon Industry Data Book Coverage Snapshot
Markets Covered

Nylon Industry

USD 32,659.4 million in 2022

6.4% CAGR (2023- 2030)

Nylon 6 Market Size

USD 18,367.0 million in 2022

6.2% CAGR (2023- 2030)

Nylon 66 Market Size

USD 14,292.5 million in 2022

6.6% CAGR (2023- 2030)
Nylon Sector Outlook
The economic value generated by the nylon industry was estimated at approximately USD 32.66 billion in 2022. This economic output is an amalgamation of businesses that are involved in the raw material suppliers, manufacturing of nylon including nylon 6 & nylon 66, distribution & supply, and their respective applications.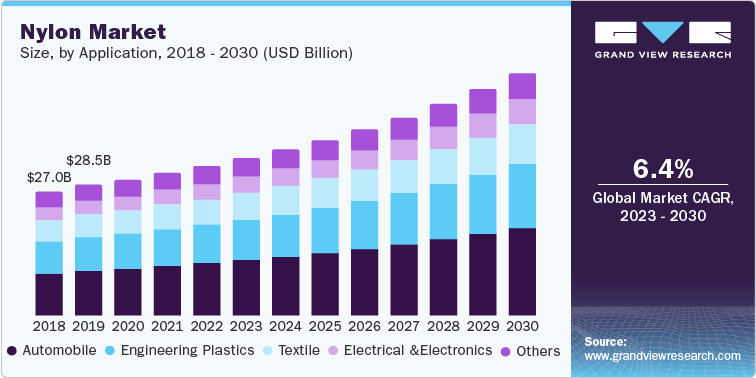 The unique attributes of nylon 6 make the product a cost-effective substitute for materials such as bronze, steel, brass, aluminum, gunmetal, and rubber. These properties attract electrical protection device manufacturers to use nylon 6 in their offerings. The utilization of nylon 6 in various applications over the past few years has established its utility, reliability, and supportive economics based on performance and cost. The excellent surface finish of the product, even under reinforced conditions, makes it a suitable product for applications where aesthetics is important.
The product offers an exclusive combination of mechanical and thermal attributes to ensure its usefulness in a diversity of demanding electrical and load-bearing applications. Nylon 66 illustrates high dimensional stability coupled with enhanced wear & tear resistance owing to its lesser moisture absorption characteristic. Nylon 66 has a short, however strong bond, providing it a denser and more complex structure in comparison to nylon 6.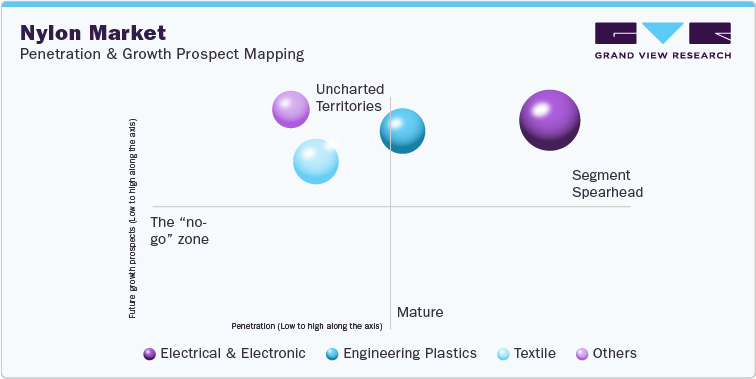 Automobile consumers prefer lightweight vehicles to achieve lower consumption of fuel and reduce vehicle emissions. These rising trends are encouraging automobile manufacturers to replace metal components with nylon 6 products in areas such as crankcases, oil containers, and others, owing to the latter's characteristics of high-tensile strength, elasticity, and excellent abrasion resistance.
The global nylon market is expected to witness significant growth, particularly in emerging economies such as India, China, and Japan. The growth is expected to be driven by the increasing consumption of nylon in the automobile industry as it helps reduce the overall vehicle weight and vehicular emissions into the atmosphere. Moreover, nylon 6, as well as nylon 66, is gradually replacing metal components in vehicles as nylon possesses higher tensile strength, high elasticity, and excellent abrasion resistance. These factors are expected to augment the growth of the global nylon market.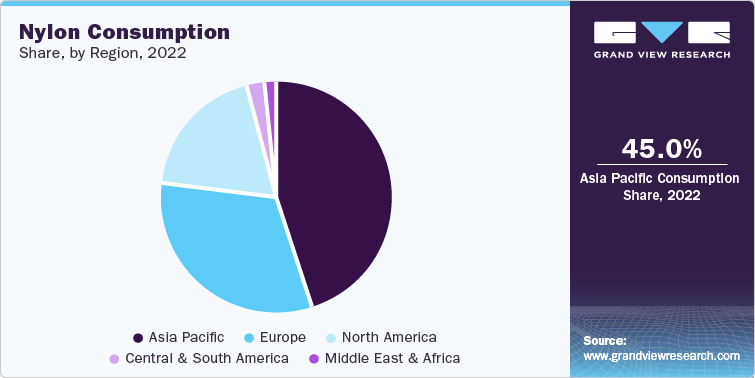 In 2022, Asia Pacific, led by China, India, and Japan, emerged as the fastest-growing region in the global nylon market in terms of both volume and revenue. The availability of inexpensive raw materials & labor, followed by increased purchase power parity is a major driver for the nylon industry in this region. The availability of a highly untapped market and supportive government policies propelled global nylon manufacturers to set up manufacturing and distribution facilities across the region.
Nylon 6 Market Analysis And Forecast
Nylon 6 attracts significant demand from the carpet industry, particularly across Europe. Turkey is one of the highest importers of nylon for its sizeable textile industry based on nylon. The apparel industry is additionally witnessing propulsive growth due to consumer preference for experimenting with distinct raw materials.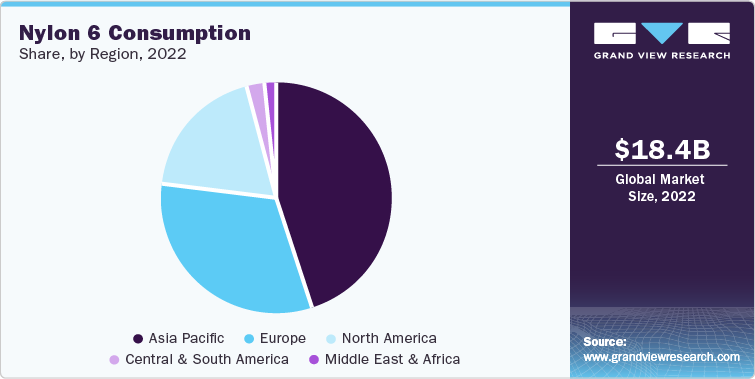 Nylon 6 fabrics are smooth, dry quickly, and require minimal care. The advantages of nylon include water retention on the surface of the fabrics. Furthermore, nylon's low permeability has a disadvantage in that the fabric feels clammy and uncomfortable in warm. They additionally retain their shape after washing.
Nylon 66 Market Analysis And Forecast
Nylon 66 has witnessed a rise in demand from the automotive industry for the manufacturing of fuel systems, engine components, under-the-hood components, and electrical connectors, due to its high resistivity to mechanical stress, heat, and chemicals.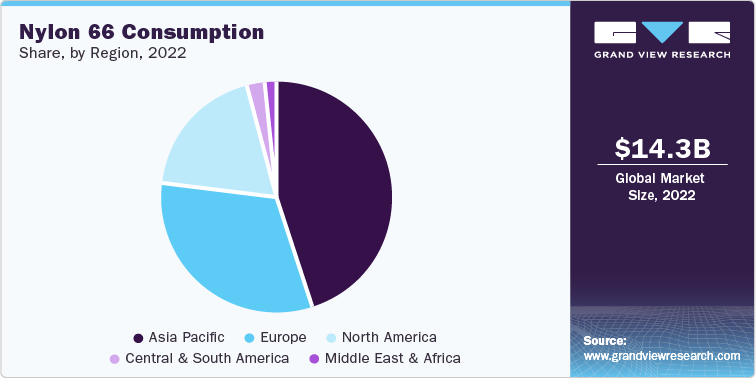 Asia Pacific dominated the global nylon 66 market owing to the increasing disposable income and rising demand for automobiles across the growing population. In addition, the presence of inexpensive labor and the presence of major automotive manufacturers such as Honda Motor Company; Hyundai Motor Co.; Nissan Motor Co. Ltd.; and TOYOTA MOTOR CORP. is anticipated to propel the demand for nylon 66 during the forecast period.
Competitive Insights
The nylon market is anticipated to witness substantial growth over the coming years owing to the increasing demand for lightweight materials in the automotive industry. The increasing rate of automotive production and rapid expansion of the automotive manufacturing base across the world are projected to boost the demand for nylon over the forecast period. Furthermore, superior properties of nylon products such as high mechanical strength, electrical resistance, toughness, and good insulation are expected to largely contribute to the growth of the nylon industry over the forecast period.
Several nylon manufacturers including BASF SE, Toyobo, Domo Chemicals, Invista, Kuraray Co., Ltd., Ascend Performance Materials LLC, and Ube Industries Ltd. actively have invested in the research & development of new products. For instance, in July 2023, UBE Corporation Europe launched a new nylon, namely UBE NYLON 5036B, for their nylon packaging existing portfolio which is approved by the Food & Drug Administration (FDA). This new nylon grade has been launched in line with the increased demand for sustainable and advanced packaging solutions.
In February 2022, BASF SE launched a digital platform, RegXcellence, for plastic and plastic additive customers, enabling targeted access to a wide range of global regulatory support. RegXcellence caters to the already existing customers of fuel and lubricant solutions, plasticizers, pharma solutions, and human nutrition businesses. Furthermore, RegXcellence is part of an existing BASF SE portfolio, namely the VALERAS portfolio, which is a major contributor to the increasing sustainability of plastics along with the entire polymer value chain.