Database Overview
Grand View Research's personal protective equipment industry databook is a collection of market sizing information & forecasts, trade data, pricing intelligence, competitive benchmarking analyses, macro-environmental analyses, and regulatory & technological framework studies. Within the purview of the database, such information is systematically analyzed and provided in the form of outlook report and summary presentations on individual areas of research.
Personal Protective Equipment Industry Data Book Scope
Attributes

Details

Areas of Research

Hand Protection Equipment Market
Fall Protection Market
Respiratory Protection Equipment Market
Industrial Protective Clothing Market
Protective Footwear Market

Number of Reports/Presentations in the bundle

1 Sectoral Outlook Report + 5 Summary Presentations for Individual Areas of Research + 1 Statistics eBook

Cumulative Coverage of Countries

50+ Countries

Cumulative Coverage of Products

10+ Products

Highlights of Datasets

Demand/Consumption by Countries
Competitive Analysis
Hand Protection Equipment Market by end-use
Respiratory Protection Equipment Market by end-use
Industrial Protective Clothing by application
Industrial Protective Clothing by end-use
Personal Protection Equipment Industry Data Book Coverage Snapshot
Markets Covered

Personal Protection Equipment Industry

USD 91.55 billion in 2021

Hand Protection Equipment Market Size

USD 29.59 billion in 2021

5.9% CAGR (2022-2030)

Fall Protection Market Size

USD 2.61 billion in 2021

7.0% CAGR (2022-2030)

Respiratory Protection Equipment Market Size

USD 22.72 billion in 2021

6.6% CAGR (2022-2030)

Industrial Protective Clothing Market Size

USD 18.93 billion in 2021

6.9% CAGR (2022-2030)

Protective Footwear Market Size

USD 9.74 billion in 2021

6.8% CAGR (2022-2030)
Personal Protective Equipment Industry Outlook
The economic value generated by the personal protective equipment market was estimated at approximately USD 91.55 billion in 2021. Increasing awareness towards employee health and safety coupled with rising industrial fatalities in emerging economies due to lack of protective gear is expected to drive market growth over the forecast period.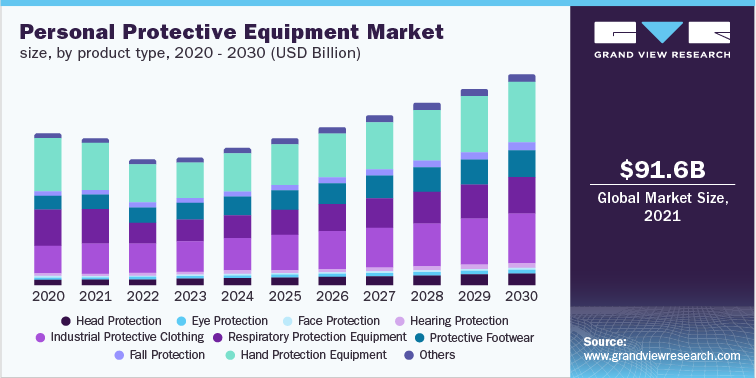 Occupational safety regulations play a major role in driving the personal protective equipment (PPE) market. Mandated policies by agencies for companies to maintain worker safety in industries are anticipated to drive demand for personal protective equipment. These regulations mention the type of personal protective equipment required for protection during different industrial or commercial processes.
Share of Major Personal Protective Equipment Countries, by Product 2021

Total

Hand Protection Equipment

Fall Protection

Respiratory Protection Equipment

USD Billion

91.55

USD Billion

29.59

USD Billion

2.61

USD Billion

20.88

United States

26%

United States

29%

United States

24%

United States

24%

China

7%

China

7%

China

10%

China

10%

Germany

7%

Germany

7%

Germany

7%

Germany

7%

Russia

4%

Russia

3%

Russia

4%

Russia

4%

Japan

3%

Japan

3%

Japan

3%

Japan

3%

India

3%

India

3%

India

3%

India

3%

Rest of the World

51%

Rest of the World

47%

Rest of the World

50%

Rest of the World

50%
According to the Workplace Safety & Health Report 2021 of the Government of Singapore, prior to January 2021, major and minor workplace injuries referred to those injuries that required four or more days of medical leave or at least 24 hours of hospitalization. In accordance with the modifications to the Work Injury Compensation Act (WICA) that came into effect in September 2020, companies are required to disclose any work-related injuries that result in medical leave or modified tasks for workers. These aforementioned factors will drive the demand for the personal protective equipment market.
Hand Protection Equipment Market Analysis And Forecast
The rising demand is attributed to the increasing concerns about hand hygiene and the product's efficiency in limiting the spread of COVID-19 in various end-use industries. The onset of the second wave of COVID-19 led to a shortage of hand protection equipment in hospitals and other sectors, such as manufacturing and construction. Moreover, several government authorities, such as the Centers for Disease Control and Prevention, issued guidelines regarding the use of sterile barrier precautions, which positively influence the demand for hand protection equipment.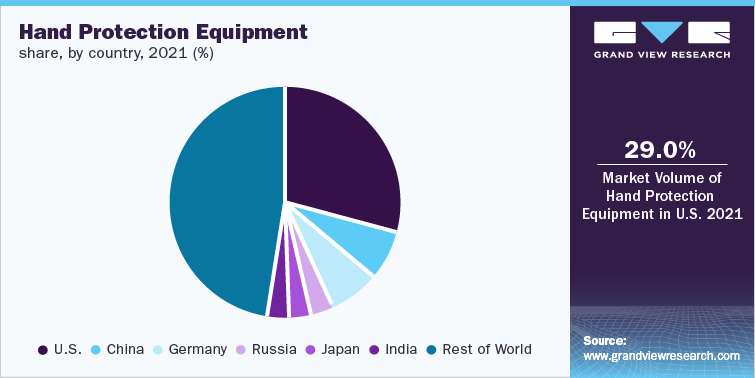 On the basis of end-user, the global industry has been further categorized into construction, manufacturing, oil & gas, chemicals, food, pharmaceuticals, healthcare, transportation, mining, and others. The healthcare end-use segment dominated the industry in 2021 and accounted for the maximum share of 56.0% of the global revenue. Hand protection equipment is increasingly used in the healthcare industry. The pharmaceutical end-use segment is the second-largest end-use segment as employees working in the pharmaceutical industry face various on-the-job hazards as they come in contact with hazardous chemicals, solvents, and drugs.
Fall Protection Market Analysis And Forecast
The growth and evolution witnessed by leading industrial verticals, such as manufacturing, construction, and mining, have subsequently boosted the demand for these products. The global supply chain disruptions caused by the COVID-19 outbreak in 2020, along with the ongoing Russia-Ukraine war, have resulted in increased steel prices across the world. Russia and Ukraine are key steel producers, as well as providers of natural gas and coking coal used as key raw materials. Thus, the ongoing supply chain disruptions are projected to result in a shortage of raw materials and a rise in steel prices, and an increase in the prices of these products.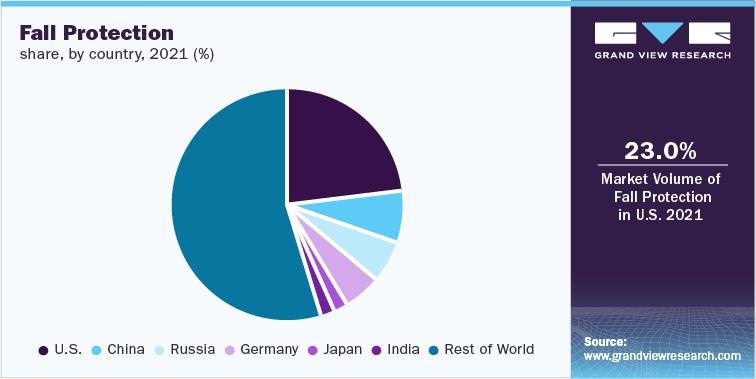 The rising number of infrastructure projects, increasing preference for home renovation, and a growing market for green buildings globally are expected to boost the demand for fall protection in the construction sector. The mining industry is anticipated to remain the key end-use sector for this product globally, as Slip, Trip, and Fall (STF) dangers have increased in mining areas, posing safety threats to mine employees.
Respiratory Protection Equipment Market Analysis And Forecast
The growing awareness about worker safety and stringent government regulations are expected to have a positive impact on the industry's growth. The demand for disposable masks in the COVID-19 pandemic surged significantly requiring manufacturers to boost their production capacity. Furthermore, supply chain interruptions resulted in a lack of raw materials, causing prices to skyrocket. EPR manufacturers also began producing revolutionary solutions to combat the pandemic, which boosted the industry's growth.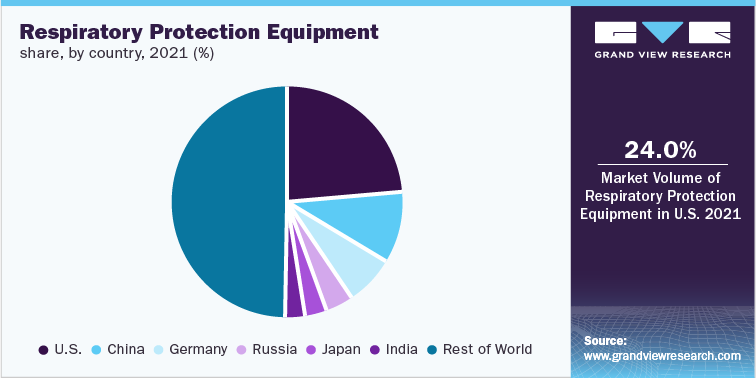 Several governments have been focusing on infrastructure development through financial stimulus packages, which are expected to boost the construction industry worldwide. The growing infrastructure activities are likely to bring up chronic respiratory diseases, such as Chronic Obstructive Pulmonary Disease (COPD), augmenting the demand for respiratory protection equipment.
Competitive Insights
Major players in the personal protective equipment market include 3M, Honeywell International, Lakeland Industries Inc., DuPont, Uvex safety, Mine Safety Appliances (MSA) Company, Kimberly-Clark Corporation, Radians, and Gateway Safety, Inc. The industry focuses on research & development activities to develop new technologies for manufacturing products and integration across various stages of the value chain to gain a competitive edge in the market.
Strategies adopted by the companies usually include product portfolio expansion, product development, and distribution network expansion. Honeywell International, Inc. is one of the key players engaged in launching new products as a part of its strategic initiative. The products launched by the company in the last few years include portable gas detectors, Ne-Hon-6, and toxin-resistant hoods for firefighters. Moreover, the company is involved in technological advancements such as hands-free and wearable connected plant
The Ford Motor Company started the production of a new PAPR design that has been developed in collaboration with 3M in the year 2020. This new equipment is expected to assist the frontline healthcare workers that are actively fighting the pandemic. Furthermore, in March 2020, Ford Motor Company partnered with 3M and GE Healthcare to produce respirators, ventilators, and face shields for healthcare workers and first respondents.

In the year 2020, Lakeland Industries increased its manufacturing capacity by increasing operating hours in Vietnam, India, and China facilities for providing disposable PPE for healthcare professionals amid the COVID-19 outbreak. Furthermore, the company expanded its product portfolio in the thermal resistance protective clothing segment.

In February 2018, Alpha Pro Tech, in its Utah facility, launched the N-95 Particulate Respirator facemask, which offers protection from several airborne contaminants. Furthermore, in August 2020, Ansell joined the TyvekTogether program launched by DuPont to partner with additional converters to increase the supply of Tyvek garments in the market. Through this collaboration, Ansell will produce 600,000 isolation gowns using Tyvek fabric. These are some of the companies engaged in expanding their product portfolio by launching new products.