Database Overview
Grand View Research's pet food sector database is a collection of market sizing information & forecasts, pricing intelligence, competitive benchmarking analyses, macro-environmental analyses, and regulatory & technological framework studies. Within the purview of the database, such information is systematically analyzed and provided in the form of outlook reports (1 detailed sectoral outlook report) and summary presentations on individual areas of research along with a statistics e-book.
Pet Food Industry Data Book Scope
Attributes

Details

Areas of Research

Dog Food Market
Cat Food Market
Other Pet Food Market

Number of Reports/Presentation Covered in the Bundle

1 Sector Outlook Report + 2 Summary Presentations for Individual Areas of Research + 1 Statistic ebook

Cumulative Coverage of Countries

16 Countries

Cumulation Coverage Food Type

02 Type Categories

Highlights of Datasets

Trade Data, by Country
Demand/Consumption, by Country
Competitive Analysis
Pet Food Industry Data Book Coverage Snapshot
Markets Covered

Pet Food Industry

31,804.4 Kilo Tons in 2022

3.6% CAGR (2023-2030)

Dog Food Market

12,823.6 Kilo Tons in 2022

4.4% CAGR (2023-2030)

Cat Food Market

9,708.4 Kilo Tons in 2022

3.8% CAGR (2023-2030)

Other Pet Food Market

9,272.4 Kilo Tons in 2022

2.4% CAGR (2023-2030)
Pet Food Sector Outlook
The economic value generated by the pet food industry was estimated at approximately USD 99.10 billion in 2022. This economic output is an amalgamation of basic pet food categories, namely, dog food, cat food, and others.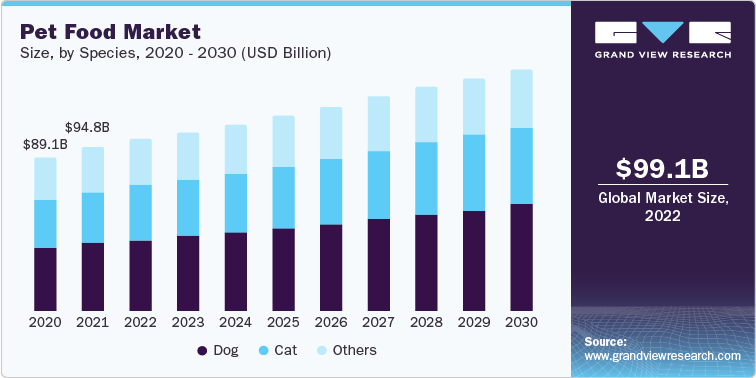 The pet food market is growing at a higher pace owing to proliferating demand for probiotics and other supplements to enhance the GI tract, immunity, and stool quality of pets. Increasing digestive and performance capacities of pets due to healthy food consumption is also expected to boost market growth in the upcoming years. In addition, increasing consumer awareness regarding the importance of giving appropriate feed to pets and improving their overall health are among the key factors fueling the product demand.
According to the American Pet Products Association, Inc., 67% of the U.S. household population owns at least a single pet, further categorizing it into dogs and cats that are owned by 63.4 million and 42.7 million households, respectively. The survey provided an estimation of the total amount, which is USD 99 billion spent on pets in the U.S. Among these, USD 38.4 billion is spent on pet food followed by USD 30.2 billion on vet care, USD 19.8 billion on supplies and OTC medicines, and USD 10.7 billion on services such as grooming, boarding, training, insurance, and pet sitting services. Online private channels such as Chewy.com and Amazon are endorsing their own brands to disrupt the market and eradicate middlemen margins.
The pet industry has experienced significant growth in recent years, primarily driven by the rise of online shopping and the substantial impact of e-commerce on the global market. Several trends have influenced this growth, including the introduction of new food products, the emergence of online private brands, the popularity of treats, and the integration of novel technologies. Pet owners are increasingly drawn to made-to-order, frozen, and fresher meal options for their pets, even though these products may come at a higher cost. They are willing to invest more in healthier food options for their pets. In addition, pet owners typically provide their pets with 8 to 10 treats per day, and the growth trajectory for treats mirrors that of pet food.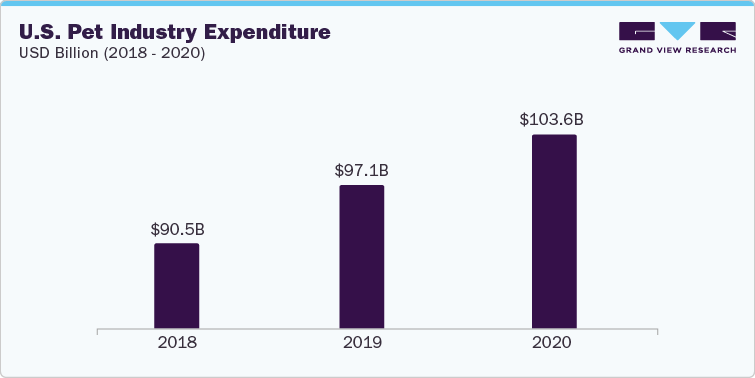 According to the American Pet Products Association (APPA), the pet industry in the United States saw a significant expenditure of USD 123.6 billion in 2021. This expenditure included various pet-related expenses such as pet food and treats, supplies, veterinary care, and other services. Notably, pet food and treats accounted for the highest sales, reaching a total of USD 50.0 billion in the country.
Rising health issues faced by pets are a growing concern among pet owners. One of the main factors contributing to these health issues is joint disease, which often stems from a lack of exercise and overfeeding, leading to pets becoming overweight. Pets are also susceptible to high blood pressure and diabetes.
In response to these concerns, pet owners are increasingly shifting their focus toward adopting nutritious foods specifically manufactured by various companies. This shift reflects their growing awareness of the importance of maintaining their pets' health and well-being. As a result, this change in consumer preference is expected to have a positive impact on the pet food market in the coming years.
The growing trend of staying single or childless for longer periods has resulted in the increased adoption of pets for companionship. This trend is mainly seen in the U.S. and European countries, however, emerging economies, such as Brazil and China, are also rapidly adapting to this trend. As a result, there is a growing demand for healthy and nutritious pet food, which, in turn, is expected to drive the overall market growth.
In 2021, around 69 million households owned dogs while around 45.3 million households owned cats in the U.S. According to the APPA, a dog or cat owner spends approximately USD 250 to 350 on pet food & treats per annum. In the past couple of years, owners have been treating pets as their family members, and thus providing them with expensive organic and natural pet foods and treats. This trend combined with the high disposable income of consumers, especially in North America and Europe, has contributed to the sales of premium pet food products. The majority of youngsters and couples prefer living separately, which pushes the concept of nuclear families. It is observed that people living separately generally adopt pets, which is expected to drive the market for pet food in the coming years.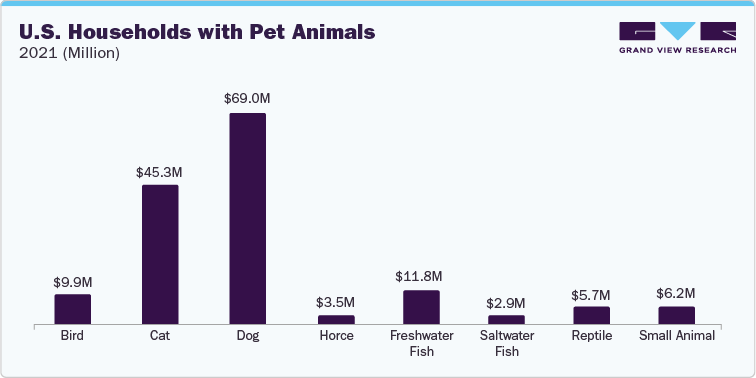 Growing urbanization in Asia Pacific has led to busy work schedules, therefore, people need pets to keep them company. As per various scientific studies, pets can be stress-busters. This is another factor contributing to their increasing adoption, thereby driving the demand for pet food. The pet food industry has tremendously grown over the past few years as dogs, fish, cats, and birds have been popular home companions. The number of pets is expected to increase at the same pace over the predicted years, thus creating market opportunities for various companies involved in the manufacturing of pet-related goods.
Several people suffer from different pet-related allergies and, therefore, do not prefer pets. This factor may hamper the growth of the industry. Millions of people suffer from various allergies and infections year-round due to the presence of indoor allergens such as animal dander, dust mite droppings, and molds. Numerous pet owners also suffer from asthma on account of cat and dog allergies.
Bacteria, such as Campylobacter, from the exposed stool of a pet, can contaminate human food, which can lead to diarrhea, cramping, abdominal pain, and fever within 2-5 days of exposure to the bacteria. Newborn and young babies are more prone to infection from pets. Uncleaned and dirty dog or cat hair is house to worms. These worms, if swallowed, can cause infection and severe health issues in newborns and babies. The larvae of hookworm can penetrate adult skin and cause itchy and painful rashes.
Rabies is a severe disease that humans can get from dogs and cats. According to the World Health Organization (WHO), rabies causes approximately 55,000 human deaths annually in around 150 countries. This is expected to act as a restraining factor for the market. However, cost-effective methods like pet vaccination can help eliminate vaccine-preventable diseases like rabies.
Dog Food Market Analysis And Forecast
Dog food accounted for an industry share of 41.8% in 2022. Due to the increasing adoption of dogs as pets and the growing concern among pet owners about the health and welfare of their dogs, dog food has become one of the most widely used pet foods. Dogs, being carnivorous animals, primarily consume meat-based meals. Their dietary requirement for carbohydrates is relatively low, leading to a growing demand for dog food with higher meat content and reduced starch content. Grains are also commonly included in dog food as they are cost-effective and facilitate easier production of kibble. In some cases, grains are substituted with fruits and vegetables to enhance digestibility and absorption for dogs. It is important to note that soy and corn fillers or additives are generally avoided, as they can hinder digestion. With increasing awareness about the negative effects of chemicals used in pet food, there is a growing preference for natural and organic ingredients.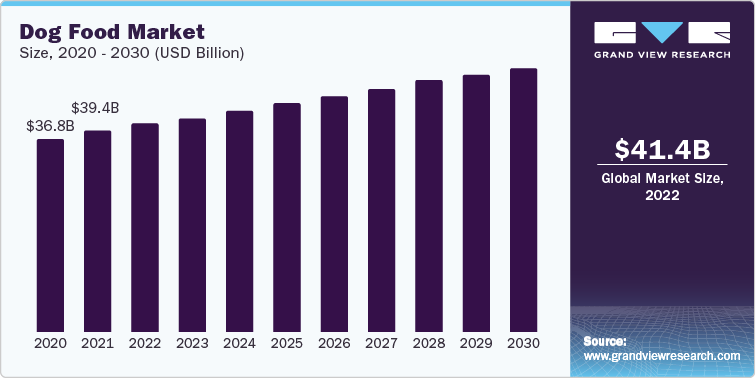 According to the American Pet Products Association, in 2021, USD 50 billion were spent on pet food & treats. Growing consumer concerns toward pet health have further increased the spending on healthy alternatives. Dog obesity is one of the most common health concerns among dog owners. According to Vet Innovations, Inc., nearly 100 million pets in the U.S. are estimated to be overweight. Thus, with increasing obesity people will turn to customized pet food to keep their pets healthy. All these factors collectively are expected to boost the demand for quality dog food over the forecast period.
Wet food is more appetizing to dogs as it resembles the fresh meat that they crave. It is available in cans, pouches, and trays in the market. There is a high demand for wet food from consumers who are concerned about their dogs' digestive and gut health. It is easier to digest and supports a healthy fluid level in dogs. Further, its high moisture content helps to keep the dog hydrated, maintain a healthy urinary tract system, and prevent obesity as it has fewer carbs. These health benefits associated with wet food are likely to drive the segment growth over the forecast period.
Although wet food offers several health benefits to dogs, dry food also has its advantages in supporting the healthy oral system of the dog. More importantly, dry food is relatively more convenient and cost-effective as compared to wet food. As most people spend a significant time at work, they find using dry food for their dogs easy as it is mess-free and requires no preparation. Additionally, it has a longer shelf-life and does not need refrigeration. Free feeding is another advantage obtained from dry food. These factors are collectively expected to boost segment growth.
In May 2022, Orijen pet food introduced "Orijen amazing grains," premium dry food for dogs that consists of fiber-rich grains and animal protein to meet the increasing nutritional requirements of pet owners. This new line of pet food includes a special blend of grains such as quinoa, oats, and chia seeds. The premium grain and animal ingredient dry food makes it nutritionally appropriate for dogs. It has 38% of protein with approximately 90% delivered from animal ingredients and the rest from grains.
Cat Food Market Analysis And Forecast
Cat food accounted for an industry share of over 31.6% in 2022. Fungicides eliminate the growth of fungi as well as their spores. Prominent cat foods are based on fish, poultry, meat, and a few plant-based ingredients such as soy and corn. Grains are used to add carbohydrates, animal meat is used to add fats & proteins, and vegetables are used to add vitamins and minerals to the final food product.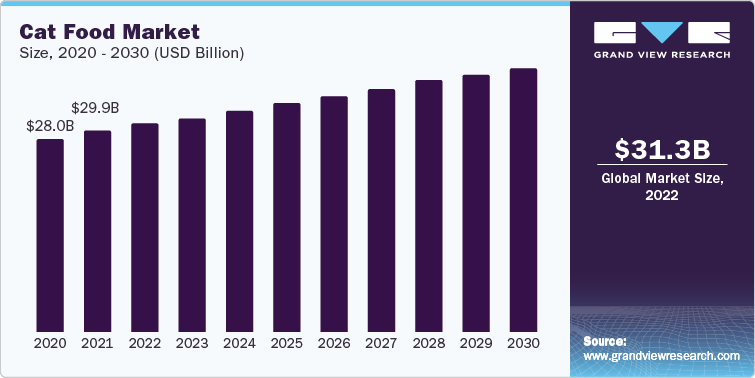 Cats have a specific dietary requirement as strict carnivores, necessitating high levels of protein derived from animal sources in their food. Animal-based proteins are favored over plant-based proteins due to their superior quality and biological value. As a result, cat diets often prioritize protein sources such as poultry (turkey and chicken) and rabbit. On the other hand, grain-based cat foods are generally not regarded as healthy, despite being more affordable. Likewise, vegetable-based cat foods are not considered suitable since cats do not have a biological need for a vegetable-based diet.
A whopping share of 59% of cats owned by U.S. pet owners were obese (as reported by Vet Innovations, Inc.). Of these, 28% were reported to be overweight and 31% of them were reported as clinically obese. This obesity can further lead to health repercussions in cats such as chronic kidney disease, asthma, arthritis, heart failure, and immobility of the spine. These alarming statistics have increased awareness regarding cat health and the benefits of healthy and balanced cat foods among cat owners. These factors are expected to witness significant growth over the forecast period.
Wet food for cats is reported to be healthier than dry food because it contains a relatively higher content of water that helps them to remain hydrated and maintain urinary tract health. Also, the level of carbohydrates in wet food is higher when compared to dry food, making them ideal for consumption and digestion. These factors are likely to drive wet food demand over the forecast period.
Other Pet Food Market Analysis And Forecast
Other pet food accounted for an industry share of over 26.6% in 2022. This segment includes food for species like hamsters, rabbits, birds, and fishes. Pet parents are searching for healthful, species-specific food that employs natural ingredients and does not contain added sugar, fillers, or chemical preservatives when selecting food for their pets. Natural, nutritious, premium goods that promote ancestral and instinctual behaviors have remained important trends in the manufacturing and marketing of pet food. Manufacturers/brands such as Oxbow, Vitakraft, JR Farm, Wild Harvest, Kaytee Fiesta, and Stabul Nugget provide food and treats for birds, hamsters, fish, and other small animals.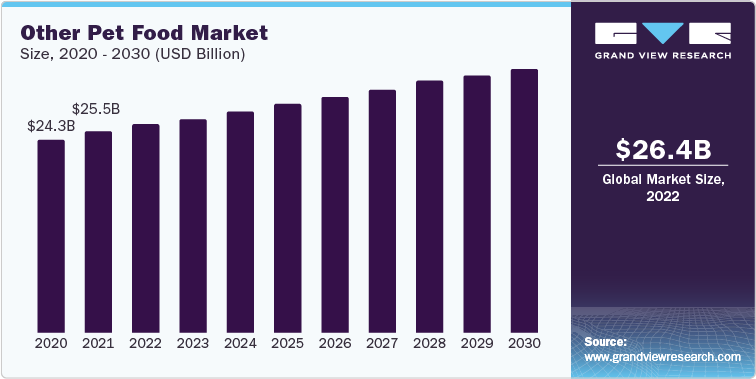 Competitive Insights
The competitive landscape of the pet food market is moderately consolidated with the presence of multinational companies striving to fulfill high demand from large customer and end-user base.

Key industry players are increasingly embracing innovative marketing strategies and leveraging advanced technologies to enhance their revenue generation and expand their customer base in the foreseeable future.

In May 2023, Nestlé Purina announced that it is set to inaugurate a new production facility, Purina Vargeão, in early 2024. Initially specializing in wet food products, this facility is expected to have an annual production capacity of approximately 30,000 metric tons. This investment aims to establish Nestlé Purina as the third-largest domestic pet food manufacturer in Brazil.

Increasing consumer awareness concerning the toxicity of synthetic products and the side effects observed in pets due to the consumption of such products have instigated several manufacturers in developed economies to produce organic pet foods.

In July 2023, Hill's Pet Nutrition, Inc. introduced novel offerings that incorporate MSC-certified seafood and insect protein, tailored to address the dietary needs of pets with sensitive stomachs and skin. It also provides vitamin E and omega-6 fatty acids for coat & skin nourishment.

Key manufacturers are also focused on developing innovative formulas to offer diverse and high-quality food for pets and farm animals. Industry players also utilize raw materials with criteria to meet the demands, as well as regulations, in both domestic and international markets.
Company Financial Performance, for Pet Food Business Portfolio, 2022 (USD Billion)
Company

Contact Details

Segment Revenue

The J.M. Smucker Company

One Strawberry Lane

Orrville, Ohio 44667-0280

U.S.

Tel: 888-550-9555

U.S. Retail Pet Food.

2764.3 USD Million

Nestlé Purina

200 Checkerboard Loop

Gray Summit,

MO, 63039-1132

U.S.

Tel: (314) 982-3232

Pet Care Segment

18.1 Billion

General Mills Inc.

Minneapolis, Minnesota, 55426

U.S.

Tel: (763) 764-7600

357.3 Million