Database Overview
Grand View Research's petrochemicals industry data book is a collection of market sizing information & forecasts, trade data, pricing intelligence, competitive benchmarking analyses, macro-environmental analyses, and regulatory & technological framework studies. Within the purview of the database, such information is systematically analyzed and provided in the form of outlook reports (1 detailed sectoral outlook report) and summary presentations on individual areas of research along with a statistics e-book.
Petrochemicals Industry Data Book Scope
Attribute

Details

Areas of Research

Ethylene Market
Propylene Market
Butadiene Market
Benzene Market
Xylene Market
Toluene Market
Methanol Market

Number of Reports/Presentations Covered in the buddle

1 Sector Outlook Report + 7 Summary Presentations for Individual Areas of Research + 1 Statistic ebook

Cumulative Coverage of Countries

50+ Countries

Cumulative Coverage of Product

7 Products

Highlights of Datasets

Product Data, by Country
Trade Data, by Country
Demand/Consumption Data, by Country
Statistic e-book
Competitive Landscape
Petrochemicals Industry Data Book Coverage Snapshot
Markets Covered

Petrochemicals Market

566.5 Million Tons in 2021, CAGR (2022-2030) - 5.1%

Ethylene Market Size

153.9 Million Tons in 2021, CAGR (2022-2030) - 4.7%

Propylene Market Size

95.1 Million Tons in 2021, CAGR (2022-2030) - 4.4%

Butadiene Market Size

12.9 Million Tons in 2021, CAGR (2022-2030) - 4.1%

Benzene Market Size

55.8 Million Tons in 2021, CAGR (2022-2030) - 4.1%

Xylene Market Size

60.4 Million Tons in 2021, CAGR (2022-2030) - 5.4%

Toluene Market Size

34.7 Million Tons in 2021, CAGR (2022-2030) - 5.0%

Methanol Market Market

153.8 Million Tons in 2021, CAGR (2022-2030) - 6.3%
Petrochemicals Industry Outlook

The economic value generated by the petrochemicals market was estimated at approximately USD 556.1 billion in 2021. This economic output is an amalgamation of basic petrochemical products, namely, ethylene, propylene, butadiene, methanol and aromatics including benzene, toluene and xylene.
Over the past year, the petrochemicals sector has witnessed a transition with regional asymmetries playing a significant role in the success. While the Chinese market has witnessed significant growth due to high investment on modernization of facilities & increase in foreign investment, the players in Middle East & North America regions have witnessed edge due to the availability of abundant gas feedstock. According to the International Energy Agency (IEA), the production of petrochemicals & its derivatives consumes approximately 14% & 8% of the oil & gas produced globally. This share is expected to increase to over 33% & 15% in 2030 and over 50% & 19% in 2050.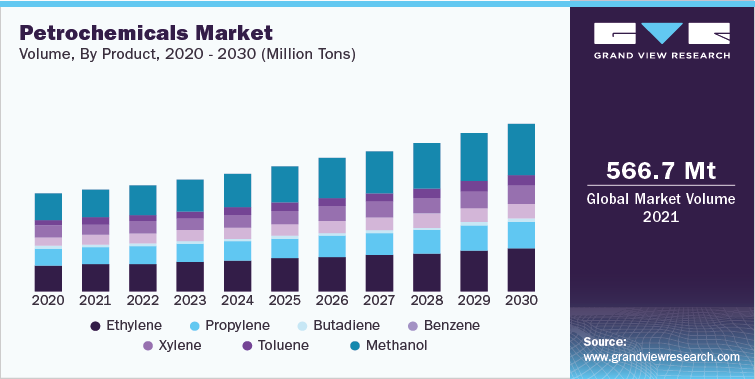 The market has been highly driven by rising demand for plastics, which is the fastest-growing group of bulk materials across the world. Household goods, personal products, construction, automotive, and consumer appliances are some of the key consumers of plastics across the world.
The plastics production witnessed a stagnation during 2020 on account of the COVID 19 pandemic with a recovery in 2021. During 2020, the demand for household and personal care products witnessed an increase while there was a decline in the demand for durable goods including automotive & appliances, thereby impacting the petrochemicals industry.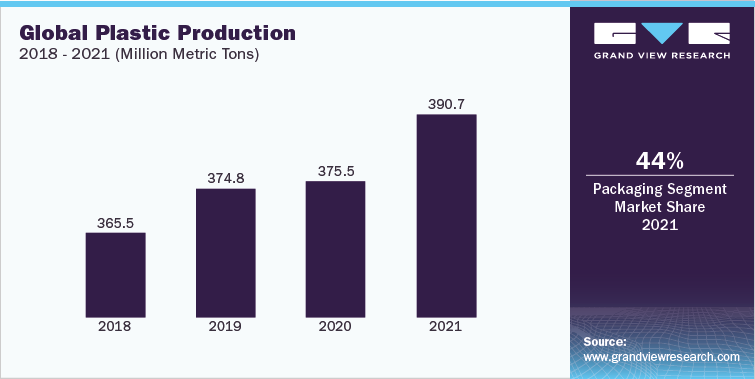 Packaging is the dominant application of plastics accounting for over 44% share in 2021. Plastics are the preferred material in the packaging industry owing to their durability, performance, and cost-effectiveness. Increasing demand for plastics for packaging, particularly in the emerging economies is expected to drive the demand for petrochemical products over the forecast period.
High volatility of oil & gas prices, geopolitical landscape and changes in the foreign trade regulations, are some of the key retaining factors for the petrochemicals industry. Further, growing concerns regarding the health, safety, & environment further adds to the challenges for industry participants.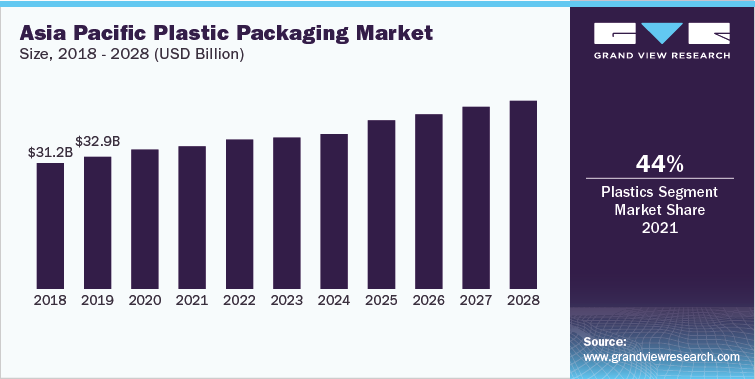 This industry was impacted by the economic slowdown during the COVID 19 pandemic with a downfall in the demand from key sectors including automotive, appliances, construction and textiles. There was a significant difference in the regional production during Q1 2020 and Q2 2020. While the global output fell by 3.4% as compared to the 2019 levels, EU27 witnessed an output decline of 5.2%. The GCC countries and China witnessed lower decline in the output, falling by 3.0% and 2.1% respectively during the same period.
The industry witnessed a strong recovery with growth of 5-6% in 2021 due to high demand for polyethylene and polypropylene from the packaging industry. The margins for market players improved with rise in the demand and price hikes supported by supply restrictions, reduced trade, and high shipping cost.
Regional variations continued to play a role with supply restriction in North America and over supply across Asia Pacific region. For instance, in February 2021, North America witnessed a significant capacity shutdown due to the winter storms which curbed the supply of ethylene and propylene across the region. The price of petrochemical derivative PE spiked from USD 1000 per ton to USD 2000 per ton.
The industry in Northeast Asia was oversupplied due to slower recovery. For instance, the demand for PE increased by 1% from 2020 to 2021, which was considerably lower as compared to the global average of 3%- 5%. This also affected the price of the product which was lower as compared to North America & Europe.
Ethylene Market Analysis And Forecast
Ethylene market dominated the petrochemicals industry with a share of over 40% in 2021. The product is a key feedstock in the formulation of derivatives such as ethylene oxide, polyethylene, ethylene dichloride (EDC), ethylbenzene, and styrene. These derivatives are prominently used in plastic packaging for food, beverages, personal care, healthcare, and consumer electronics industries with a share of over 45%.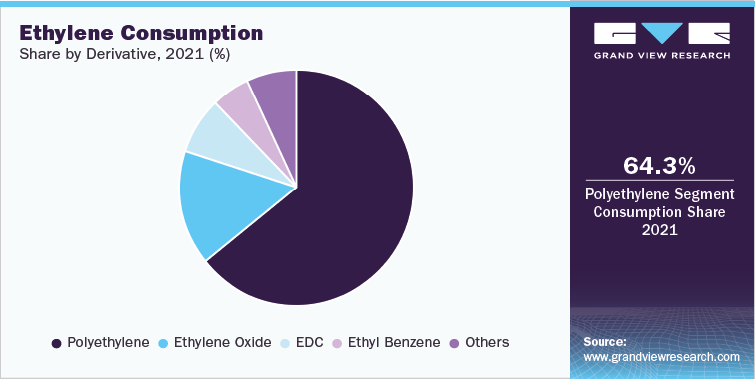 Construction sector accounts for over 20% share in the ethylene derivative consumption due to high rate of replacement of traditional materials for production of pipes, wires, and insulation products. Polyethylene is one of the majorly used plastics in the industry.
Korea was the largest exporter of ethylene in 2021, followed by Netherlands, Japan, & U.S. In terms of imports, China was the largest importer accounting for a share of 29.3% in 2021. It was followed by Belgium, Indonesia, and Germany.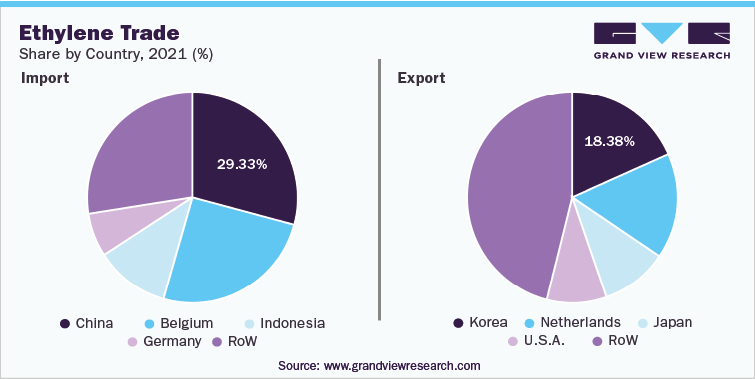 During 2020, the ethylene cost curve witnessed a steep decline due to low demand and oil prices. In 2021, the recovery in oil prices contributed to ethylene cost curve, thereby favoring the market players in North America and Middle East players. As a result, the margins for North American players almost doubled from the 2020 levels. Similar advantage was witnessed by the players in Europe. However, the Asian market players witnessed negative margins in the second half of 2021 due to the rising oil prices resulting in high production cost for naphtha and weak demand.
Propylene Market Analysis And Forecast
Propylene accounted for a share of over 20% in the global industry in 2021. It is used to produce acrylonitrile, polypropylene resin, acrylic acid, isopropyl alcohol, propylene oxide, and acetone. Propylene is widely utilized in the automotive industry, as a preferable choice of alloys. It accounts for a major share of plastics used in automobiles. Increasing demand for injection-molded polypropylene (PP) from the electrical & electronics industry is further expected to fuel the consumption of propylene, specifically in developing regions such as Asia Pacific and the Middle East. It is also used in other applications such as housewares, bottle caps, toys, and luggage.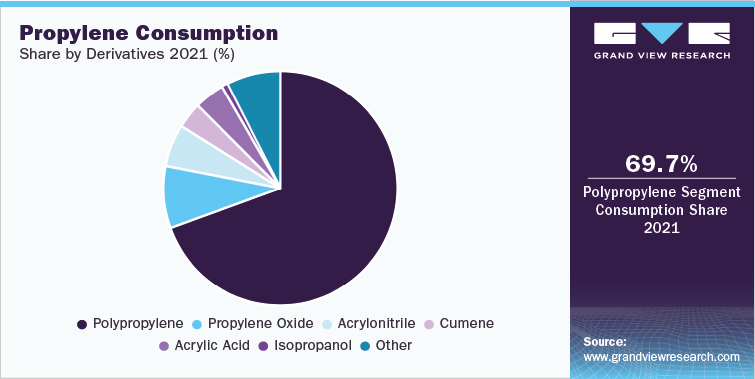 Propylene derivative acrylonitrile is used in a variety of elastomeric polymers and fiber applications, with the largest being acrylic fibers. Propylene oxide is used to make polyether polyols, which are reacted with an isocyanate to form polyurethanes. Polyurethanes are utilized across several end-use industries such as furniture, automotive, and footwear. The recovery of the automotive industry from the covid pandemic, along with the increased spending on construction activities in Western Europe, is expected to contribute to the growth of the market in the coming years.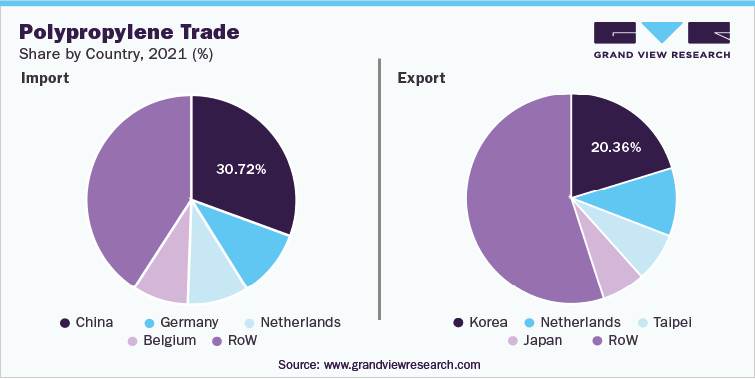 Korea was the largest exporter of propylene in 2021, followed by Netherlands, Taipei, Japan, & the U.S. In terms of imports, China was the largest importer accounting for a share of 30.7% in 2021. It was followed by Germany, Netherlands, and Belgium.
Butadiene Market Analysis And Forecast
Butadiene accounted for a share of over 15% in the global industry in 2021. It is majorly utilized as a chemical intermediate and a monomer during the production of polymers such as styrene-butadiene rubber (SBR), polybutadiene rubber (PBR), polychloroprene (PBR), and nitrile rubber (NR). Butadiene derivatives have witnessed a significant increase in demand specifically in China, India, and other Asian countries owing to the flourishing end-use industries such as automobile, consumer goods, construction, and others.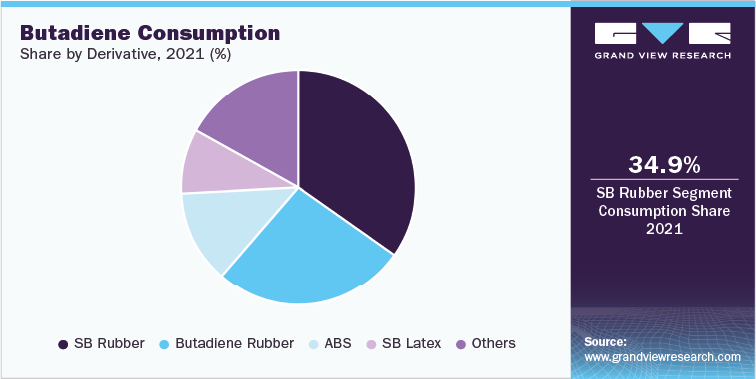 SBR manufacturers are the largest consumers of butadiene as it is used for manufacturing automobile tires. Chemical intermediates manufactured from butadiene include chloroprene and adiponitrile. Adiponitrile is used for making nylon fibers and polymers. Strong economic growth, coupled with the expanding automotive industry in emerging economies of the Asia Pacific, including China, India, and Vietnam, is expected to fuel the growth of butadiene market. The automobile sales have grown considerably in countries of Asia Pacific over the last decade and are expected to follow an upward trend in the coming years.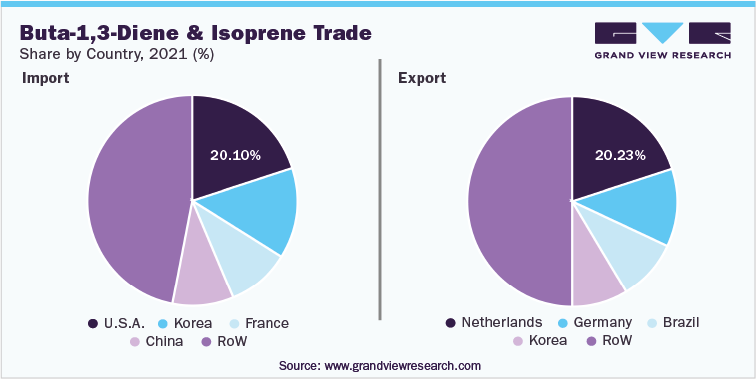 Netherlands was the largest exporter of Buta-1,3-Diene & Isoprene in 2021, followed by Germany, Brazil, & Korea. In terms of imports, U.S. was the largest importer accounting for a share of 20.1% in 2021. It was followed by Korea, France, & China.
Benzene Market Analysis And Forecast
Benzene accounted for a share of over 11% in the global petrochemicals industry in 2021. It is primarily used in the production of nylon fibers, which are processed into textiles and engineering plastics. It finds application in rubber, lubricant, dye, detergent, drug, and explosive processing. Increasing demand for adhesives and plastics in Asia Pacific and Latin America is anticipated to boost product demand over the forecast period.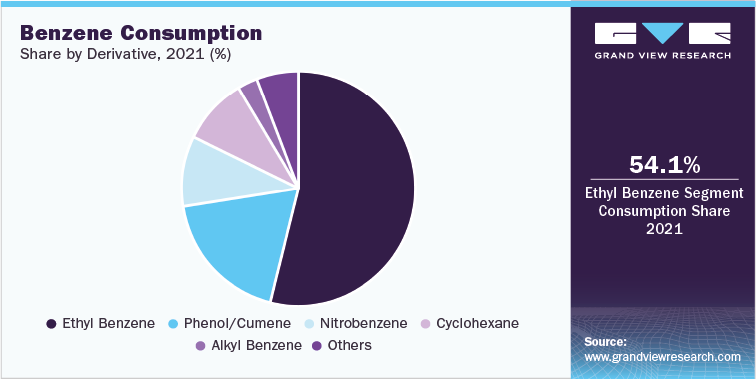 Ethyl benzene emerged as the leading application segment for benzene in 2020. Benzene is expected to witness surge in demand owing to its increasing consumption within end-use industries producing inks, rubber, adhesives, paints, and varnishes. Additionally, growing demand from end-use industries, such as insulation and packaging, is further anticipated to fuel the market demand.
Korea was the largest exporter of benzene in 2021, followed by India, Thailand, & the Netherlands. In terms of imports, China was the largest importer accounting for a share of 30.5% in 2021. It was followed by U.S., Belgium, & Netherlands.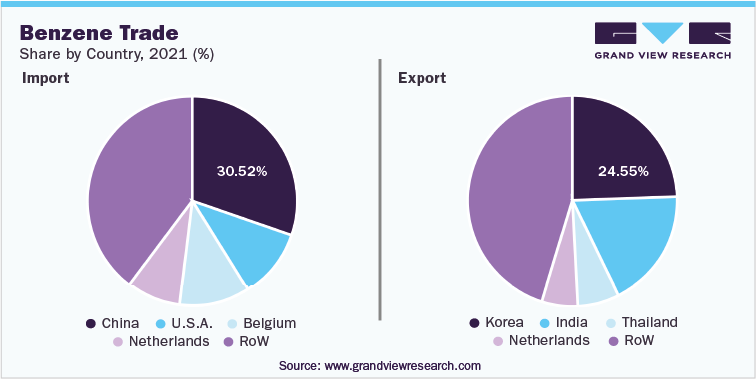 The supply of benzene remained tight in 2021 with the aromatics units running at lower rates. The export prices from Asia increased by over 100% in 2021.
Xylene Market Analysis And Forecast
Xylene accounted for a share of over 5% in this industry in 2021. It has a wide application scope in medical industry as a solvent. In dentistry, it is used for tissue processing, staining, and cover slipping. It is also used for production of purified terephthalic acid (PTA), which is a basic petrochemical used in the textile industry for producing polyester.
Growth of textile industry in the Asia Pacific is expected to remain a key driving factor for xylene consumption over the forecast period. Textile industries in India, Bangladesh, Thailand, Malaysia, and Sri Lanka have witnessed huge growth and are anticipated to grow at a considerable rate in the coming future.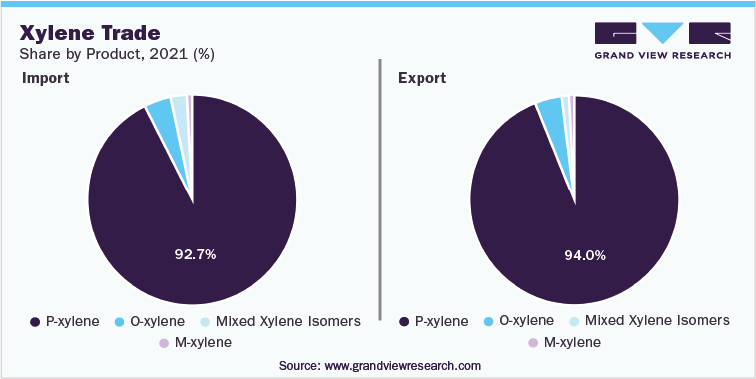 P Xylene is the majorly used xylene products worldwide. It accounts for a share of over 90% of the xylene trade worldwide. China was the key importer of xylene with a share of 64.4% in 2021. While Korea and Japan were the top exporters of the product. The export prices for p-xylene increased by over 45% in 2021 as compared to 2020 levels.
Toluene Market Analysis And Forecast
Toluene accounted for a share of over 10% in the global petrochemicals industry in 2021. It is used as a solvent in lacquers, paints, thinners, correction fluid, glues, and nail polish removers. It is usually produced in the processes of gasoline via a catalytic reformer, in an ethylene cracker. It is often widely used in industry, as a substitute for benzene. Toluene is also used in printing and leather tanning processes. It is also used as an octane booster in the gasoline fuels used in internal combustion engines.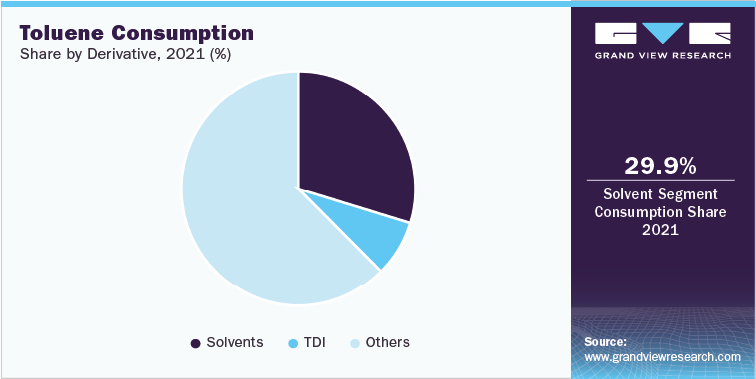 Growing application scope of toluene in pharmaceuticals, pesticides, and paints is expected to fuel its demand in the coming years. However, increasing government regulations regarding environmental pollution is anticipated to hamper the market growth.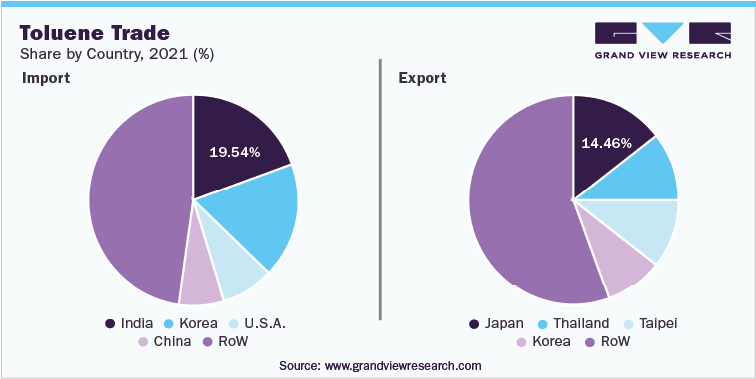 Japan was the largest exporter of toluene in 2021, followed by Thailand, Taipei, and Korea. In terms of imports, India was the largest importer accounting for a share of 19.5% in 2021. It was followed by Korea, U.S., & China.
Methanol Market Analysis And Forecast
Methanol is used as a feedstock for producing acetic acid and formaldehyde, which are used in foams, adhesives, foams, solvents, plywood subfloors, and windshield washer fluids. The demand for methanol is predicted to witness growth on account of its high demand in several end-use industries such as construction, paints & adhesives, pharmaceuticals, plastics, and automotive. In addition, methanol is widely used in the manufacturing of biodiesel, which is biodegradable, safe and produces less air pollutants as compared to other fuels. Favorable government initiatives to reduce global carbon footprint is anticipated to augment biodiesel demand, which, in turn, is expected to boost methanol market in the coming years.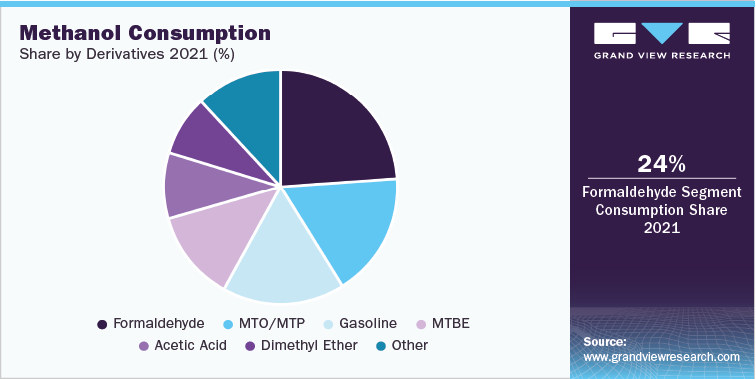 Formaldehyde is one of the major applications of methanol. Majority of formaldehyde produced is consumed by construction & remodeling activities, vehicle & furniture production, and original equipment manufacturers (OEMs). Resins of formaldehyde are used in wood products industry predominantly as adhesives. Growth of formaldehyde resins is strongly correlated to construction/remodeling activities, and to a degree to the automotive industry.
Iran was the largest exporter of benzene in 2021, followed by Oman, Saudi Arabia, and Trinidad & Tobago. In terms of imports, China was the largest importer accounting for a share of 27.5% in 2021. It was followed by India, U.S., and the Netherlands.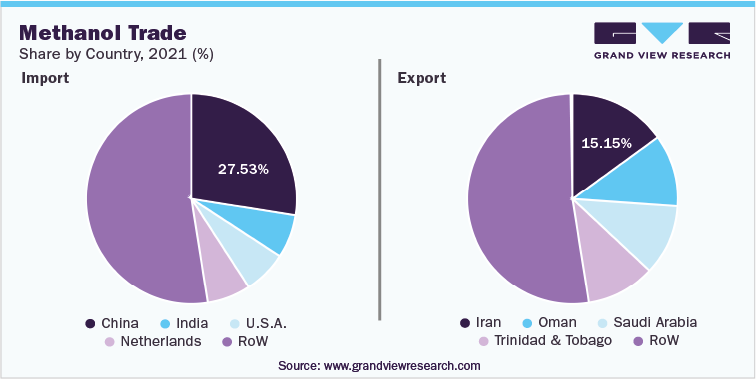 China is a significant driver for the methanol market due to sustained demand resulting from its high investment on Methanol to Olefin (MTO) projects. Asia, including China, holds a share of over 70% in the methanol demand which provides a edge in terms of price. The methanol capacities are likely to expand over the coming years, with significant expansion plans across China, Russia, Iran, and the U.S.
Competitive Insights
Petrochemicals markets across the globe returned to making profits in 2021. This was driven by the global economic recovery, rise in crude oil prices, supply restrictions, and high shipping cost. The average EBITDA margin for top 100 petrochemical players increased to approximately 20% as compared to 14% in 2019. In 2021, the price of crude oil has continued to increase, resulting in significant profits for this industry participants.
The key players in this market include China Petrochemical Corporation (SINOPEC), ExxonMobil Corporation, Royal Dutch Shell PLC, and China National Petroleum Corporation. These companies dominate the petrochemicals market with their extensive presence throughout the value chain.
Over the past years, This industry participants have been witnessed to continuously engage in acquisitions & mergers, and joint ventures with governments and other key players that are already in the field of oil and gas. By these operational integrations, companies seek to expand their reach to potential customers at optimum distribution cost.
In August 2021, SABIC announced a joint venture with China's Fujian Petrochemical Industrial Group Co., Ltd to build a mega petrochemical complex in China. The facility would be built at Gulei Industrial Park in Zhangzhou city, eastern China's Fujian Province with an investment of around USD 6.18 billion. It will have a capacity of producing 1.5 million tons of ethylene, including two polyethylene units, two polypropylene units, a mono ethylene glycol unit, and one polycarbonate unit.
In August 2021, PetroChina Lanzhou Petrochemical Company initiated production with the Ethane-to-Ethylene Project in Yulin City, Shaanxi Province. The project comprises 800Kt/a ethane-ethylene cracker, a 400Kt/a high-density polyethylene (HDPE) plant, and a 400Kt/a full density polyethylene (FDPE) plant. Companies such as LyondellBasell, in June 2021, announced a joint venture named Ulsan PP Co., Ltd., between PolyMirae Company Ltd., (a 50:50 partnership of DL Chemical and LyondellBasell) and SK Advanced. The plant is situated in the southeastern port city of Ulsan, South Korea with a 400 kiloton per annum (KTA) polypropylene production capacity.
In July 2021, China National Petroleum Corporation signed an agreement with the Republic of Benin to construct a pipeline from Niger to the Atlantic coast in Benin to strengthen its crude oil business footprint in Africa. LyondellBasell Industries Holdings B.V and the China Petroleum & Chemical Corporation announced a 50-50 joint venture to produce propylene oxide (PO) and styrene monomer (SM) in China
In June 2020, Chevron Australia Downstream Pty Ltd., a wholly-owned subsidiary of Chevron Corporation acquired Puma Energy Asia Pacific B.V. This acquisition has added 360 company-owned and retailer-owned service stations, leased or owned seaboard import terminals, fuel distribution depots, and a commercial and industrial fuels business to the portfolio of Chevron Australia Downstream Pty Ltd. This development was aimed to integrate value chain in Asia Pacific region by providing a well-developed infrastructure for products in the Asian market.
Additionally, as per the IEA, the global petrochemical capacity is projected to expand to 3.03 million tons by 2030. The petrochemical manufacturers in the U.S. are investing over USD 200 billion on construction of new facilities while China is expected to launch 2 mb/d of refining capacity by 2024. Some of the key planned expansions across the world are listed below:
| | | | | |
| --- | --- | --- | --- | --- |
| Project | Country | Capacity ('000 Tons/ Year) | Feedstock | Scheduled Year |
| Aramco-Sabic Cracker, Yanbu | Saudi Arabia | 2000 | Naphtha | 2026 |
| Exxon-SABIC Cracker, Corpus Christi | U.S. | 1800 | Ethane | 2023 |
| Borouge Cracker 4, Ruwais | UAE | 1500 | Ethane | 2025 |
| Carbon Holdings Cracker, Ain Sokhna | Egypt | 1500 | Naphtha | 2023 |
| Shell Cracker, Monaca | U.S. | 1497 | Ethane | 2022 |
| Formosa Cracker 1, St. James | U.S. | 1200 | Ethane | 2024 |
| HPCL-Mittal Energy Limited (HMEL) Cracker, Bathinda | India | 1200 | Naphtha/Kerosene | 2022 |
| INEOS Cracker, Antwerp | Belgium | 1000 | Ethane | 2023 |
| PT Lotte Chemical Titan Cracker, Merak | Indonesia | 1000 | Naphtha | 2023 |