Database Overview
Grand View Research's sheet metal sector database is a collection of market sizing information & forecasts, trade data, pricing intelligence, competitive benchmarking analyses, macro-environmental analyses, and regulatory & technological framework studies. Within the purview of the database, such information is systematically analyzed and provided in the form of outlook reports (1 detailed sectoral outlook report) and summary presentations on individual areas of research along with a sheet metal statistics e-book.
Sheet Metal Industry Data Book Scope
Attribute

Details

Areas of Research

Steel Sheet Market
Aluminum Sheet Market

Number of Reports/Presentation Covered in the Bundle

1 Sector Outlook Report + 2 Summary Presentations for Individual Areas of Research + 1 Statistic ebook

Cumulative Coverage of Countries

10+ countries

Cumulative Coverage of Application

2 Products Categories

Highlights of Datasets

Revenue Data, by Country
Consumption, by Country
Statistic e-book
Competitive Analysis
Sheet Metal Industry Data Book Coverage Snapshot
Markets Covered

Sheet Metal Industry

USD 215.72 billion in 2022

2.8% CAGR (2023- 2030)

Steel Sheet Market Size

USD 177.02 billion in 2022

2.6% CAGR (2023- 2030)

Aluminum Sheet Market Size

USD 38.70 billion in 2022

3.5% CAGR (2023- 2030)
Sheet Metal Sector Outlook
The economic value generated by the sheet metal industry was estimated at approximately USD 215.72 billion in 2022. This economic output is an amalgamation of businesses that are involved in the sales of aluminum and steel sheets.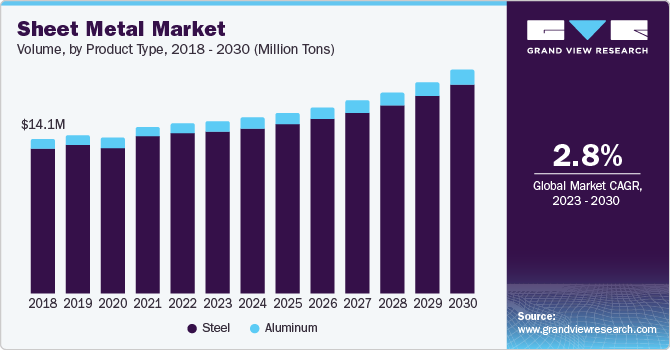 The automotive segment is anticipated to remain a key consumer of steel and aluminum sheets. Sheet metal components are used to manufacture numerous automotive parts such as body panels and tops, chassis, vehicle bumpers, fenders, hubcaps, moldings, trim pieces, engine and transmission components, brake components, windshield wiper arms, and system components.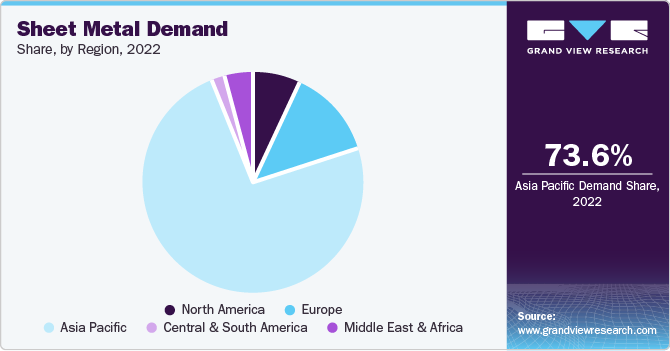 In terms of volume, Asia Pacific held the largest market share of over 73% in 2022 and is likely to continue dominating over the forecast period. The increasing investments in the development of affordable housing units, construction of smart cities, upgradation of existing infrastructures and development of new ones, and promotion of tourism are expected to surge the demand for metal stamping in the region over the forecast period.
Steel Sheet Market Analysis And Forecast
Steel sheet products offer benefits such as high strength & quality, economic benefits, recycling ability, and low maintenance cost. Increasing demand for galvanized sheets in construction applications, such as awnings, balconies, ductwork, fences, industrial walkways, ladders, building frames, and handrails, is likely to fuel the growth of the market. In the automotive industry, steel sheets are used in the production of hoods, fenders, roofing, spring housing, and seating applications.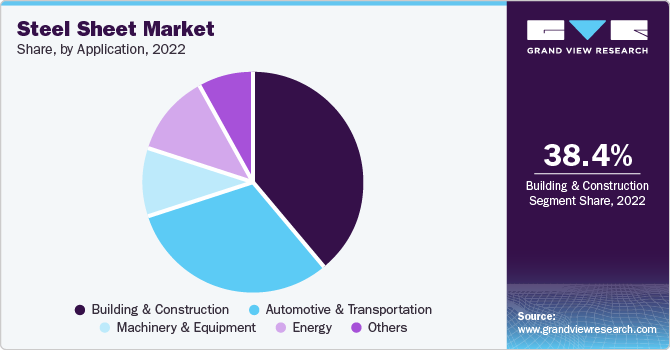 Sheet metal products have a high requirement in electric vehicles owing to the ability to produce a high volume of complex and precise parts. A significant rise in the production of EVs is expected to provide a lucrative opportunity for the sheet metal market. The global sales of EVs are surging rapidly. The recorded sales in 2020, 2021, and 2022 are 3.2 million, 6.7 million, and 10.5 million, respectively. China accounted for over 58.0% of global EV sales in 2022, with more than 6 million units sold in the country.
Aluminum Sheet Market Analysis And Forecast
Sheet metal parts are used in aircraft engines, missile and defense components, aircraft panels, and various other high-precision equipment in these industries. Aluminum is the preferred material for application in the aerospace industry owing to its lightweight, effective cost, and high-strength characteristics. This is because the reduction in aircraft weight allows aviation companies to accommodate a large number of air passengers in their planes.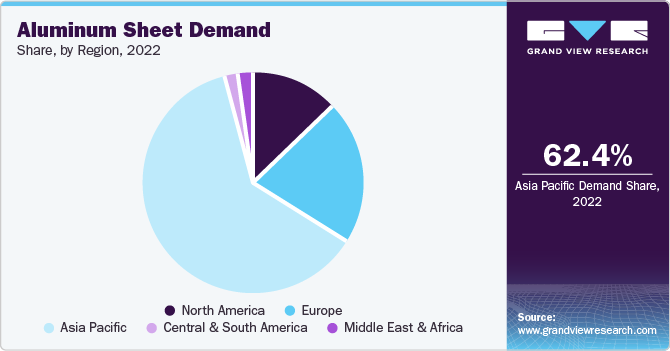 In terms of revenue, North America is projected to grow at a CAGR of 3.1% from 2023 to 2030. Investments in construction & infrastructure along with high volume production of vehicles are projected to act as growth factors for the region. Growing focus on the reduction of carbon dioxide emissions and sustainability is projected to provide a boost to the demand for aluminum over the coming years.
Competitive Insights
The top companies in the sheet metal market are focused on integration across the value chain and economies of scale. These aspects help the companies to increase their profits and thus improve the market share. Steel sheet companies in the market include Tata Steel, Nippon Steel Corporation, JFE, Baosteel, and POSCO. Some of the key aluminum sheet producers are Arconic, Norsk Hydro, Hindalco, and Alcoa.
Some of the market players are highly integrated in the supply chain to reduce dependency on raw materials. For instance, the operations of Tata Steel include iron ore & coal mining, energy production, crude steel production, and manufacturing of downstream products such as sheets, platers, bars, wires, and coils. Similarly, producers in the aluminum industry are also engaged in the production of raw materials and finished products.