Database Overview
Grand View Research's Single-use Biomanufacturing Industry data book is a collection of market sizing & forecasts insights, market dynamics & trends, opportunity assessment, regulatory & technology framework, pricing intelligence, competitive benchmarking analyses, and macro-environmental analyses studies. Within the purview of the data book, such information is systematically analyzed and provided in the form of summary presentations and detailed outlook reports on individual areas of research. The following data points will be included in the final product offering in four reports and one sector report overview.
Single-Use Biomanufacturing Industry Data Book Scope
Attribute

Details

Research Areas

Single-use Bioprocessing Market
Single-use Bioreactor Market
Single-use Assemblies Market
Single-use Filtration Assemblies Market

Number of Reports/Deliverables in the Bundle

4 Individual Reports – PDFs
4 Individual Reports – Excel
1 Sector Report – PPT
1 Data Book - Excel

Cumulative Country Coverage

50+ Countries

Cumulative Product Coverage

25+ Level 1 & 2 Products

Highlights of Datasets

Product Revenue, by Countries
Workflow Revenue, by Countries
End Use Revenue, by Countries
Competitive Landscape
Regulatory Guidelines, by Countries

Total Number of Tables (Excel) in the bundle

345

Total Number of Figures in the bundle

150
Single-Use Biomanufacturing Industry Data Book Coverage Snapshot
Markets Covered

Single-Use Biomanufacturing Industry

Single-Use Bioprocessing Market Size

USD 19.36 billion in 2021

16.6% CAGR (2022-2030)

Single-use Bioreactor Market Size

USD 2.73 billion in 2021

17.6% CAGR (2022-2030)

Single-use Assemblies Market Size

USD 8.37 billion in 2021

18.57% CAGR (2022-2030)

Single-use Filtration Assemblies Market Size

USD 2.43 billion in 2021

18.7% CAGR (2022-2030)
Single-use biomanufacturing industry data book is a combination of the market data from four reports namely, single-use bioprocessing, single-use bioreactor, single-use assemblies, and single-use filtration assemblies market. Single use bioprocessing market was valued at USD 19.36 billion in 2021 with a CAGR of 16.6% during 2022-2030. Single-use bioreactor market and Single-use assemblies market are also growing at a CAGR of 17.6% and 18.57% respectively. Due to several advantages offered by these products over traditional manufacturing components, the adoption and usage of single-use products in industrial manufacturing and processing is growing exponentially. These products are being used in the manufacturing of the end products such as monoclonal antibodies, vaccines, stem cells, genetically modified cells, and other molecules. The combination bundle of these reports is designed to provide a holistic view of these highly dynamic market spaces.
Single-Use Bioprocessing Market Analysis & Forecast
Single-use technology has been in the market for over a decade but with the growing demand for biopharmaceuticals over the past few years, the adoption of single-use systems in the bioprocessing market has also increased. With major pharmaceutical key players investing in their biotechnology portfolio, the global market for biologics such as MAbs, vaccines, recombinant protein, and even cell and gene therapy is expanding every year.
Benefits pertaining to the use of single-use technology (SUT), such as significant cost reduction in capital, decreased time in operation and construction of a facility, and environmental sustainability have supported the implementation of such systems in the bioprocessing market. The current industry trend of perfusion and continuous cell culture in bioprocessing has enabled the use of single-use equipment hugely. These technologies offer enhanced mobility, ease of sampling, higher productivity, and faster product changeovers which in turn have further boosted their implementation in the biopharmaceutical industry. Technological advancements in single-use systems have led to automation and resulted in easy-to-use equipment which has reduced labor-intensive processes. Furthermore, the complete elimination of clean in place (CIP) and sterilize in place (SIP) has reduced product carryover and the risk of cross-contamination due to improper cleaning.
With the COVID-19 pandemic, the demand for vaccines for preventive treatment options led to a race for cost-effective and efficient manufacturing technologies. The speed of market entry of a product and the flexibility of designing a process from cell expansion stages to clinical to commercial stages of a product are the major success factors for single-use technologies. For instance, in January 2021, a total of USD 114 million was invested by Pall Corporation to expand the global production capacity of single-use bioprocessing systems for demand related to COVID-19. The firm has added capacity at its facilities in Ilfracombe and Newquay (in the UK), Hoegaarden (Belgium), Medemblik (Netherlands), Bad Kreuznach (Germany), Fajardo (Puerto Rico), and Pensacola (in the U.S.).
The new industry trend of continuous bioprocessing coupled with the adoption of single-use systems has led to a new outlook on single-use probes and sensor technology. To meet the high standards of quality for biopharmaceuticals, reliable process controls are required during all stages of a biomanufacturing process. Single-use sensors have observed widespread acceptance by offering advantages such as ease of use of single-use components, meanwhile providing the same accuracy as traditional sensors. This further drives the implementation of these novel technologies for a product in a manufacturing setup.
Technological advancements in single-use probes and sensor technology, such as non-invasive single-use measurements are going to revolutionize the market. Furthermore, this segment will allow the entry of small or emerging players to provide solutions to the bioprocessing manufacturers among other manufacturers as well. The growth of competitive players will again accelerate market growth and revenue generation.
Single-Use Bioreactor Market Analysis & Forecast
In the single-use bioreactor market, the Stirred-tank bioreactors segment led the global market in 2021 and accounted for a revenue share of more than 80%. Single-use bioreactors are available in various capacities such as Up to 10L, 11-100L, 101-500L, 501-1500L, and above 1500L.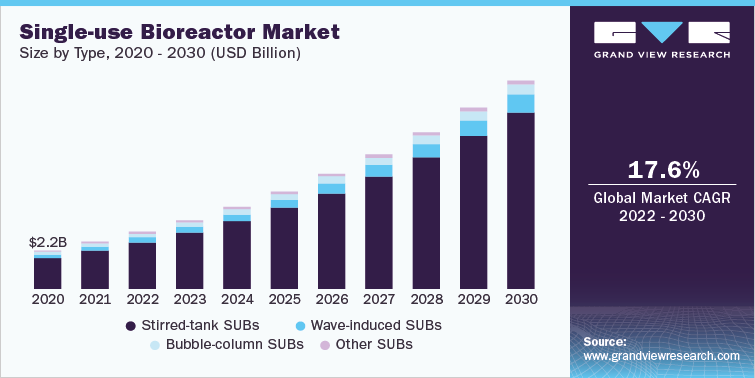 Single use bioreactors and fermenters have seen huge adoption in the bioprocessing market. Benefits such as reduction in facility construction cost, the flexibility of multi-product handling, and elimination of cleaning requirements have assisted in the implementation of this technology by bioprocess manufacturers. Increased demand for biologics has also led to an increase in bioreactor capacity in the past years to address the scale restrictions. However, the capacities of fermenters have not seen a significant increase and this can be accounted for due to the intracellular expression systems of microbial cultures and their associated processing limitations. The increase of single-use operation capacities of suppliers and the advantages of these bioreactors over stainless steel systems will cause this space to observe potential growth and significant revenue generation in the forecast period.
Single-use Assemblies Market Analysis & Forecast
In the single-use assemblies market, the filtration assemblies segment held the largest share of over 29% in 2021. Increased regulatory control and the need to diminish the risk of contamination have promoted the use of filtration assemblies for bulk and final fill operations. These assemblies have been in the industry for more than a decade and with increased adoption of these systems in the bioprocessing industry, they have found multiple applications in the biomanufacturing process. These products have applications in production, filtration, storage, mixing, and purification stages, among others.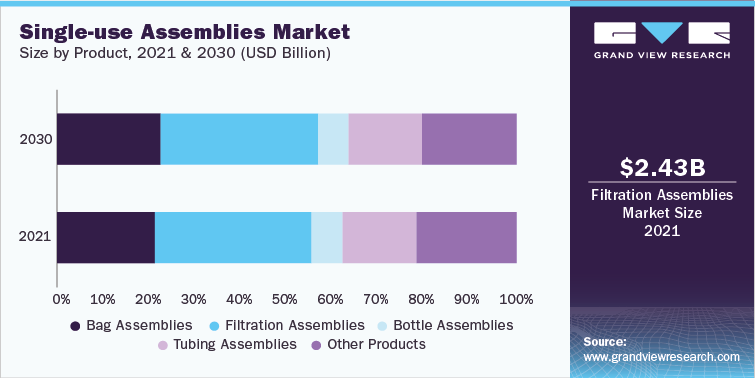 Major industry players, such as Sartorius AG, Thermo Fisher Scientific, Inc., Merck KGaA, and Danaher Corporation, have been continuously advancing technologies for these systems and providing a wide variety of technologies to meet the growing demand for biopharmaceuticals.
Competitive Landscape
Competitive rivalry in the single-use bioprocessing market is high due to the presence of a substantial number of both well-established companies and small- to mid-sized companies as well as CROs in the industry. Some of the major players are Thermo Fisher Scientific, Inc.; Sartorius AG; Corning, Inc.; Eppendorf AG; PBS Biotech, Inc.; Avantor, Inc.; Entegris, Inc.; Kuhner AG; MEISSNER FILTRATION PRODUCTS, INC.; Danaher Corporation; and Merck KGaA. Some of the biopharmaceutical contract manufacturing companies operating in the marketplace include Boehringer Ingelheim; Lonza; AGC Biologics (CMC Biologics); and Rentschler Biotechnologie GmbH. These players are manufacturing and commercializing products to cater to the various requirements in the industry. To maintain a significant share of the market, key participants are implementing business strategies, such as broadening their product portfolio, reinforcing and stabilizing the distribution network, and increasing manufacturing capacity globally through collaborations, partnerships, and acquisition models.
Some of the recent strategic developments in the market are mentioned below:
In May 2022, Avantor collaborated with Cytovance Biologics, a CDMO which manufactures plasmid DNA. This collaboration will include the offerings of Avantor in biopharma therapies and vaccines and Cytovance's commercial goal for mRNA therapies along with gene and cell therapy.

In April 2022, Thermo Fisher Scientific developed a new single-use manufacturing site in Utah. With this Utah facility, being part of the USD 650 million multi-year expansion plan, the company envisions providing bioprocessing solutions at even inland locations.

In February 2022, Sartorius completed the acquisition of Novsep's chromatography division. The acquired portfolio will bring innovation in continuous biomanufacturing along with the past development of optimized systems for membrane-based chromatography.

In September 2021, Saint-Gobain Life Sciences completed the acquisition of the Netherland-based single-use bioprocessing manufacturer—Equflow to expand its capabilities and bioprocessing portfolio.

In June 2021, Avantor announced the acquisition of RIM Bio, a China-based manufacturer of single-use bioprocessing assemblies and bags. With this move, it expanded its business into China, in turn strengthening its presence in the Asia Pacific region.
Key Drivers:
Several advantages associated with the implementation of single-use technology in the bio-manufacturing process

Increasing investments in the expansion of CGMP manufacturing

Widespread adoption of single-use technology by CMOs

Reduction in automation complexity

Technological advancements in SUBs

Growing biologics industry