Database Overview
Grand View Research's solar PV systems sector database is a collection of market sizing information & forecasts, trade data, pricing intelligence, competitive benchmarking analyses, macro-environmental analyses, and regulatory & technological framework studies. Within the purview of the database, such information is systematically analyzed and provided in the form of outlook reports (1 detailed sectoral outlook report) and summary presentations on individual areas of research along with a statistics e-book.
Solar PV Systems Industry Data Book Scope
Attribute

Details

Areas of Research

Solar PV Modules Market
PV Inverter Market
Solar Charge Controller Market

Number of Reports/Presentations in the Bundle

1 Sector Outlook Report + 3 Summary Presentations for Individual Areas of Research + 1 Statistic ebook

Cumulative Coverage of Countries

50+ countries

Cumulative of Applications

10+ applications

Highlights of Datasets

Production Data, by Counties
Import/Export Data, by Counties
Demand/Consumption, by Counties
Competitive Analysis
Solar PV Modules Market, by Applications
PV Inverter Market, by Applications
Solar Charge Controller Market, by Applications
Solar PV Systems Industry Data Book Coverage Snapshot
Markets Covered

Solar PV Systems Industry

USD 170.80 billion in 2022

Solar PV Modules Market Size

USD 157.75 billion in 2022

7.8% CAGR (2023-2030)

PV Inverter Market Size

USD 11.10 billion in 2022

15.8% CAGR (2023-2030)

Solar Charge Controller Market Size

USD 1.95 billion in 2022

16.7% CAGR (2023-2030)
Solar PV Systems Sector Outlook
The economic value generated by the solar PV systems industry was estimated at approximately USD 170.80 billion in 2022. This economic output is an amalgamation of businesses that are involved in the raw material suppliers, manufacturers of solar power products, distribution & supply, and application of solar PV systems.
The growing demand for sustainable energy production sources to replace conventional sources of energy is expected to boost industry growth over the forecast period. The declining costs of solar energy systems have made solar energy more competitive in the energy generation industry. The prices of components are expected to further reduce in the coming years owing to high investments in solar energy technologies, which, in turn, is expected to make solar energy systems cheaper than currently operating coal or gas power plants. The rising emphasis on alternative sources of power generation and reducing dependence on fossil fuels is expected to boost product demand.
Governments across the world have set targets to reduce carbon emissions and are promoting the adoption of solar energy systems for utility and non-utility end-users. The U.S. is one of the early adopters of solar energy in the world for power generation. The market in the U.S. has been growing steadily with the presence of key players engaged in research and development (R&D) to increase efficiency and decrease the cost of the components. In 2021, solar energy accounted for about 2.8% of the total energy production in the country. The country has been investing in research for more efficient solar technology to make it more accessible for residential and commercial uses. For instance, in November 2020, the U.S. Department of Energy announced research funding worth USD 130 million for advanced solar technologies.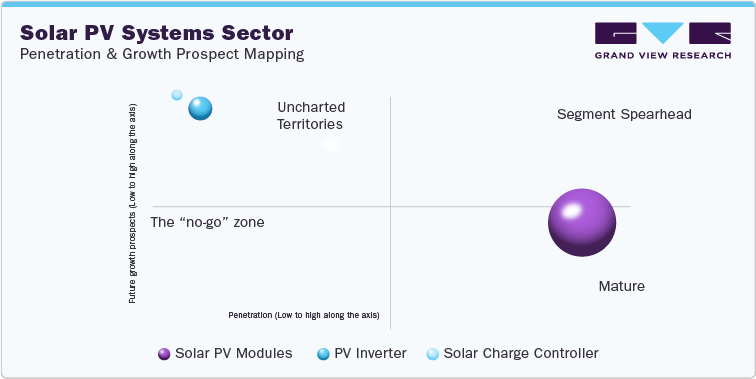 The majority of the research funding will be invested in PV hardware research and will be focused on increasing the operational lifespan of silicon solar cells. The government of Germany introduced the 'Package for the future-expansion of renewable energies in 2020', which was aimed at promoting renewable energy and reducing the reliance on conventional energy sources. The policy removed the limit on solar PV build-out and made it possible for any buildings to install solar energy systems. Companies, such as Tesla and BYD Company Ltd., have been investing in better battery technologies for solar energy storage. This is expected to boost product demand as more efficient battery technology increases the viability of solar energy system installation for power generation.
The global Solar PV Systems sector is expected to witness significant growth. Rising concerns over energy conservation and the transition from non-renewable energy to renewable energy are expected to surge the demand for solar energy and panels over the forecast period. The captured solar radiation is further converted into electricity, which is used in various residential, industrial, and commercial applications. The rising use of solar power as a potential source of commercial energy generation has gained popularity due to the decreasing PV panel cost, which is expected to further augment the market growth.
Factors such as the rising demand for renewable clean power generation and government policies such as incentives and tax rebates for the installation of solar PV systems are expected to drive the solar PV panels market growth. Increasing awareness among people regarding the use of sustainable energy generation technologies to limit carbon footprint is one of the major factors driving the adoption of solar PV systems in commercial, industrial, and residential sectors.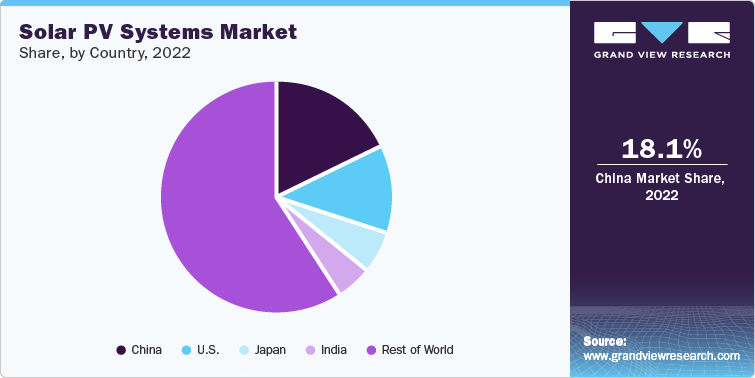 The rejoining of the U.S. in the Paris Climate Agreement in February 2021 is expected to further boost the market growth. Further, the extension of the Investment Tax Credit (ITC) for residential solar PV installations at 26% by 2022 and 22% by 2023, is anticipated to boost the growth of the solar PV Panels market over the forecast period. The Inflation Reduction Act of 2022 passed by the U.S. has further provided various incentives for solar manufacturing in the country. The U.S. plans to invest USD 369 billion in renewable and climate resilience technologies.
Solar PV Modules Market Analysis And Forecast
The global solar PV modules market is expected to witness growth on account of rising environmental concerns regarding the increase in carbon emissions owing to the usage of conventional fuels for transportation and power generation purposes have prompted countries around the world to opt for cleaner and more efficient sources of power. Furthermore, under the Paris Climate Agreement, countries such as the U.S., Germany, India, Japan, and the UK have pledged to reduce their carbon footprints.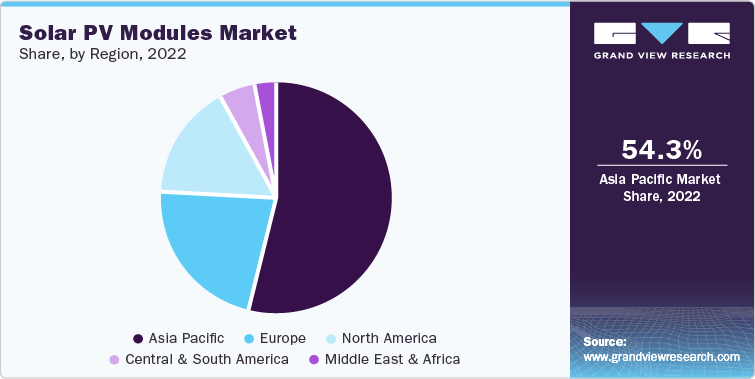 Key players in the global solar PV modules Market include Canadian Solar, SunPower Corporation, First Solar, Talesun, Hanwha Group, RISEN ENERGY Co. LTD., and Yingli Solar.
Numerous governments across the world have framed various regulations to reduce greenhouse gas emissions. The Kyoto Protocol, which was introduced by the United Nations Framework Convention on Climate Change (UNFCCC) in 1997, was one of the first major steps toward controlling greenhouse gas emissions in various countries. It also led to increased investments in renewable energy generation methods such as wind, solar, and biogas. For instance, on January 9, 2023, Duke Energy Sustainable Solutions announced the expansion of its Green Source Advantage program with the option to supplement power usage with 100% renewable power with a new capacity of 4 GW.
PV Inverter Market Analysis And Forecast
The energy demand has been growing year-on-year, which in turn, is driving the need for different renewables such as solar energy & equipment. Since the downturn of gas prices in the year 2014, alternative energy, especially wind and solar have been placed on the back burner and the trend has reverberated across numerous industries. The power industry has shifted its focus toward large-scale incorporation of electricity generation through renewable energy to meet the demand for electricity owing to increasing awareness regarding sustainable energy sources.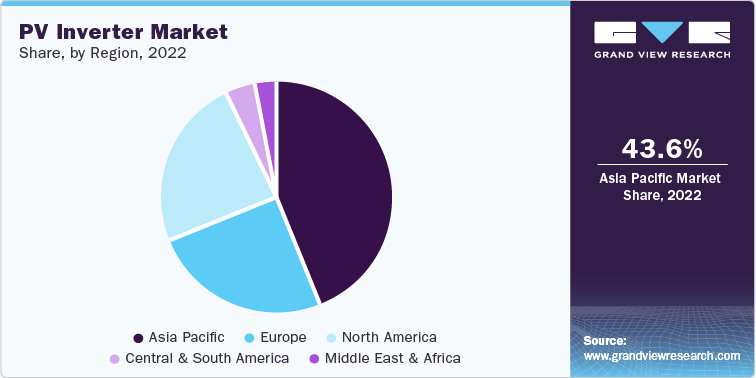 Renewable power generation has been witnessing unprecedented growth globally over the past decade. It has continuously surpassed the end-user's expectations with new records being set annually, along with an increased number of companies committing to their respective energy transitions. For instance, according to the International Energy Agency, in 2022, approximately 1,300 terawatt-hours of solar PV energy was generated in the U.S. witnessing an increase of 26% from 2021. Constant economic growth in the U.S., developments in the supply chain, and favorable government policies supporting PV inverter production in countries such as the U.S. and India are driving the demand for solar PV inverters over the forecast period. In addition, the changing consumer preferences for a sustainable environment and ambitious targets for the adoption of PV inverters by the governments of countries, coupled with adequate plans and policies related to PV inverters, have led to advancements in renewable energy generation.
Solar Charge Controller Market Analysis And Forecast
The global solar charge controller market is expected to grow at a significant rate. Favorable government policies regarding the clean fuel agenda along with the growing deployment of off-grid solar energy systems across several end-use industries are expected to drive the solar charge controller market growth in the coming years.
A charge controller regulates the flow of current and voltage from the solar panels to the connected battery to prevent excessive charging and discharging of the battery. Rising demand for continuous energy supply in urban, mobile, or harsh climatic conditions with sufficient sun hours is expected to boost the charge controller demand to regulate power flow in off-grid applications.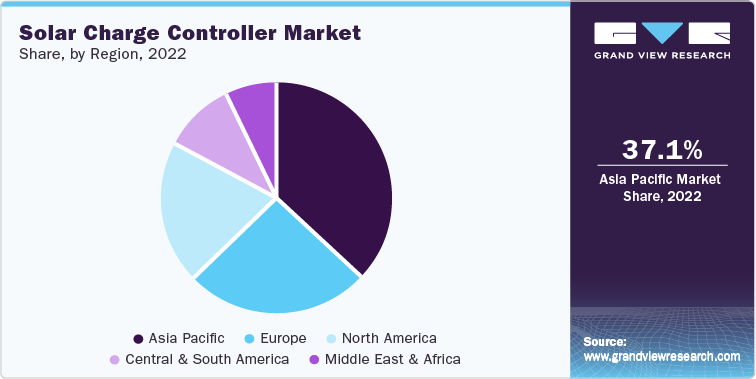 The market in China is expected to witness significant growth owing to the presence of major manufacturers across the region along with rising solar equipment exports from the country to other parts of the world. In addition, massive investments in the industry have resulted in low-cost manufacturing of solar-related equipment and devices. This trend is anticipated to provide a potential growth landscape for the solar charge controller market over the forecast period.
Technological advancements including controllers equipped with smart communication technology such as Bluetooth, auto night detection capabilities, and smart sensor technology are positively influencing the functional capability of solar charge controllers. Such integration of innovative techniques with existing technology is expected to boost the penetration rate of the product across the industry.
Favorable regulatory policies including net metering, feed-in tariff, and subsidies encouraging solar energy adoption across various end-use sectors are among the key factors complementing the industry dynamics in the coming years. However, the lack of grid infrastructure in several regions along with the high cost of solar-based grid installation is expected to hamper the solar charge controller market growth rate over the forecast period.
Competitive Insights
The solar PV systems market witnesses highly competitive rivalry with the presence of a number of global solar PV system manufacturers such as JinkoSolar, JA Solar, Trina Solar, LONGi Solar, Canadian Solar, SunPower Corporation, and First Solar along with some other new and growing players. The players face strong competition from other regional and national players as well as from each other since they have a well-established supply chain network, knowledge of suppliers across markets, and well-informed about the power generation compliances and regulations for various end-use sectors.
The market players compete based on product quality, production capacity, technology used to manufacture solar PV systems, and their geographical presence. Major players engage in investing in research and development, developing infrastructure, production facilities expansion, and mergers and acquisitions to vertically integrate their operations across the solar PV systems value chain. These initiatives help them expand their customer base, reduce production costs, develop state-of-the-art products and technologies, ensure competitiveness, and improve their revenue & operations profits.
In January 2023, kWh Analytics partnered with Aspen Insurance to provide property insurance for solar projects which will cover physical damage for solar and other renewable projects

In February 2022, the company commissioned an 876kWp solar PV system for the Nile University of Nigeria campus in Abuja.

In January 2022, the company announced that it ranked second in the global module shipment ranking for 2021 on Jan 21 issued by the PV InfoLink, a global authoritative photovoltaic analysis agency.