Database Overview
Grand View Research's Spectrometry Industry databook is a collection of market sizing & forecast insights, market dynamics & trends, opportunity assessment, regulatory & technology framework, pricing intelligence, competitive benchmarking analyses, and macro-environmental analysis studies. Within the purview of the databook, such information is systematically analyzed and provided in the form of summary presentations and detailed outlook reports on individual areas of research. The following data points will be included in the final product offering in five reports and one sector report overview.
Spectrometry Industry Data Book Scope
Attribute

Details

Research Areas

Spectrometry Market
Mass Spectrometry Market
NMR Spectroscopy Market
Near-Infrared Spectroscopy Market
In-line UV-vis Spectroscopy Market

Number of Reports/Deliverables in the Bundle

5 Individual Reports - PDFs
5 Individual Reports - Excel
1 Sector Report - PPT
1 Data Book - Excel

Cumulative Country Coverage

50+ Countries

Cumulative Product Coverage

25+ Level 1 & 2 Products

Highlights of Datasets

Type Revenue, by Countries
Product Revenue, by Countries
Application Revenue, by Countries
Technology Revenue, by Countries
End Use Revenue, by Countries
Competitive Landscape
Regulatory Guidelines, by Countries

Total Number of Tables (Excel) in the bundle

350+

Total Number of Figures in the bundle

150+
Spectrometry Industry Data Book Coverage Snapshot
Markets Covered

Spectrometry Market Size

USD 17.4 billion in 2021

7.34% CAGR (2022-2030)

Mass Spectrometry Market Size

USD 5.83 billion in 2021

7.87% CAGR (2022-2030)

NMR Spectroscopy Market Size

USD 657.11 million in 2021

5.1% CAGR (2022-2030)

Near-Infrared Spectroscopy Market Size

USD 453.72 million in 2021

6.08% CAGR (2022-2030)

In-line UV-vis Spectroscopy Market Size

USD 1.05 million in 2021

6.50% CAGR (2022-2030)
Spectrometry industry data book is a combination of the market data from five reports namely, spectrometry, mass spectrometry, NMR spectroscopy, near-infrared spectroscopy, and in-line UV-vis spectroscopy market. The market was valued at USD 17.4 billion in 2021 with a CAGR of 7.34% during 2022-2030. NMR spectroscopy market and Near-infrared Spectroscopy market are also growing at the CAGR of 5.1% and 6.08% respectively. The development of advanced spectrometry instruments and consumables is anticipated to create growth opportunities in this market and drive the market in the coming years.
Spectrometry holds significant potential in the near future owing to increase in healthcare applications. In addition, molecular spectrometry holds the largest share in this market due to wide applications of this technique in healthcare industries and key players offering an extensive range of technologically advanced products in this segment. Furthermore, mass spectrometry is likely to grow at the highest CAGR over the forecast period owing to continuous advancements in mass spectroscopy techniques and major players operating in this segment engaged in introducing advanced products. Advancements and new product launches are anticipated to drive the overall market at a sustainable rate.
Mass Spectrometry Market Analysis & Forecast
Mass spectrometry is a powerful tool commonly used in the analysis of a wide range of molecules in forensics, biotechnology, pharmaceuticals, and clinical research, among others. Advancements in mass spectroscopy made it possible to deliver rapid test results with high resolution. For instance, in December 2020, Thermo Fisher Scientific launched an Inductively Coupled Plasma Mass Spectrometry (ICP-MS) instrument. The newly launched Thermo Scientific Neoma multicollector ICP-MS (MC-ICP-MS) will help researchers conduct high-precision and reliable isotope ratio analysis across various research applications. Moreover, in September 2020, Thermo Fisher Scientific launched Tox Explorer Collection for Liquid Chromatography-Mass Spectrometry (LC-MS) product line to achieve results easily and rapidly in toxicology assays. This technology will help researchers in clinical research toxicology, forensic toxicology, sports antidoping, and related laboratories to obtain reliable results. Many major players are operating in the mass spectrometry market, such as Thermo Fisher Scientific, PerkinElmer, Agilent Technologies, Waters Corporation, and Shimadzu Corporation.
During the COVID-19 outbreak, there has been an upsurge in the demand for the development of vaccines. Tremendous development in virology research has resulted in the initiation of new R&D activities and the initiation of new research projects based on SARS-CoV-2. The usage of mass spectrometry has seen growth due to its usage in the study of viral structure of the COVID virus.
As mass spectrometry can be used to analyze complex protein structures as well as protein-protein interactions, various pharma and biotech companies involved in the COVID vaccine development and drug development have created huge growth opportunities for mass spectrometry instrument and consumables manufacturers as well as service providers.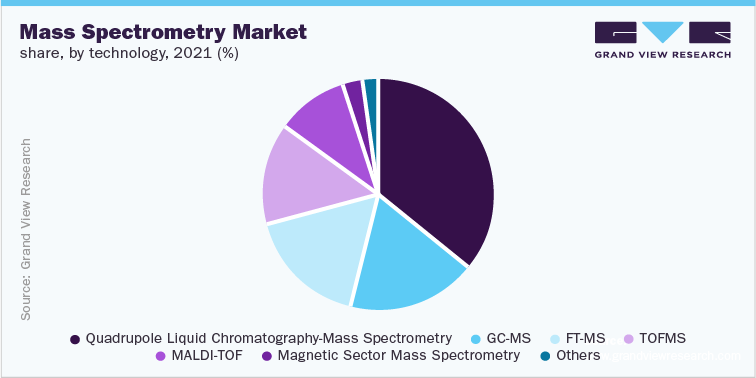 NMR Spectroscopy Market Analysis & Forecast
Nuclear Magnetic Resonance (NMR) spectroscopy technique is generally used in research and quality control. It is used for determining the purity and content of a sample. Moreover, this technique can be used to determine the molecular structure of a sample. In NMR spectroscopy market, the High-field NMR spectroscopy segment led the global market in 2021 and accounted for a revenue share of more than 85%. The high-field NMR Spectroscopy has observed high adoption due to its high sensitivity and better resolution. The increasing strength of nuclear magnetic resonance spectroscopy has an immense impact on various fields, such as material science, structural biology, and imaging. For instance, in July 2021, Bruker announced that it received orders for its new Ascend Evo 1.0 GHz NMR magnet, which is a compact instrument for clinical research and structural biology applications in single-story laboratories.
The global NMR spectroscopy market is growing rapidly due to rising R&D activities in the biomedicine business. It has been observed that the major demand for high-field NMR spectroscopy is from research centres and universities. The technique is used in the analysis of interactions of macromolecules and their structural dynamics. Based on WHO's report published in January 2022, about USD 35 billion in grants were offered for biomedical research. About 70.28% of these funds were invested in non-communicable diseases, while 24.42% of funds were invested in communicable, maternal, perinatal, and nutritional conditions.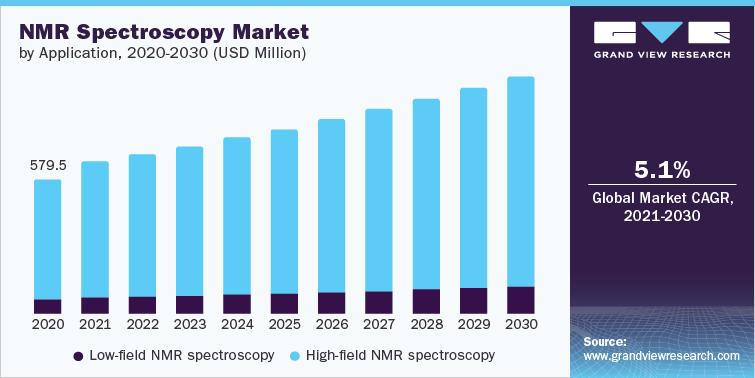 Increased initiatives by universities and research centers for advancing the scope of diagnostics and biomedical research by integrating technologies are anticipated to support market growth throughout the projected timeframe. For instance, EU-sponsored TISuMR project was completed in December 2021, with an overall budget of USD 318.48 million. The project developed a technological platform, it combines NMR spectroscopy with cultured tissue in a lab-on-a-chip.
NMR spectroscopy is a mature and niche market with a limited number of players. However, it is considered to be an attractive opportunity for investors, including high barriers to entry and limited competition. The major companies such as Bruker and Thermo Fisher prefer mass markets with abilities to sell in bulk quantity. Similarly, NMR needs a specialized understanding of high-powered magnet technology, which restrains players to enter the market space
Near-infrared Spectroscopy Market Analysis & Forecast
In near-infrared spectroscopy market, the FT-NIR spectrometers segment dominated the global industry and accounted for the maximum share of more than 79% in 2021. Fourier Transform-based spectrometers were developed to overcome the limitations of dispersive NIR instrumentation. The product utilizes minimal time per sample for the analysis and measures every infrared frequency concurrently, instead of individually. Such product characteristics give a competitive advantage for analyzing NIR spectra of pharmaceuticals, polymers, and chemicals.
Dispersive near-infrared spectroscopy segment is anticipated to witness considerable growth over the forecast period owing to the increasing frequency of usage in the agriculture segment. The product has been predominantly used for grain and grain product measurement and employed monochromators to extract spectral information.
Key market players such as Bruker, PerkinElmer Inc., Oxford Instruments, and Brainbox Ltd. Among others have been continuously involved in the development of products, and exploring the new application areas for the NIR.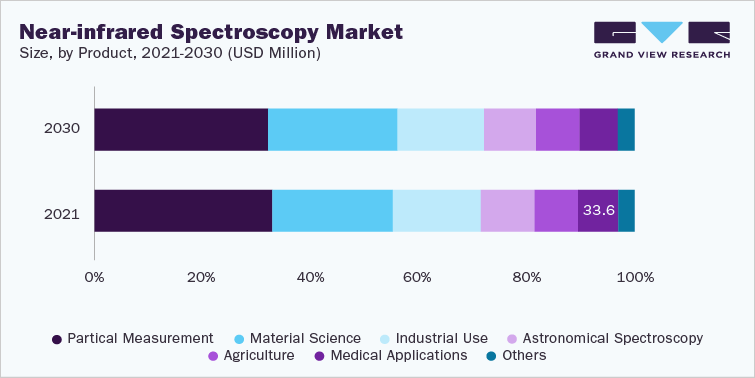 Competitive Landscape
Competitive rivalry in the spectrometry industry is moderate to high due to the presence of a large number of both well-established players and small- to mid-sized manufacturers and distributors in the market space. Some of the major players are Danaher Corporation, Thermo Fisher Scientific, Inc., PerkinElmer, Inc., Agilent Technologies, Inc., Waters Corporation, Shimadzu Corporation, Bruker Corporation, and JEOL Ltd among many others. These market players are involved in the development of advanced spectrometry products as well as services. To maintain a significant share in the market, key participants are undertaking various initiatives and implementing business strategies, such as product launches, product portfolio expansion, reinforcement and stabilizing the distribution network, and manufacturing capacity expansion and geographic reach expansion through acquisitions, collaborations, and partnership.
Some of the recent strategic developments in the market are mentioned below
In June 2022, Jeol released "SMILEQ: Spectral Management Interface Launching Engine for QNMR", a plugin for JASON NMR software for accelerating routine quantitative NMR analysis. SMILEQ enables automated quantitative analysis through NMR measurement, NMR data processing, and quantitative calculation, and creates reports in an automated fashion.

In November 2021, Jeol ltd. announced the launch of JNM-ECZL series which has extended performance and high-frequency technology.

In November 2021, the company collaborated with MSAID to provide advanced mass spectrometry software to proteomics researchers. This software is aimed to generate biological insights from acquired data.

In September 2021, the company introduced the Thermo Scientific TSQ Plus triple quadrupole mass spectrometer (MS) to enhance quantitative analysis. This new product increases workflow throughput.

In February 2021, Galaxy Scientific announced the availability of a QuasIR 2000 fiber optic FT-NIR spectrometer with the new probe. This strategic initiative enables the company to expand the application of the product, in cannabis, agriculture, food, pharma, chemicals, and polymers industries.
Key Drivers
Technological Advancements in Spectrometry System

Increasing R&D Spending by Pharmaceutical Industry & Government Research Organizations

Rising Awareness, Usage, And Adoption of Spectrometry

Advancements in Proteomics Research

Increasing Development in Biomedical Research

Increasing Metabolomics-Based Diagnosis

Implementation of Analytical Technique for Raw Material

Expanding Applications of Near-Infrared Spectroscopy