Database Overview
Grand View Research's Stem Cells Industry databook is a collection of market sizing & forecasts insights, market dynamics & trends, opportunity assessment, regulatory & technology framework, pricing intelligence, competitive benchmarking analyses, and macro-environmental analysis studies. Within the purview of the databook, such information is systematically analyzed and provided in the form of summary presentations and detailed outlook reports on individual areas of research. The following data points will be included in the final product offering in five reports and one sector report overview.
Stem Cells Industry Data Book Scope
Attribute

Details

Research Areas

Stem Cells Market
Human Embryonic Stem Cells Market
Induced Pluripotent Stem Cells Production Market
Mesenchymal Stem Cells Market
Cancer Stem Cells Market

Number of Reports/Deliverables in the Bundle

5 Individual Reports - PDFs
5 Individual Reports - Excel
1 Sector Report - PPT
1 Data Book - Excel

Cumulative Country Coverage

50+ Countries

Cumulative Product Coverage

25+ Level 1 & 2 Products

Highlights of Datasets

Product Revenue, by Countries
Application Revenue, by Countries
Technology Revenue, by Countries
Therapy Revenue, by Countries
End user Revenue, by Countries
Process Revenue, by Countries
Workflow Revenue, by Countries
Product & Services Revenue, by Countries
Type Revenue, by Countries
Source of Isolation Revenue, by Countries
Indication Revenue, by Countries
Mode Of Action Revenue, by Countries
Forms Revenue, by Countries
Competitive Landscape
Regulatory Guidelines, by Countries

Total Number of Tables (Excel) in the bundle

400+

Total Number of Figures in the bundle

250+
Stem Cells Industry Data Book Coverage Snapshot
Markets Covered

Stem Cells Industry

Stem Cells Market Size

USD 13.26 billion in 2022

11.4% CAGR (2023-2030)

Human Embryonic Stem Cells Market Size

USD 1.10 billion in 2022

10.6% CAGR (2023-2030)

Induced Pluripotent Stem Cells Production Market Size

USD 1.36 billion in 2022

9.3% CAGR (2023-2030)

Mesenchymal Stem Cells Market Size

USD 3.02 billion in 2022

11.4% CAGR (2023-2030)

Cancer Stem Cells Market Size

USD 2.59 billion in 2022

12.1% CAGR (2023-2030)
The stem cells industry data book is a combination of the market data from five reports namely, the stem cells market, human embryonic stem cells market, induced pluripotent stem cells production market, mesenchymal stem cells market, and cancer stem cells market. The stem cells market was valued at USD 13.26 Billion in 2022 with a CAGR of 11.4% during 2023-2030. The induced pluripotent stem cells production market was valued at USD 1.36 Billion in 2022 with a CAGR of 9.3% during 2023-2030. The human embryonic stem cells market was valued at USD 1.10 Billion in 2022 with a CAGR of 10.6% during 2023-2030. The mesenchymal stem cells market was valued at USD 3.02 Billion in 2022 with a CAGR of 11.4% during 2023-2030. Cancer stem cells market was valued at USD 2.59 Billion in 2022 with a CAGR of 12.1% during 2023-2030.
The stem cell market is anticipated to be driven primarily by the expanding development of precision medicine, growth in the number of cell therapy production facilities, and expansion in the number of clinical trials. Recent developments in tissue engineering and stem cell therapy have the potential to attract attention for the treatment of a number of chronic diseases. Additionally, increasing research activities into the synthesis, storage, and characterization of stem cells as well as rising demand for stem cell banking are anticipated to support the market's revenue growth.
Human Embryonic Stem Cells Market Analysis & Forecast
The introduction of novel technologies for the usage and administration of stem cell therapy is expected to boost the market over the forecast period. Potential application of stem cells in regenerative medicine such as developing cardiac lineage to be used in tissue-engineered cardiac repair to treat myocardial infarction is expected to influence research for the application of hESC in therapeutic applications. The adoption of molecular imaging for monitoring, theranostics, and clinical translation of stem cell transplantation is also a key factor. These include pre-clinical and clinical in-vivo imaging to monitor transplanted stem cells post-therapy.
These cells are also being adopted for drug screening and to demonstrate disease modelling. For instance, iPSCs from familial Dysautonomia patients were used to produce central and peripheral nervous systems as precursors to investigate the diseases. Identification of three disease-related phenotypes helped to screen multiple compounds for treatment. Similar adoptions for other neurodegenerative diseases such as Alzheimer's and Parkinson's disease is expected to increase the adoption of hESCs for regenerative medicine and stem cell biology research.
Technological developments pertaining to stem cell therapy provide fundamental tools and techniques for R&D and application of human embryonic stem cell therapy. Thus, this gives rise to treatment breakthroughs in stem cell research such as replicating the regenerative power of stem cells for powerful treatment of diseases and injuries.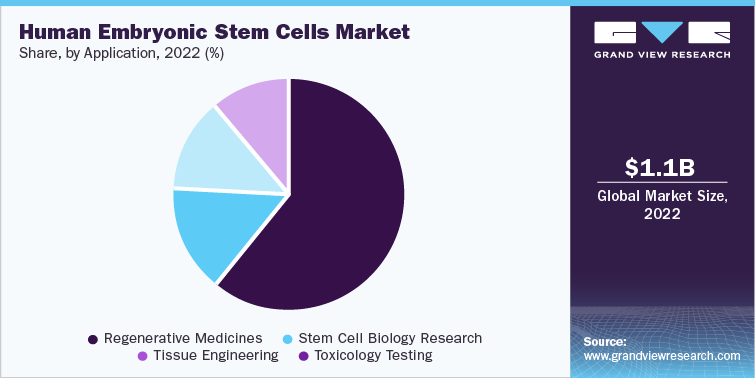 Induced Pluripotent Stem Cells Production Market Analysis & Forecast
In the induced pluripotent stem cell production market, the cell culture segment accounted for the largest revenue share of 37.3% in 2022. Cell culture workflow is inclusive of revenues generated from iPSC harvest products, expansion products, and differentiation products; thus contributing to the market relevance of this segment. Cell culture plays a pivotal role in various stages of induced pluripotent stem cells (iPSCs) generation and continuous investments by key players operating in this market globally have made an important contribution to the segment's revenue generation.
For example, in August 2021, HebeCell Corp. announced that it has raised USD 53 million in financing to advance its R&D program, clinical operations, and commercialization for off-the-shelf pluripotent stem cell-CAR-NK products. Additionally, costs associated with cell culture matrices, media, and regular maintenance of these cells add up to the revenue generated by this segment.
Mesenchymal Stem Cells Market Analysis & Forecast
In the mesenchymal stem cells market, the bone marrow segment dominated the market and accounted for the largest revenue share of 26.0% in 2022. Bone marrow is a major source of isolation for mesenchymal stem cells. These cells have multilineage differentiation potential and are able to differentiate into bones, cartilage, tendons, fibroblasts, fat, cardiac muscle cells, and endothelial cells. According to an article published in December 2019, bone marrow aspirates from the pelvis are the most frequently used source of MSCs for clinical trials. This has contributed to the segment's dominance from 2022 to 2030.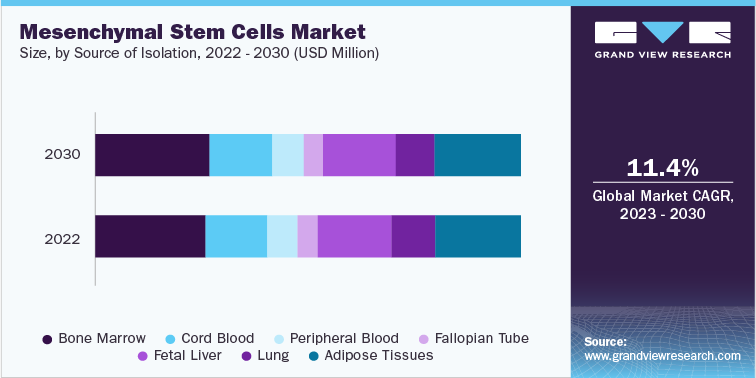 One such regenerative method to promote therapeutic angiogenesis is cell therapy, especially employing MSCs. Due to their inherent potential for multilineage cell differentiation, capacity to release soluble factors and exosomes, and immunomodulatory and antibacterial activities, MSCs play a crucial role in wound healing and angiogenesis.
The market growth is expected to be accelerated by the robust pipeline of products based on mesenchymal stem cells and new uses for these cells. There are now 1050 MSC-related clinical studies underway as of February 2023. Additionally, a sizable number of businesses are investigating MSCs' potential as therapies for the treatment of inflammatory diseases, which is fueling the market's expansion.
Cancer Stem Cells Market Analysis & Forecast
In the cancer stem cells market, breast cancer accounted for 24.7% of the market share in 2022 due to its increasing prevalence and the availability of a sizable number of stem cell treatments for this tumour type. Additionally, the development of autologous transplant, which has advanced chemotherapy, is anticipated to support the segment's growth. Additionally, it has been discovered that stem cell treatments are effective in reducing the cardiotoxicity seen in survivors.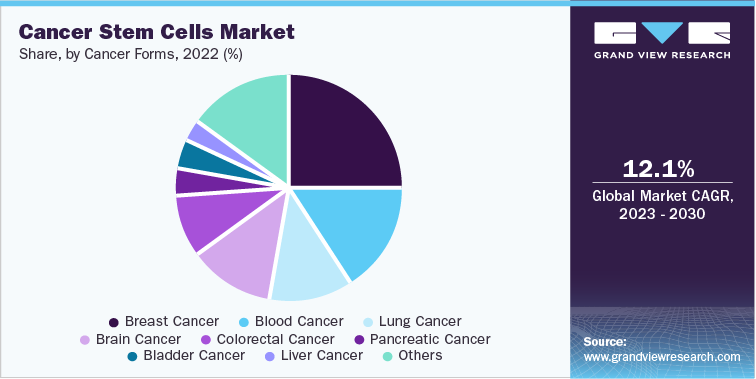 The presence of cancer stem cells and their contribution to the development of treatment resistance are being clarified by increasing research. Regulating the regulation of these cells, further opens up the prospect of developing fresh targets to overcome treatment resistance. This means that CSCs, as prospective therapeutic targets, facilitate the discovery of therapeutics that successfully halt tumour growth.
However, regulatory issues surrounding the use and approval of stem cell treatments are projected to restrain market expansion. Additionally, it is anticipated that certain manufacturing and pharmacological challenges related to the development of this cell treatment may hinder market growth throughout the course of the projected period.
Competitive Landscape
Competitive rivalry in the stem cell industry is high due to the presence of a large number of both well-established players and small- to mid-sized companies as well as CROs in the market space. Some of the major players are STEMCELL Technologies Inc., Advanced Cell Technology Inc., Cellular Engineering Technologies Inc., CellGenix GmbH, Angel Biotechnology, PromoCell GmbH, Kite Pharma, Lonza, Cellartis AB, Celgene Corporation, Brainstorm Cell Therapeutics, Osiris Therapeutics, Genea Biocells, Waisman Biomanufacturing, Bioheart Inc., Tigenix, Caladrius Biosciences, Gamida Cell, and many more.
Some of the recent strategic developments in the market are mentioned below.
In June 2022, STEMCELL Technologies, Inc. entered into a supply partnership with PBS Biotech, Inc. to make the PBS-MINI Bioreactor available for researchers to support rapid scale-up of 3D culture of human pluripotent stem cells. This initiative expanded the company's stem cell services.

In September 2021, the company, in partnership with WiCell, introduced human pluripotent stem cell characterization and banking services. This initiative strengthened the company's stem cell offerings.

In June 2022, the company launched a new partnership and expanded its three-year collaboration with Immatics to develop seven cancer cell therapies. This initiative was expected to boost the company's stem cell product portfolio.

In January 2022, The Bristol-Myers Squibb Company entered into a strategic collaboration with Century Therapeutics to develop iPSC-derived allogeneic cell therapy. This initiative was expected to enhance the company's stem cell offerings.

In February 2021, Bristol-Myers Squibb received approval for Breyanzi, a CAR-T lymphoma therapy. The company already initiated the construction of a new 244,000-square-foot cell therapy facility in Massachusetts. This facility is expected to help ramp up commercial and clinical production, supplementing the company's existing cell therapy manufacturing operations in the European Union, the U.S., & Japan.

In February 2021, Breyanzi, a cancer cell therapy developed by The Bristol-Myers Squibb Company, received FDA approval for treatment of individuals suffering from late-stage lymphoma. This cancer cell therapy was previously known as liso-cel, which attained clearance for use in adults suffering from selective forms of large B-cell lymphoma.

In August 2020, the company collaborated with Dragonfly Therapeutics, Inc. to receive a global exclusive license to Dragonfly's interleukin-12 (IL-12), an investigational immunotherapy program for the treatment of hematological conditions and solid tumours.

In December 2020, it received a supply of rhCollagen from CollPlant. It would assist in a wide range of cell culture applications.

In May 2020, the company announced a research project to scale and formulate reagents for rapid diagnostic testing.

In July 2020, BMS, in collaboration with bluebird bio, submitted a BLA application for Idecabtagene Vicleucel (Ide-cel, bb2121), designed for the treatment of patients with refractory and relapsed multiple myeloma. This initiative was undertaken to accelerate the company's regulatory and launch processes for immunotherapies.

In July 2020, BMS announced the validation of its CAR T Cell Therapy Lisocabtagene Maraleucel (liso-cel) by the EMA, initiating the agency's centralized review process for the product.

In May 2020, a clinical-stage gene therapy entity-Genprex, Inc.-announced its global patent and license agreement for combinatorial gene therapy TUSC2. This therapy combines three immunotherapy drugs, of which, two are manufactured by Bristol-Myers. These product offerings, intended for the development of novel gene therapeutic approaches, are expected to help the company gain a competitive edge.

In March 2020, BMS submitted a BLA of its lead investigational BBCMA-directed CAR T therapy, idecabtagene vicleucel (ide-cel; bb2121), indicated for the treatment of multiple myeloma in adults. Approval of the novel CAR T therapy in coming years is anticipated to strengthen the company's position in the cell therapy market.
Key Drivers
Ongoing Developments In Regenerative Medicine

Rising Funds For Accelerating Stem Cell Research

Growing Demand For Stem Cell Banking

Increasing Prevalence Of Genetic Disorders

R&D in toxicology testing

Technological advancements for the production of embryonic stem cells through alternative methods

Increase In Demand For Ipscs Over Embryonic Stem Cells (Escs)

Rise In The Integration Of Automation In Ipsc Production

Expanding Exploitation Of Ipscs In Research

Expanding Pipeline And Clinical Studies Of Mesenchymal Stem Cell-Based Products

Emerging Applications of MSCs

Rising Market Competition Among Key Players

Increasing stem cell-based clinical trials

Robust pipeline of anti-CSCs therapeutics

Rising new cases of cancer