Database Overview
Grand View Research's syringes industry databook is a collection of market sizing information & forecasts, regulatory data, reimbursement structure, competitive benchmarking analyses, macro-environmental analyses, and regulatory & technological framework studies. Within the purview of the database, all such information is systematically analyzed and provided in the form of presentations and detailed outlook reports on individual areas of research.
The following data points will be included in the final product offering in 4 reports and one sector report overview:
Syringes Industry Data Book Scope
Attribute

Details

Research Areas

Syringes Industry

Prefilled Syringes Market
Disposable Syringes Market
Micro Syringes Market
Dental Syringes Market

Number of Reports/Deliverables in the Bundle

4 Individual Reports - PDFs
4 Individual Reports - Excel
1 Sector Report - PPT
1 Data book - Excel

Cumulative Country Coverage

50+ Countries

Highlights of Datasets

Product Revenue, by Countries
Application Revenue, by Countries
Material Revenue, by Countries
End-use Revenue, by Countries
Competitive Landscape
Regulatory Guidelines, by Countries
Reimbursement Structure, by Countries

Total Number of Tables (Excel) in the bundle

190

Total Number of Figures in the bundle

221
Syringes Industry Data Book Coverage Snapshot
Markets Covered

Syringes Industry

USD 43.98 billion in 2022

9.02% CAGR (2023-2030)

Dental Syringes Market

USD 8.95 billion in 2022
5.05% CAGR (2023-2030)

Disposable Syringes Market

USD 14.19 billion in 2022

6.21% CAGR (2023-2030)

Prefilled Syringes Market
USD 20.61 billion in 2022

11.94% CAGR (2023-2030)

Micro Syringes Market

USD 0.23 billion in 2022

6.4% CAGR (2023-2030)
Prefilled Syringes Market Analysis And Forecast
The global prefilled syringes market generated over USD 20.61 billion revenue in 2022 and is projected to expand at a CAGR of around 11.94% during the forecast period to reach USD 50.84 billion by 2030.
The global market for prefilled syringes is showing a major shift towards the preference for self-care injection devices. They are anticipated to offer benefits for patient safety, according to health professionals. Even with the most experienced healthcare technicians, human errors can happen when drawing up a vaccine dose from a vial to a syringe. As ready-to-use syringes are pre-dosed for a single injection, prefilled syringes contribute to minimized risk of dosage errors.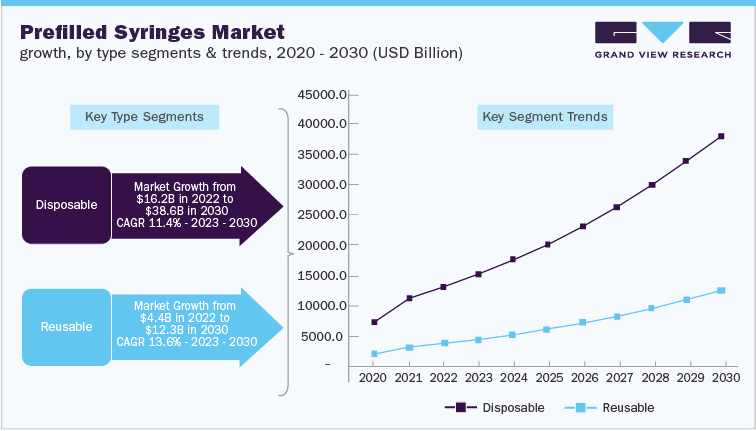 North America has constantly been the dominating region in the safety syringes market. All high-income economies completely rely on prefilled syringes as compared to retractable syringes, and others. The Asia Pacific region has seen the maximum growth in the prefilled syringes market owing to growing healthcare expenditure and mass immunization programs and per capita income. The rising presence of local companies, especially in North America, Asia Pacific, and the Middle East & Africa, has minimized production and delivery costs, stimulated local acceptance, and helped to build markets for the prefilled syringe.
Disposable Syringes Market Analysis And Forecast
The global disposable syringes market size was valued at USD 14.19 billion in 2022 and is expected to expand at a compound annual growth rate (CAGR) of 6.21% from 2023 to 2030 Consistent growth of the injectables market, strengthened by the rising number of biotech product launches and the increasing focus on safety, mainly sharps safety, enhances the segment growth. The preferred route of administration for biologics is via injections as other routes are likely to hamper drug availability. Growing demand for efficient and easy-to-use drug delivery devices and increasing efforts of healthcare professionals to reduce hospital errors are the principal factors driving the market's growth. The fast-paced development of feature-rich devices with underlying technological advancements extending safer and more convenient self-injections is expected to fuel market growth.
Increasing government investments in cutting-edge syringe production and rising initiatives to increase the use of disposable syringes with an aim to reduce the transmission of diseases in patients. Disposable devices reduce contamination risks which are projected to boost their demand. Needlestick injuries are caused by unsafe activities such as multiple usages of disposable syringes without taking preventative precautions as directed by healthcare professionals.
Furthermore, while traditional disposable syringes safeguard the recipient, they do not ensure the safety of patients. Therefore, a high preference for patient safety has resulted in increased usage of disposable syringes in hospitals and home care settings.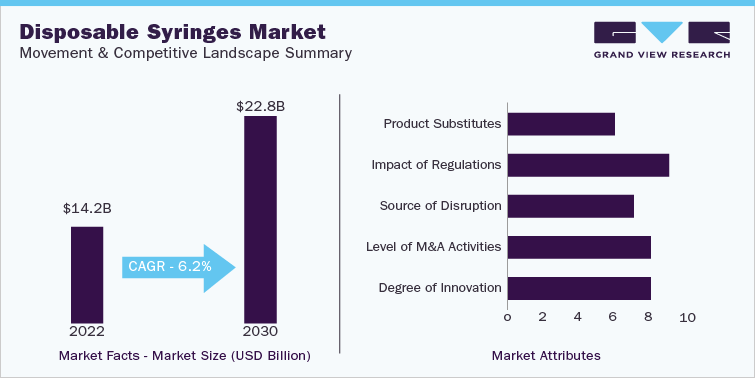 Dental Syringes Market Analysis And Forecast
The dental syringes market was valued at USD 8.95 Billion in 2022. High demand for specially designed syringes for dentistry is expected to fuel the market growth over the compounded annual growth rate of 5.05% from 2023 to 2030.
Growing preference for reusable syringes among dental surgeons for delivery of anesthesia coupled with their cost-efficient feature of these are expected to fuel the segment's growth. Dentists prefer reusable syringes over disposable syringes due to significant price differences and complex manufacturing processes. The growing incidence of dental disorders due to unhealthy eating and lack of vitamin D and A is one of the major drivers of the dental syringe market. In addition, the growing geriatric population prone to various dental conditions is expected to fuel the market.
Favourable government regulations to avoid using needle syringe is also augmenting the use of dental syringes, thereby driving the dental syringe market. Needle stick poses a higher risk of transmitting BBVs (blood-borne viruses). Hence, dental syringes are widely used by dental physicians to avoid sudden jerks by patients during surgery and use new surgical instruments.
Regarding healthcare professionals, glass syringes are easy-to-use and check for particulate impurities, if any. The clarity and inertness of glass ensure the purity of the dose thus rendering it a reliable alternative for healthcare professionals. However, increasing demand for safer products that allow the self-administration of medication and greater fragility of glass during transportation is anticipated to impede the use of glass syringes in the global market. Additionally, with respect to the manufacturers' perspective, bulk sterilization and reuse of glass syringes reduce costs significantly hence increasing the profit margin.
Dental Syringes Market - Key Participants
Innovators

Leaders

Emerging

Setodont

Vista Denta Products

Ultra dent Products

Dentsply Sirona

3M

Integra LifeSciences Corportion

Inter-Med, Inc

Power Dental USA, Inc.
Micro Syringes Market Analysis And Forecast
Micro syringes market is expected to exhibit a CAGR of more than 6.4% from 2023 to 2030 to reach a global market size of more than USD 369.6 Million.
An increasing number of research studies and a rising volume of life science research investigations are driving market growth. Moreover, a growing number of drug discoveries, preclinical, and clinical trials due to the increasing efforts of pharmaceutical and biopharmaceutical companies to develop effective products are anticipated to drive the market. The intensive research being carried out in the pharmaceutical industry to develop new drugs is accelerating the demand for microsyringes. Also, government support in basic and early-stage research facilitates market growth.
Furthermore, rising awareness among people about cosmetic dentistry options, increasing disposable income, and the presence of well-established R&D infrastructure are some of the key factors contributing to the market growth. Supportive healthcare reimbursement policies and government reforms are among the factors responsible for the largest market share held by North America.
Competitive Landscape
Market players in the syringe market undertake several organic and in-organic growth strategies in order to strengthen their product portfolios and offer diverse technologically advanced and innovative products to their customers. These strategies are prominently adopted by companies to attract more customers in the market
Below mentioned are some of the key developments adopted by major market players in recent years:
In November 2022, Schreiner MediPharm announced a partnership with SCHOTT Pharma to develop novel smart concepts that add functional value to prefilled syringes.

In February 2021, No Borders, Inc. launched MediDent supplies of needles and syringes and millions of them were delivered to the U.S.

In January 2021, BD launched a new Hyflow needle, a 27-gauge thin wall needle that increases the performance of the prefillable syringe range.

In August 2019, Morimoto Pharmaceuticals announced the launch of a new prefilled syringe kit named Morimoto S.A.F.E. syringe kit.