Database Overview
Grand View Research's textiles sector database is a collection of market sizing information & forecasts, trade data, pricing intelligence, competitive benchmarking analyses, macro-environmental analyses, and regulatory & technological framework studies. Within the purview of the database, such information is systematically analyzed and provided in the form of outlook reports (1 detailed sectoral outlook report) and summary presentations on individual areas of research along with an agricultural statistics e-book.
Textile Industry Data Book Scope
Attribute

Details

Areas of Research

Technical Textile Market
Household Textile Market
Fashion Textile Market

Number of Reports/Presentations in the buddle

1 Sector Outlook Report + 3 Summary Presentations for Individual Areas of Research + 1 Statistic ebook

Cumulative Coverage of Countries

23+ Countries

Cumulative Coverage of Application

10+ Application

Highlights of Datasets

Production Data, by Countries
Import/Export Data, by Countries
Demand/Consumption, by Countries
Competitive Landscape
Textile , by Application
Textile Industry Data Book Coverage Snapshot
Markets Covered

Textile Industry

USD 1,599.1 billion in 2022

7% CAGR (2023-2030)

Technical Textile Market Size

USD 218.88 billion in 2022

7.7% CAGR (2023-2030)

Household Textile Market Size

USD 152.49 billion in 2022

7.3% CAGR (2023-2030)

Fashion Textile Market Size

USD 1,227.74 billion in 2022

6.9% CAGR (2023-2030)
Textile Sector Outlook
The economic value generated by the textiles industry was estimated at approximately USD 1.6 trillion in 2022. This economic output is an amalgamation of businesses that are involved in the manufacturing, distribution & supply, and application of textiles.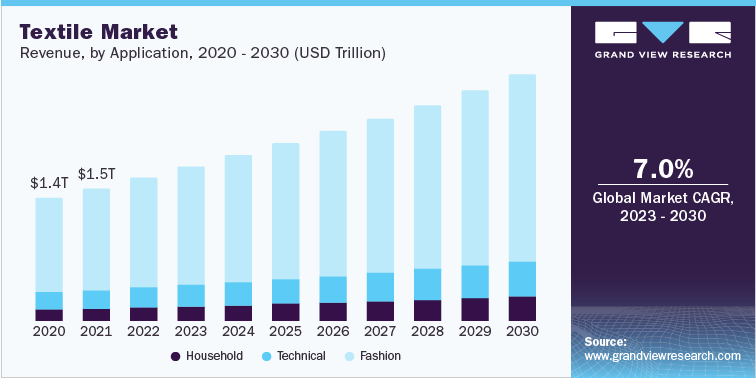 Rising disposable income, urbanization, and population growth in emerging markets including China, India, and Mexico are expected to play an important role in propelling the textile market growth. In addition, increasing penetration of retail outlets and supermarkets in the abovementioned countries is expected to ensure access to clothing products for the customers. The abovementioned trend is expected to play a key role in increasing the demand for textiles over the forecast period.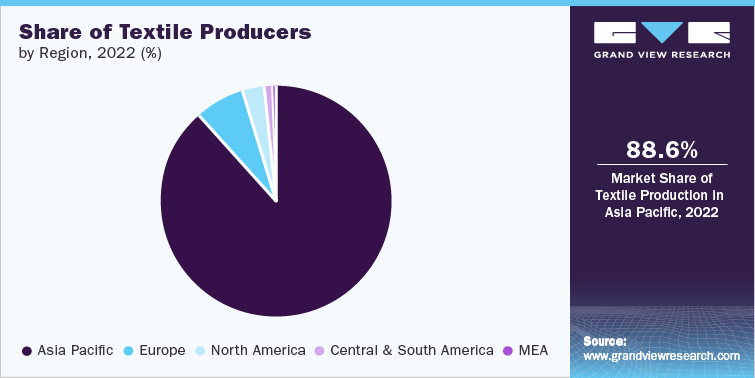 The demand for textile is concurrently to the production output of countries and their population & per capita usage. As such, China and India, home to nearly 2.8 billion people, collectively accounted for over 65% of the global textile production revenue in 2022.
Household Textile Market Analysis & Forecast
Textiles considered under the household application segment of the market include the ones used in, some of which include bedding, kitchens, upholstery, and towels. Natural fibers such as cotton and linen, as well as synthetic fibers such as polyester and acrylic polyamides, are mainly used for manufacturing household textiles. These textiles are referred to as soft furnishings and include items such as dish towels, bath towels, shower curtains, table linens, and others.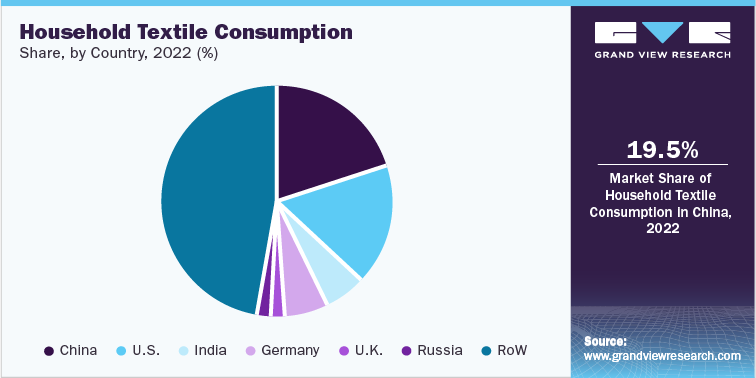 China accounted for just over 19% of the global demand for household textile in 2022, with the country also supplying 30% of global fabric material. The U.S. follows suit after China, as the second largest consumer of household textile. Both countries are characterized by the significant development of their agrarian economies and the concurrent textile demand of their respective populations.
Technical Textile Market Analysis & Forecast
Technical textiles are used to suffice the high-performance requirements of end-users related to construction, transportation, medical, and protective applications. Nylon, polypropylene, polyester, and acrylic fibers are some key raw materials used for manufacturing textiles required in technical applications.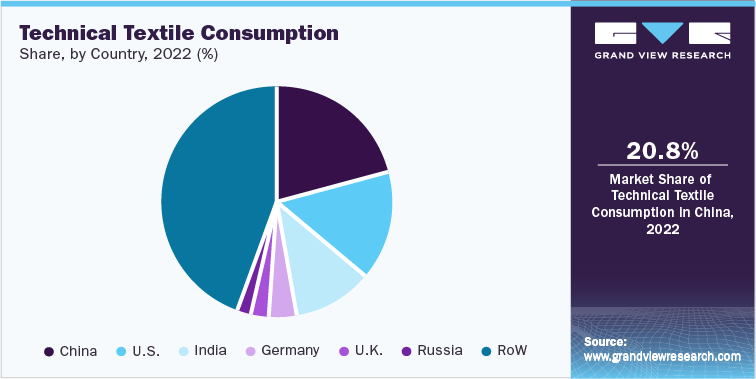 Technical textiles have been witnessing increasing penetration in different end-use industries such as automotive, aerospace, marine, medical, and construction since they offer several technical advantages such as durability, strength, and versatility that may not be offered by conventional textiles. Thus, the economies such as China, the U.S., India, and Germany with high concentrations of industrial clusters exhibit higher consumption of these textiles.
Fashion Textile Market Analysis & Forecast
Fashion is gaining importance in the lifestyle of consumers worldwide owing to their constant exposure to advertisements and sales that result in impulsive buying behavior in them. In addition, social media is a key factor contributing to the fast and latest fashion trends. Companies such as H&M and Zara are utilizing social media platforms to reach out to their potential customers and enhance their share in the market.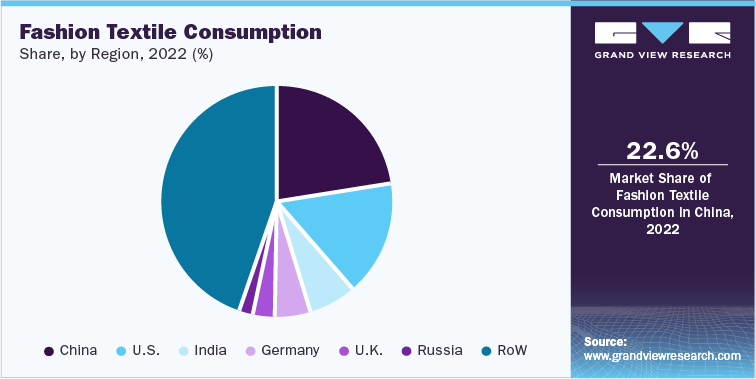 The fashion segment led the textile market in terms of revenue in 2022 by accounting for a share of over 51% of the market. This segment of the textile market has been further categorized into apparel, ties & clothing accessories, and handbags. Surging demand for crease-free suiting and shirting, as well as quality dyed and printed fabrics from consumers in countries of Asia Pacific, is expected to drive the growth of the fashion segment of the textile market in the coming years.
Competitive Insights
The global textile industry is moderately competitive, with companies increasing their product portfolio and expanding their production capacity to serve the growing demand, particularly in emerging markets. However, the market's fragmented nature is expected to refrain investments by prospective companies over the forecast period. Furthermore, several companies, such as Invista and Weiqiao Textile Co., Ltd. adopted expansion strategies to strengthen their market position and have a competitive edge over others.
The market players compete based on differentiation in technology, design, product innovation, and customer-centric products. The market also possesses various strengths such as flexibility, rich heritage, mass production capabilities, capital investment capabilities, high-performance machinery, value-added textile production, and strong R&D.
Rising awareness regarding reducing greenhouse emissions on a global level owing to the implementation of stringent regulations by the European Commission and EPA to reduce environmental pollution is expected to force textile manufacturers to develop new products by utilizing bio-based polyesters, including bio-PET as raw material.

In November 2020, Invista completed the capacity expansion of its plant to accomplish an annual production of 40,000 tons of nylon 6 and 6 polymers. The company and Shanghai Chemical Industry Park (SCIP) signed a memorandum of cooperation for China's AND plant resulting in expanding the plant capacity to reach a total annual production capacity of 190,000 tons/year to fulfill the local demand.

In April 2022, the DBL group announced that it is planning to invest in setting up a thread factory in Vietnam. The Vietnam factory will start operating within 2-3 years and will produce eco-thread owing to the rising demand from end-users.