Database Overview
Grand View Research's Ultrasound devices and accessories industry databook is a collection of market sizing information & forecasts, regulatory data, reimbursement structure, competitive benchmarking analyses, macro-environmental analyses, and regulatory & technological framework studies. Within the purview of the database, all such information is systematically analyzed and provided in the form of presentations and detailed outlook reports on individual areas of research.
The following data points will be included in the final product offering in 3 reports and one sector report overview:
Ultrasound Devices and Accessories Industry Data Book Scope
Attribute

Details

Research Areas

Ultrasound Device Market
Ultrasound Transducer Market
Ultrasound Gels Market

Number of Reports/Deliverables in the Bundle

3 Individual Reports - PDFs
3 Individual Reports - Excel
1 Sector Report - PPT
1 Data book - Excel

Cumulative Country Coverage

50+ Countries

Highlights of Datasets

Product Revenue, by Countries
Technology Revenue, by Countries
Competitive Landscape
Regulatory Guidelines, by Countries
Reimbursement Structure, by Countries

Total Number of Tables (Excel) in the bundle

353

Total Number of Figures in the bundle

338
Ultrasound Devices and Accessories Industry Data Book Coverage Snapshot

Markets Covered

Ultrasound Devices and Accessories Industry

USD 13.65 billion in 2022

4.4% CAGR (2023-2030)

Ultrasound Device Market Size

USD 10.2 billion in 2022

4.3% CAGR (2023-2030)

Ultrasound Transducer Market Size

USD 3.3 billion in 2022

4.8% CAGR (2023-2030)

Ultrasound Gels Market Size

USD 101.5 million in 2022

2.6% CAGR (2023-2030)
Ultrasound Device Market Analysis And Forecast
The global ultrasound device market size was valued at USD 10.2 billion in 2022 and is anticipated to expand at a CAGR of 4.3% from 2023 to 2030.
Ultrasound is an efficient imaging modality that provides quality images in a short time and does not utilize ionizing radiation. A major factor expected to drive the market is consistent technological advancements. Furthermore, the rising demand for minimally invasive surgical procedures and increasing prevalence of chronic disorders is expected to contribute to market growth. For instance, as per the International Agency for Research on Cancer, in 2020, 19,292,789 new cancer cases were recorded globally.
Recent advancements of several high-end ultrasound systems integrate AI, and AI is projected to be included in most new systems at all levels in the future. These devices with such advanced features can be made available at low costs and help ease operational workflow, thus driving their adoption. Moreover, the demand for early diagnosis is increasing, thus, leading to a large number of patients opting for PoC ultrasound devices to obtain instant results. For instance, in March 2020, Esaote increased the production of portable ultrasounds by 70% to 80%.
The diagnostic imaging ultrasound devices segment accounted for the largest revenue share of more than 70% in 2021. This is attributed to the wide range of applications in obstetrics, cardiology, and oncology. In addition, the increasing prevalence of various lifestyle-related disorders and technological advancements are expected to boost the demand for diagnostic ultrasound devices.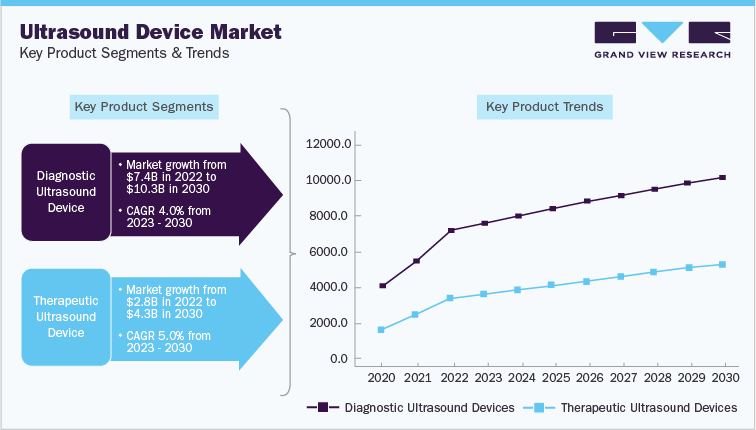 During the COVID-19 pandemic, handheld ultrasound devices were in high demand owing to their efficiency in treating critical care patients in crowded hospitals because of the systems' speed, portability, and ease of use. In March 2021, GE Healthcare launched Vscan Air, a wireless handheld ultrasound that enables scanning outside hospitals to provide direct feedback, lowering the need for frequent hospital visits, which has been a major advantage during the COVD-19 pandemic.
Ultrasound Transducer Market Analysis And Forecast
The global ultrasound transducer market size was valued at USD 3.3 billion in 2022 and is anticipated to expand at a CAGR of 4.8% from 2023 to 2030
These transducers are used in diagnostic testing, surgical procedures, and noninvasive procedures including lithotripsy. Major diagnostic uses of these devices include the examination of cardiac, maternity, abdominal, gynecological, cerebrovascular and urological, breast examination, and small pieces of tissues, and in the pediatric and operational review. The rising frequency of product launches is expected to propel the ultrasound transducer market. Key players are focusing on the development of high-powered, handheld, single-use ultrasound transducers. Moreover, companies are launching this device incorporated with the advanced transducer. These advanced products are specially designed for various applications including vascular and muscular-skeletal. Introduction of novel devices such as EPIQ Elite ultrasound system, SiliconWave L38-22 linear array transducer, and mi-ultra with both linear & convex offering is anticipated to boost the market during the forecast period.
Ultrasound Gels Market Analysis And Forecast
The global ultrasound gels market size was valued at USD 101.5 million in 2022 and is expected to grow at a compound annual growth rate (CAGR) of 2.6%% from 2023 to 2030. Key factors contributing to market growth are global increase in ultrasound procedural volume and rising adoption of This devices in point-of-care and bedside monitoring. These gels are essential during ultrasound. Thus, their increasing usage during scans is likely to boost their demand in the market.
Cleaning and disinfecting ultrasound probes are crucial & mandatory during ultrasound procedures, especially during transesophageal, surgical, endovaginal, and endorectal studies. According to a report published by Wiley in 2018, the alternatives to these gels such as guar gum and corn starch are very sticky & difficult to clean compared to commercially available ultrasound gels.
Competitive Landscape
The major players are working to improve their product offerings by upgrading their products, taking advantage of important cooperation activities, and exploring acquisitions and government clearances in order to expand their customer base and gain a larger share of the overall market.
Some of the recent major strategies by major players include:
In April 2022, the GE Healthacre entered into a partnership with Unilabs, a leading European diagnostic services provider, to provide advanced imaging equipment and digital technology in Portugal. The agreement covers, MRI, CT, ultrasound devices, mammography, and X-ray machines.

In February 2022, Koninklijke Philips N.V. included hemodynamics to its handheld ultrasound Lumify for real-time blood flow evaluation. Now, the POC for physicians includes a Pulse Wave Doppler, which will allow them to quickly access hemodynamic in cardiac function.

In January 2022, Koninklijke Philips N.V. & University Hospital Brandenburg an der Havel signed a 10-year partnership deal worth approximately USD 18.75 million for advanced patient care. According to the agreement, the company will renew & expand the hospital's diagnostic options through the delivery of advanced technology solutions.

In October 2021, Samsung Medison Co, Ltd introduced a new high-end ultrasound system'V8'. This launch will help the company to meet new high-end medical device customer's needs.

In September 2021, Esaote SPA, launched an E-shop. It is a new online store to reach medical professionals more quickly and effectively. Users will also have access to accessories and spare parts for ultrasound and MRI equipment, such as probes, coils, printers, software, mechanical & electronic components, efficient and certified refurbished diagnostic systems, as well as the help of a dedicated customer support staff.

In September 2021, Esaote SPA;s North America division launched a new specialized veterinary ultrasound device - the MyLabX75VET ultrasound system. The company's specific veterinary software and probes are included with MyLabX75VET to meet the imaging demands of a variety of veterinary applications.