Database Overview
Grand View Research's wallpaper industry data book is a collection of market sizing information & forecasts, trade data, pricing intelligence, competitive benchmarking analyses, macro-environmental analyses, and regulatory & technological framework studies. Within the purview of the database, such information is systematically analyzed and provided in the form of outlook reports (1 detailed sectoral outlook report) and summary presentations on individual areas of research.
Wallpaper Industry Data Book Scope
Attributes

Details

Areas of Research

Vinyl Wallpaper Market
Nonwoven Wallpaper Market
Paper Wallpaper Market
Fabric Wallpaper Market

Number of Reports/Presentations in the Bundle

1 Sector Outlook Report (PDF) + 4 Summary Presentations for Individual Areas of Research (PDF) + 1 Statistic eBook (Excel) + 4 Individual Databook (Excel)

Cumulative Coverage of Countries

15+ Countries

Cumulative Coverage of Products

15 + level 1 & 2 Products

Highlights of Datasets

Product Data, by Countries
Import/Export Data, by Countries
Demand/Consumption Data , by Countries
Statistic e-Book
Competitive Analysis
Wallpaper Industry Data Book Coverage Snapshot
Markets Covered

Wallpaper Industry

USD 1,733.42 million in 2022

4.3% CAGR (2023-2030)

Vinyl Wallpaper Market Size

USD 632.61 million in 2022

4.1% CAGR (2023-2030)

Nonwoven Wallpaper Market Size

USD 355.05 million in 2022

5.4% CAGR (2023-2030)

Paper Wallpaper Market Size

USD 188.66 million in 2022

4.4% CAGR (2023-2030)

Fabric Wallpaper Market Size

USD 300.15 million in 2022

4.7% CAGR (2023-2030)
Wallpaper Sector Outlook
The demand for wallpaper has been greatly increased by the rising popularity of home renovation projects as well as technological developments in wallpaper printing methods. The demand is also anticipated to increase in the upcoming years due to a rise in disposable income, a change in consumer preferences, and an increase in DIY projects involving the use of wallpaper.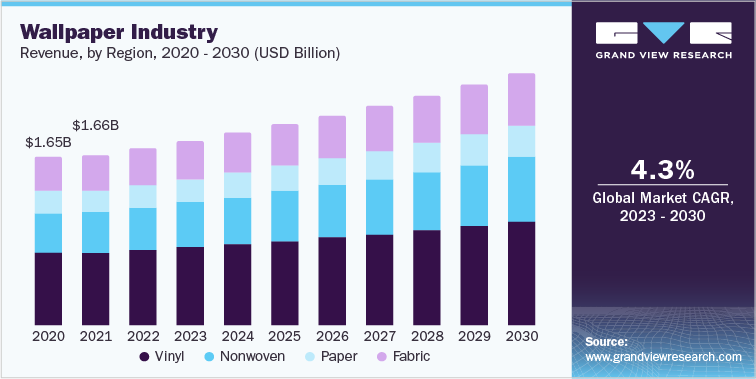 Since both forms of usage require various types of paper and differ in thickness and weight, the manufacturers in the wallpaper sector divide their goods depending on residential and commercial uses. In most cases, pre-pasted or un-pasted wallpaper types are available for domestic use. Yet, there are several varieties of commercial wallpaper depending on usage and thickness. As these wallpapers are utilized in high-traffic areas, they have undergone numerous tests and evaluations.
The demand for local products is increasing as a result of several home improvement initiatives carried out by local homeowners. However, more than 75% of American homeowners, according to Porch.com, have completed at least one home renovation project since the pandemic began. A high number of customers in the area choosing wallpapers with striking prints and textures is driving the demand. The sector is anticipated to increase as a result of the expanding trend of home renovation and remodeling.
Vinyl Wallpaper Market Analysis And Forecast
The significant popularity of this product type in both the residential and commercial sectors can be ascribed to the need for vinyl-based wallpapers. Vinyl wallpaper demand is increasing as a result of peel-and-stick wallpaper's convenience. They are constructed using an adhesive base and a vinyl film on top.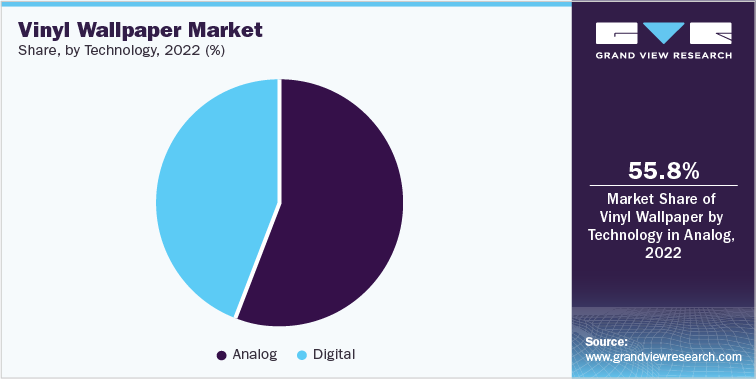 Solid-sheet vinyl and fabric coated with vinyl are two types of vinyl-based wallpapers. Moreover, architects and interior designers prefer vinyl-based wallpapers because they can be used successfully in both high- and low-traffic areas. In addition to being in a variety of finishes and colors, vinyl-based wallpapers are also more durable, which increases demand for them.
Due to their ease of cleaning and high durability, the market for wallpapers made of vinyl is growing. Also, the vinyl wall covering may be simply restored if it is damaged. Vinyl is a good option for high-traffic environments like schools and hospitals because of its fire resistance. For instance, Dovely, an Italian company, offers the fire-resistant vinyl-coated wallpaper SILHOUETTE MOUNTAIN. It is a high-quality, 290g, vinyl-coated, paper-backed digital wallpaper.
Nonwoven Wallpaper Market Analysis And Forecast
Consumers prefer nonwoven wallpaper in large part because it supports digital printing. Nonwoven substrates are becoming more and more necessary due to the rising demand for wallpaper that has been digitally produced.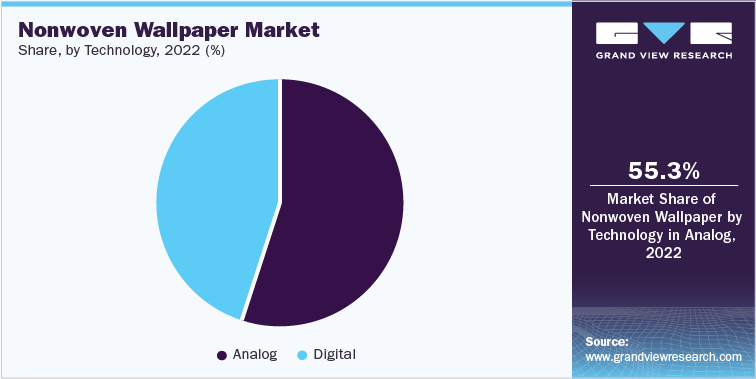 Nonwoven wallpapers maintain their structural stability in both dry and wet settings when combined with the printing solution. The gauze, tea bags, and coffee filters that are made with a precise blend of synthetic and natural fibers are utilized to manufacture these wallpapers. The fibers are mixed with binders strengthened with acrylates and frequently blended with additional colors to achieve opacity.
Paper Wallpaper Market Analysis And Forecast
Wallpapers that have been digitally printed on paper are environmentally friendly. They are made with all-natural components. In addition, there are no potentially harmful chemicals in the wallpaper glue. Faux Caning digitally printed wallpapers are available from Wallshoppe, a U.S.-based manufacturer. They are manufactured from paper that is 100% nontoxic, eco-friendly, matte-finished, and sustainably manufactured paper is scratch-resistant.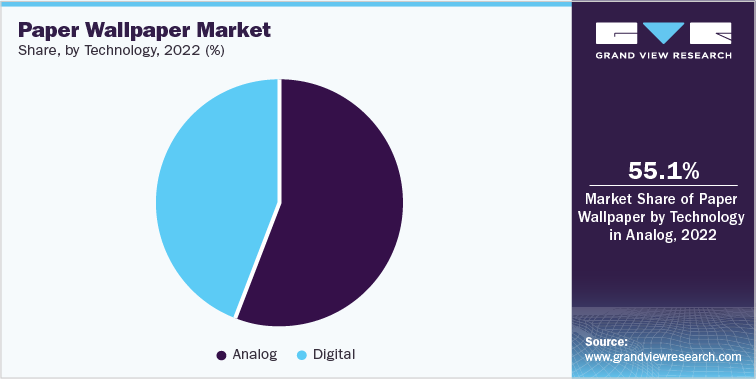 The growing specialty paper market includes the market for wallpaper base paper. The wallpaper base paper sector has recently relocated to developing countries as a result of elements including rising raw material and labor costs, as well as the ever-rising degree of technical equipment, product quality, and localized advantages of wallpaper paper base companies in emerging countries. China's paper wallpaper sector has grown particularly quickly in recent years, with improvements made to the industry's size, innovation, and product quality.
Fabric Wallpaper Market Analysis And Forecast
The DIY trend and the availability of wallpaper with customization choices are two market-driving factors. The market is also anticipated to increase because of many investments made by large corporations in the production of eco-friendly and creative wallpapers. Homeowners use fabric wallpaper because it is simple to remove with water. Baking soda/cornstarch and water are the main ingredients in the adhesive used for cloth wallpaper. In addition, the cloth is permeable, allowing air to freely move through the wallpaper.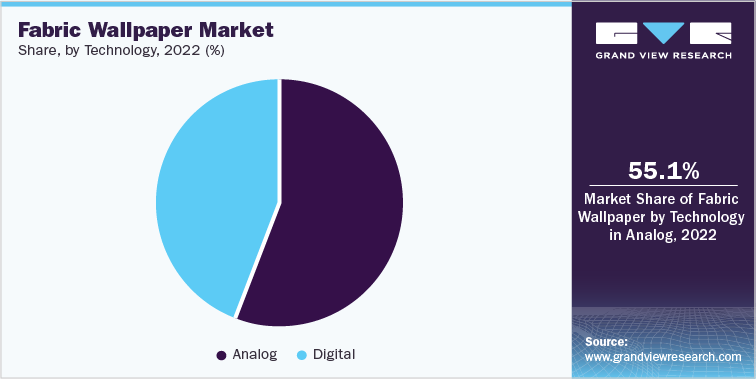 To provide comfort and softness, the surface of these wallpapers is coated with natural fibers or cloth. Flock wallpapers are becoming more popular as fabric wallpaper usage rises. These wallpapers stand out owing to three-dimensional patterns made of a velvet-like material that is printed on paper. Although it is one of the expensive wallpaper alternatives, it is also one of the most difficult to maintain.
Competitive Insights
The manufacturers aim to achieve optimum business growth and a strong market position through the implementation of various strategies such as acquisitions, new product launches, collaborations, and strengthening of distribution networks in the global as well as regional markets. Wallpaper material manufacturers aim to intensify their market positions by widening their customer base. Thus, multinational players are aiming to achieve business growth in the regional market through mergers, acquisitions, and other strategic initiatives.
For instance, in July 2022, Flavor Paper, a U.S.-based company, launched two new designs of wallpapers for its Fempower collection—Rock Candy and Can-Can. Rock Candy featured metallic designs offered in three colors while Can-Can featured a billowing fabric pattern offered in four colors.

For instance, in March 2022, Graham & Brown Ltd, a UK-based company partnered with British heritage brand Laura Ashley to launch a new line of wallpaper, which included 80 designs and several murals. The wallpapers featured "paste the wall" technology, making it easier for consumers to install them.