Database Overview
Grand View Research's waste management industry data book is a collection of market sizing information & forecasts, competitive benchmarking analyses, macro-environmental analyses, and regulatory & technological framework studies. Within the purview of the database, such information is systematically analyzed and provided in the form of outlook reports and summary presentations on individual areas of research.
Waste Management Industry Data Book Scope
Attribute

Details

Areas of Research

Liquid Waste Management Market
Plastic Waste Management Market
Drilling Waste Management Market
Food Waste Management Market
Waste Recycling Services Market

Number of Reports/Presentations Covered in the buddle

1 Sector Outlook Report + 5 Summary Presentations for Individual Areas of Research + 1 Statistic ebook

Cumulative Coverage of Countries

50+ Countries

Cumulative Coverage of Products

10+ Products

Highlights of Datasets

Per Capita Waste Generation Data, by Countries
Collection Rate, by Region
Waste Recycling Statistics, by Country
Competitive Landscape
Waste Management, by source
Waste Management, by services
Waste Management, by waste type
Waste Management Industry Data Book Coverage Snapshot
Markets Covered

Waste Management Industry

USD 1.24 trillion in 2021

Liquid Waste Management Market Size

USD 90.30 billion in 2018

3.8% CAGR (2019-2025)

Plastic Waste Management Market Size

USD 33.06 billion in 2019

3.1% CAGR (2020-2027)

Drilling Waste Management Market Size

USD 4.02 billion in 2016

6.6% CAGR (2017-2025)

Food Waste Management Market Size

USD 34.22 billion in 2019

5.4% CAGR (2020-2027)

Waste Recycling Services Market Size

USD 54.39 billion 2020

5.2% CAGR (2021-2028)
Waste Management Industry Outlook
The economic value generated by the industry was estimated at approximately USD 1.24 trillion in 2021. This economic output is an amalgamation of businesses that are involved in the services of waste collection, transportation, and disposal activities. Disposal activities mostly include incineration, landfill, composting, and recycling processes.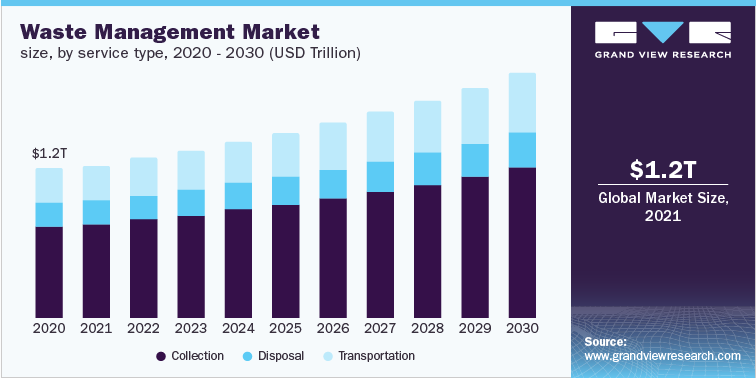 With rapid increase in population growth and expansion of manufacturing industries across the world are anticipated to boost the waste management services demand over the forecast period. According to our world data, by 2050, around 7 billion people will live in urban areas. This population growth is expected to contribute actively to waste generation in the near future. Rising expenditure on consumer goods, processed food & beverages, medical services, etc. are expected to increase various types of waste generation.
Table 1. Share of Major Waste Management Countries, by Type

Total, 2021

Plastic Waste Management, 2019

Food Waste Management, 2019

Waste Recycling Services Management, 2020

USD Trillion

1.24

USD Billion

33.06

USD Billion

34.21

USD Billion

54.39

U.S.

25%

China

28%

U.S.

23%

U.S.

15%

China

8%

U.S.

12%

Germany

8%

China

15%

Germany

7%

Germany

5%

Brazil

7%

Japan

7%

UK

5%

Japan

4%

UK

6%

Germany

6%

Canada

5%

Italy

3%

China

5%

Australia

5%

Japan

5%

India

3%

Japan

3%

UK

5%

Rest of the World

45%

Rest of the World

45%

Rest of the World

47%

Rest of the World

47%
Source: Grand View Research
The rising awareness of waste management services, globally, is significantly contributing to the growth of the market. Additionally, various governments are adopting proper waste transportation, treatment, and disposal technologies as an initiative in order to maintain animal and human health. This is anticipated to boost the demand for waste management services in near future.
Plastic Waste Management Market Analysis And Forecast
Plastic consumption around the world is rapidly increasing due to its applications across various industries such as food processing, consumer goods, electronics, and furniture. According to the UN Environment Programme, around 8.3 billion tonnes of plastic has been produced since the early 1950s, of which 60% has ended up either in landfills or oceans. Countries like U.S., India, China, Brazil, Indonesia, Germany, etc. account for more than half of the world's plastic waste production.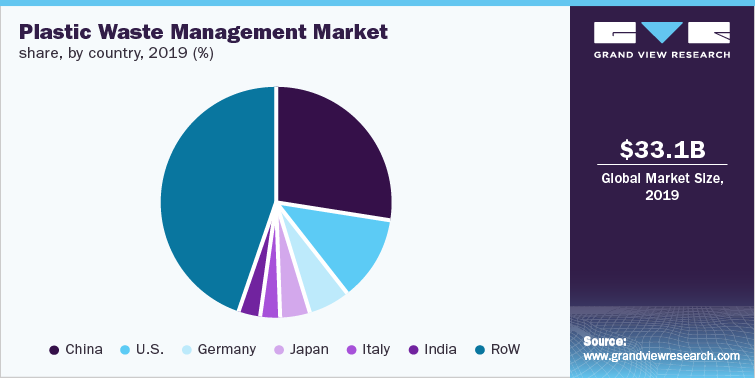 The COVID-19 pandemic has affected several countries across the globe. People worldwide have started the use of personal protective equipment such as face masks, face shields, gowns, gloves, and coveralls, among others to prevent the spread of the virus. This upsurge in the demand for personal protective equipment, especially single-use plastic face masks from healthcare workers, service workers, and the public, has further increased plastic pollution. This in turn is likely to propel market growth of plastic waste management market.
Food Waste Management Market Analysis And Forecast
The global food waste management market is significantly driven by the rising demand and consumption of processed & packaged food products. Rapid urbanization and industrialization have resulted in increasing demand for convenience bringing change in consumer lifestyle. This is also reflected in the choice of food products with a rising inclination towards packaged and processed food products.
According to the Food and Agriculture Organization (FAO) of the United Nations, almost one-third of the food produced annually for human consumption globally is either wasted or lost, which is equivalent to around 1.6 billion tonnes of food. This generated food waste accounted for over 8% of the global greenhouse gas emissions, according to FAO. The rising awareness about the benefits of the proper food waste management techniques is anticipated to propel the demand and market growth over the forecast period. For instance, California's law includes a commitment to divert 75% of the food waste from landfill to recycling by 2025 and has actively pledged to recover edible food waste for human consumption.
Waste Recycling Services Market Analysis And Forecast
Waste recycling is gaining momentum across the globe pertaining to the benefits it offers. The depletion of natural resources has led to many governments, industries, and other authorities to search for other sustainable ways to tackle the scarcity. For instance, in England and Northern Ireland, Recycle Now™ is an innovative recycling campaign, which aims to promote waste recycling and motivate more people to participate in the recycling activities. Recycling of waste for precious and important components is being proven in most sustainable way. The awareness regarding this is likely to contribute effectively to the growth of the market over the forecast period.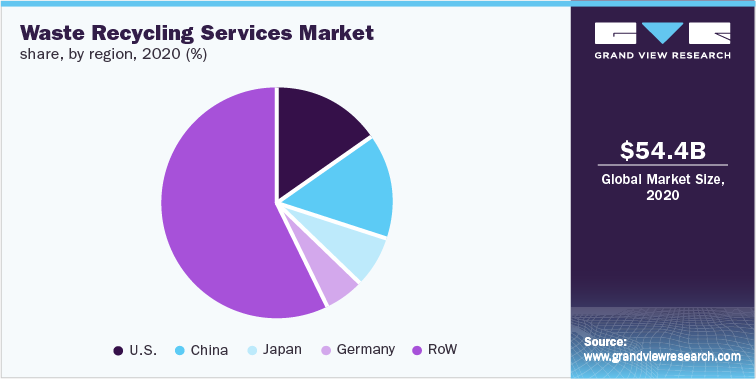 E-waste segment of the market is expected to grow at a faster rate over the forecast period. The segment deals with all types of electronic waste generated by equipment, e-gadgets, and devices. These devices are likely to contain potentially harmful materials, including metals such as lead, cadmium, and beryllium, owing to which E-waste requires specialized waste management treatment for reuse.
Competitive Insights
Major players in this market include Veolia Group, Waste Management Inc., Covanta Holding Corporation, Stericycle, Inc., Clean Harbors, Inc., Biffa, Hawkvale Limited, etc. The industry participants focus on research & development activities to develop new technologies for effective waste management. Along with R&D, key players also focuses on merger & acquisition, joint ventures, and strategic partnerships to expand the business and gain a competitive edge over their peers.
Strategies adopted by the companies usually include product portfolio expansion, collection network expansion, and geographic network expansion. Veolia Group is one of the key companies in the global industry, which helps industries with an integrated waste management services to reduce costs and environmental footprint.
In August 2022, Veolia Group announced that it has signed a merger agreement with Suez SA. This merger, thus, is expected to raise growth potential of the company, benefiting Suez as well as Veolia in waste management industry.

In April 2019, Waste Management, Inc. announced the acquisition of a leading disposal service provider in the U.S., Advanced Disposal Services, Inc. Waste Management, Inc. aims to expand its geographical reach by tapping into new states in the country and to gain access to advanced disposal, and recycling services.

In June 2022, Closing the Loop (CTL), a startup, announced its agreement with Vodafone Germany to tackle E-waste generation. The new initiative promises to bring up to 1 million old cell phones back into circulation. With this initiative, for every new device, one old device is professionally recycled, recovering precious metals.

In December 2022, LRS Waste Management Services acquired Molenhouse Enterprises in northern Illinois and Bulldog Disposal in central Arkansas. This is expected to strengthen the waste management and recycling portfolio of the company.