Agrochemicals are essential components of the agriculture industry. They are used as crop protection chemicals and plant growth regulators that help in increasing yield. Due to the growing population, there is an added pressure on farmers and agricultural organizations to meet food demand in a limited span of time. use Fertilizers gain increasing importance in such situations.
Water and land scarcity have resulted in the discovery of new products, such as adjuvants and plant growth regulators, which help in increasing yield. Due to stringent regulations regarding the use of chemical and their side-effects, eco-friendly alternatives, such as biofertilizers and biopesticides, have witnessed tremendous boost.
Raw materials in this market include phosphates, nitrogen, potassium, chlorine, and sulfur. The suppliers of these materials are mostly concentrated in Asia Pacific, more specifically in China and India, due to which, this region accounted for the majority of the production in 2016.
Excess use of agrochemicals is considered to be harmful for both crops as well as their consumers. For instance, excess use of DDT, one of the most common pesticides, has proven to be fatal to birds due to its side effects on their eggs, endangering their species. Thus, environmental agencies such as the Environmental Protection Agency (EPA) have implemented strict laws regarding the use of agrochemicals, which is likely to hamper market growth over the forecast period.
Global agrochemicals market, by region, 2016 (%)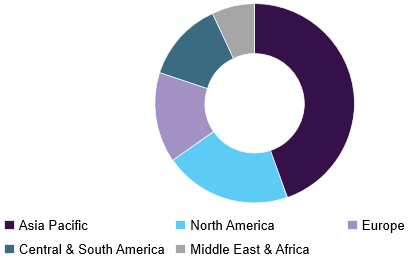 Asia Pacific accounted for the largest share of the agrochemicals demand in 2016. The economies of developing countries in this region, including India and China, are dependent on agriculture and agro-based industries. As of 2016, over 70% of India's population relied on agriculture activities for their livelihood. These factors are expected to help this region grow at the highest CAGR over the next eight years.
The North American region is characterized by the presence of a large number of agrochemical manufacturers. The region is expected to be the largest market for organic agrochemicals, including biofertilizers and biopesticides, owing to the presence of stringent environmental regulations. The growing dairy industry and favorable climatic conditions for crops such as corn and maize have been key market drivers in this region.
DuPont, which recorded sales of USD 25 billion in 2016, was one of the major players in the market with a wide range of crop protection and seed treatment products. The company's major competitors included BASF, Yara International, Syngenta AG,Potash Corporation of Saskatchewan, and Bayer Crop Science.

In-depth report on global agrochemicals market by Grand View Research:
https://www.grandviewresearch.com/industry-analysis/agrochemicals-market