Animal health management includes prevention, control, and possible eradication of highgly prevalent diseases. Wide array of measures have been taken in order to ensure high-quality veterinary care. In addition, establishment of various government as well as private organizations to improve animal care facilities and eradicate diseases is one of the key serving factors of this market. For instance, Rinderpest Eradication Program was announced by the FAO for Animal Health in 2011 to eliminate rinderpest and major animal diseases.
Increasing incorporation of animal health management systems is creating potential growth opportunities for the market. These products include medicinal feed additives and vaccines, which prevent epidemic outbreaks in cost-efficient ways. In addition, animal health service providers are highly efficient in executing these management systems.
The market for companion animal health products is anticipated to grow further and become more specialized, thereby, contributing to the overall animal health market growth. Moreover, growing awareness, demands, and expectations of companion animal owners for efficient companion animal care is expanding the scope of high penetration of animal care products.
Global animal health market, by product, 2015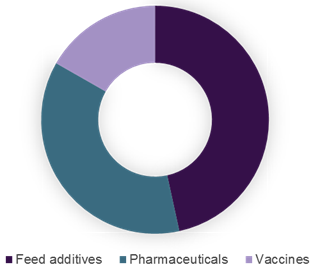 Moreover, high inclination of veterinary doctors toward vaccines is predicted to exert positive impact market on the market. Epidemics have caused huge losses in the animal breeding industry in the past, propelling the demand for vaccinations as protection against such epidemics. Furthermore, the duration of clinical trials and approval cycle for vaccines is known to last only around 3 years, which is relatively shorter as compared to human vaccines; thus, resulting in release of new vaccination products in the market at a rapid pace.
In addition, a consistent number of strategies by the prominent market players to expand vaccines portfolio are expected to expand the growth potential to a significant level. For instance, in April 2014, Bioniche AH was acquired by Vetoquinol in order to expand their vaccines product portfolio.
The global animal health market is consolidated in nature with top 10 players capturing the majority share. These companies extensively indulge into mergers and acquisitions and consistent product launches & approvals to gain competitive position in the market.
For instance, In October 2016, Merck Animal Health launched the USDA-approved BOVILIS CORONAVIRUS, an intranasal vaccine. The vaccine is intended for the treatment of enteric disease caused by Bovine Coronavirus (BCV), which is prevalent in dairy calves and beef-cow/calf herds. Also, in January 2015, Elanco completed the acquisition of Novartis Animal Health. The acquisition was carried out to improve new product development and discovery capabilities.

In-depth report on global animal health market by Grand View Research:
http://www.grandviewresearch.com/industry-analysis/animal-health-market