The market for anti-counterfeit packaging is expected to be driven by the increasing efforts of the manufacturers across application industries towards ensuring the authenticity of their products. Increasing demand for such packaging to monitor and secure the products through the supply chain is expected to drive the industry growth.
The rise of the spurious good market has accounted for the growing need of the usage of product authentication techniques. The sale of unauthenticated products is expected to witness an increase over the next nine years, thereby posing a significant threat to the health and safety of the users. This is expected to prompt the governing agencies towards mandating the use of such anti-counterfeiting techniques, thereby leading to growth.
The use of brand protection techniques such as holograms, invisible inks, and bar codes is expected to benefit the industry. The hologram is an overt feature used as a primary method of product authentication, which is complemented by techniques such as nano-text and hidden images to improve the level of security for the product packaging.
Global anti-counterfeit packaging demand by region (%)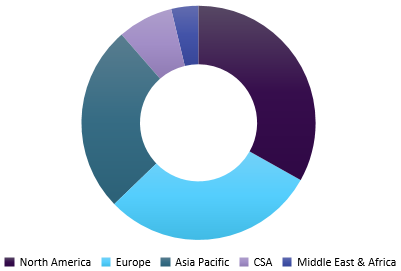 The use of covert techniques entails the benefit of easy identification of spurious and forged products by the product manufacturing companies and is generally not made known to the consumers. The forensic authentication techniques use differentiated technologies such as DNA identification to ensure the integrity of the product.
The forensic techniques are patented technologies that make product forgery extremely difficult. In addition, the demand for such technologies is likely to be driven by the profound use in the packaging high-value products in the food & beverage and clothing industry. The growth of counterfeit currency market is expected to emerge as a driver for the global anti-counterfeit packaging market. High investments to maintain the integrity of currency by the national governments is expected to drive the industry growth over the next nine years.
The industry in Europe is expected to register high growth on account of stringent regulations mandated by the national governments and European Commission to avert the sales of counterfeit products. The industry is expected to register growth due to growing affinity of the pharmaceutical product manufacturers towards the use of product protection techniques such as RFID and barcode. The market for anti-counterfeit packaging in the region is expected to be driven by the growth of the apparel industry.
North America emerged as the largest region in terms of market revenue due to the use of such packaging by the manufacturers located in the U.S. and Canada. The industry growth is expected to be driven by growing sales of alcoholic beverages in the U.S. which leads to an increasing demand for such packaging.

In-depth report on global anti-counterfeiting packaging market by Grand View Research:
https://www.grandviewresearch.com/industry-analysis/anti-counterfeiting-packaging-market