A perfect sight is something we all desire, and anti-reflective coatings help in achieving a clear vision. What factors are driving the growth of this market, and what steps have the manufacturers taken to ensure dominance over competitors?
Ever been constantly irritated by the glare on your lenses, which makes it hard for you to see things clearly? Not only you, it also creates a poor impression on others if you are in the middle of a video conference, as your eyes are covered by the reflection on the screen. Wanting to take a perfect picture of yourself? You can say goodbye to those, as your wonderful eyes will be mostly covered by that icky reflection. Want to get rid of these issues? Modern science has a solution for this, known as anti-reflective (AR) coating.
So, what is the science behind this? Refractive index (RI) determines the transparency of an object. The RI of normal optical lenses is 1.5. These lenses are used in microscopes, photovoltaic cells, telescopes, and glasses. Lenses need to provide clarity by deflecting stray light, which causes glares or obstructs vision, and this is where AR coatings step in, eliminating glare and improving lens efficiency.
What Exactly Is This Coating?
Anti-reflective coatings are applied to the surfaces of lenses to improve vision and reduce reflection. These coatings comprise thin films layered alternately with contrasting RIs. They reduce reflections or glint from the sun's rays and allow clear vision. These coatings are used extensively on large TV & computer screens to minimize glare. Telescopes are microscopes are major applications of these coatings, since they possess properties desirable in planetary astronomy.
This technology was first patented in 1938 by Katherine Blodgett, a scientist at General Electric. She successfully created the first instance of AR coating by continuously applying 44 layers of monomolecular oil to a piece of glass. This enabled an almost 100% transmission of natural light through the glass. In the past, when the technology was introduced, there were issues with its implementation, mostly with regards to the frequent scratching on them, as well as the continuous cleaning required. However, since then, these coatings have come a long way.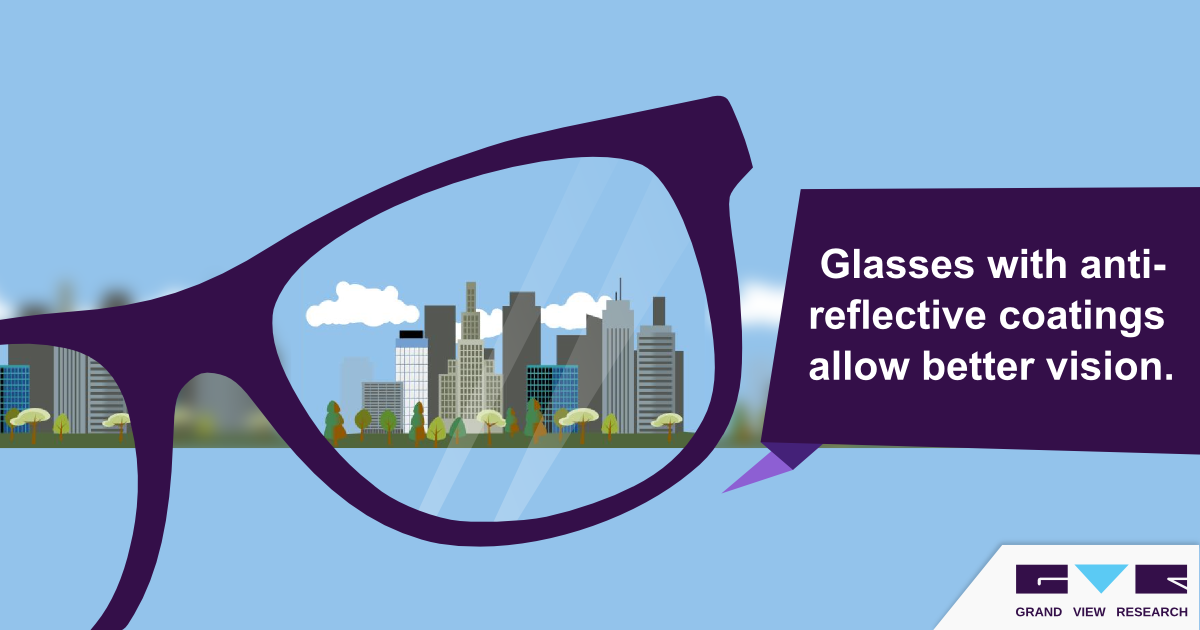 Solar Applications - A Cornerstone of Innovation
Magnolia Solar, an American company, focuses on creating AR coatings for photovoltaic cells. Photovoltaic cells, an integral part of solar panels are semiconductor diodes that convert sunlight to direct current. This is how the charging of solar panels takes place. The purpose of anti-reflective coatings on solar panels is to reduce the reflection rate and optimize energy absorption. The company has collaborated with the New York State Energy Research and Development Authority (NYSERDA) and the Defense Advanced Research Projects Agency (DARPA) to develop coatings for optical fibers.
DSM Innovation Center, a Netherlands-based company developed a sunlight-trapping material with the help of 'nano-porous' technology a few years back. Commercially, this material is known as 'KhepriCoat'. It was earlier used in picture frames but is used widely in solar energy applications. More recently, in July 2019, Pellucere Technologies introduced the MoreSun AR shield that additionally has anti-soiling properties through the implementation of the Talus Dirt Rejection Technology™.
Popularity of Anti-glare Lenses to Stimulate Demand
In 2016, scientists in Germany discovered a new AR coating technique for curved plastic lenses. This technique reduces the possibility of stray light and increases light focus in cameras and telescopes. It will soon be applied to virtual reality and other gesture-controlled devices. This technology makes use of nanomaterial coatings that are applied on complex curved lenses. The material is diluted with air till its RI becomes equal to the RI of air. This minimizes reflection at odd angles and gives a wider perspective.
There have been many innovations in anti-reflective coating technology, and researchers are still involved in enhancing the products with better features. The global AR coatings market has only grown in recent years, owing to the following factors:
Demand for anti-glare eyewear & lenses is expected to drive the global market. Lenses with anti-reflective coating can improve vision of the user.

Electronics & electrical industries are the key end-users in the market, and the high consumer demand for such products indirectly creates demand for anti-reflective coating solutions.

With the rapid growth in the technology of smartphones and laptops, there is a requirement of the screen of these devices being glare- and reflection-free, again factoring in market growth for these products.

Use of these coatings in solar panels can lead to optimum energy utilization and thus greater energy savings. With solar panels rapidly becoming a norm across major commercial and residential institutions around the globe, the market can expect to see exponential growth.

Anti-reflective coatings also find application in scientific and medical screen displays, and with the expenditure on healthcare continuously increasing across the globe, the market is expected to see positive growth.

The technology also finds use in automotive sector, with headlights being applied with AR coatings in order to enhance user accuracy and safety. This again is an important factor driving market growth.
Market Developments
Major players operating in the AR coatings industry are Carl Zeiss AG, Royal DSM, Honeywell International Inc., Essilor International S.A., DuPont, Hoya Corporation, iCoat Company LLC, PPG Industries, Rodenstock GmbH, Janos Technologies, Cascade Optical Corporation, and Optical Coatings Japan. Expansion and new product development are some of the strategies being implemented by major market players. Some more recent developments in the field include:
In June 2019, McLaren Automotive, in partnership with the optical specialist L'Amy Group, launched its inaugural line of eyewear called the McLaren Vision collection. The collection will use Leica's Eyecare lenses that feature AR coatings, along with special tints for specific environments.

In April 2019, Porsche Design, which is partners with Rodenstock for frame supply and reading spectacles, announced the launch of Performance Edition sunglasses (P'8665 and P'8649). The sunglasses have UV 400 protection, ensuring glare protection, and an antireflection coating on the back side of the lens.

In November 2018, Honeywell launched the Uvex Avatar™ OTG safety eyewear, to meet the growing demands of the workforce in the United States. The product has an adjustable nosepiece, along with insulated wire-core temples for safety in dielectric use. The glass has anti-scratch and anti-reflective coating for optical clarity and reduced eye strain.

In April 2018, Royal DSM inaugurated a 7.61-acre solar field in Kingstree, South Carolina. The solar field makes use of DSM AR coating technology, which helps in increasing the solar output, while also powering the DSM Nutritional Products facility, which is located nearby. The coating will be used on 4,256 panels, which would maximize energy capture by 3%. The technology is currently being used at the company's solar projects in India and New Jersey.

In-depth report on global anti-reflective coatings market by Grand View Research:
https://www.grandviewresearch.com/industry-analysis/anti-reflective-coatings-market