Immune system performs the crucial role of protecting the body from diseases and infections arising due to the entry of foreign particles in the human body. The immune system produces antibodies specific to these antigens and destroys them before they cause a disorder.
However, in case of some individuals, the immune system attacks its own healthy cells by mistake further leading to the occurrence of autoimmune disorders such as rheumatoid arthritis, diabetes type 1, and Systemic lupus erythematosus (SLE). Early diagnosis of such disorders is very important for assessing various treatment alternatives, thereby curbing healthcare expenditure on the same.
Global autoimmune disease diagnostics market, by type, 2025 (USD Million)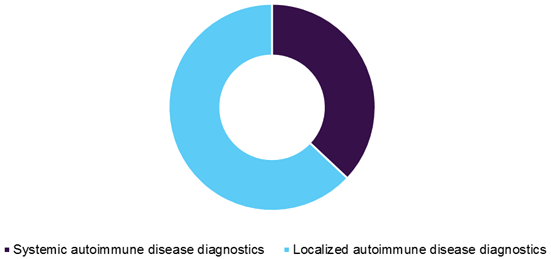 Advanced technologies are paving a way for accurate diagnostics
There are more than 80 types of autoimmune diseases reported across the globe. Many of these have similar set of symptoms making it difficult for healthcare professionals to detect them in time. The most common symptoms of these diseases are muscle strain, fluctuating fever, and fatigue. Inflammation is a classic sign of these disease that is likely to cause heat, redness, swelling, and throbbing pain. Healthcare professionals often prescribe various tests to derive accurate results during diagnosis.
Highly trusted tests by the clinicians for proper diagnosis while detecting & treating autoimmune disorders are autoantibody, antinuclear antibody, complete blood count, C-reactive protein, and Erythrocyte Sedimentation Rate tests.
Introduction of advanced technology is the blockbuster attraction of this market. Key players are undertaking high R&D initiatives for developing novel and accurate techniques for early diagnosis. One such example is the usage of third-generation cyclic citrullinated peptide technology by Inova Diagnostics for accurate diagnosis of rheumatoid arthritis patients from a pool of people exhibiting similar symptoms.
Asia Pacific- Increasing economic stability estimated to increase healthcare expenditure
North America held the largest market share owing to factors such as growing prevalence of autoimmune disorders and high market penetration rate of technologically advanced products.
Patients of all age groups face prolonged impact on the quality of life. About 50% of Canadians have reported inability to work post 10 years of contracting rheumatoid arthritis. With the rising prevalence, the Arthritis Research Foundation, Canada, is planning to invest USD 30 million in researches related to arthritis and other autoimmune disorders.
On the other hand, Asia Pacific has emerged as the fastest growing region of the market owing to factors like presence of favorable government initiatives aimed at improving healthcare infrastructure and increase in awareness amongst patients.
Key market players
The key players of the market are implementing strategies such as novel product development, increase in R&D expenditure, and mergers & acquisitions in order to sustain their market position.
Strategic collaborations initiated by these players are enabling potential advancements. For instance, Abbott Laboratories has announced an agreement with Idera Pharmaceuticals, Inc. for developing companion diagnostic tests for the IMO-8400 drug, which is in clinical trials for the treatment of orphan autoimmune diseases.

In-depth report on global autoimmune disease diagnostics market by Grand View Research:
http://www.grandviewresearch.com/industry-analysis/autoimmune-disease-diagnostics-industry