Automation is quickly replacing labor in intensive sectors that require accuracy. One such automated machine is 'automated guided vehicle' (AGV). AGVs are automatic mobile robots used for varied industrial applications.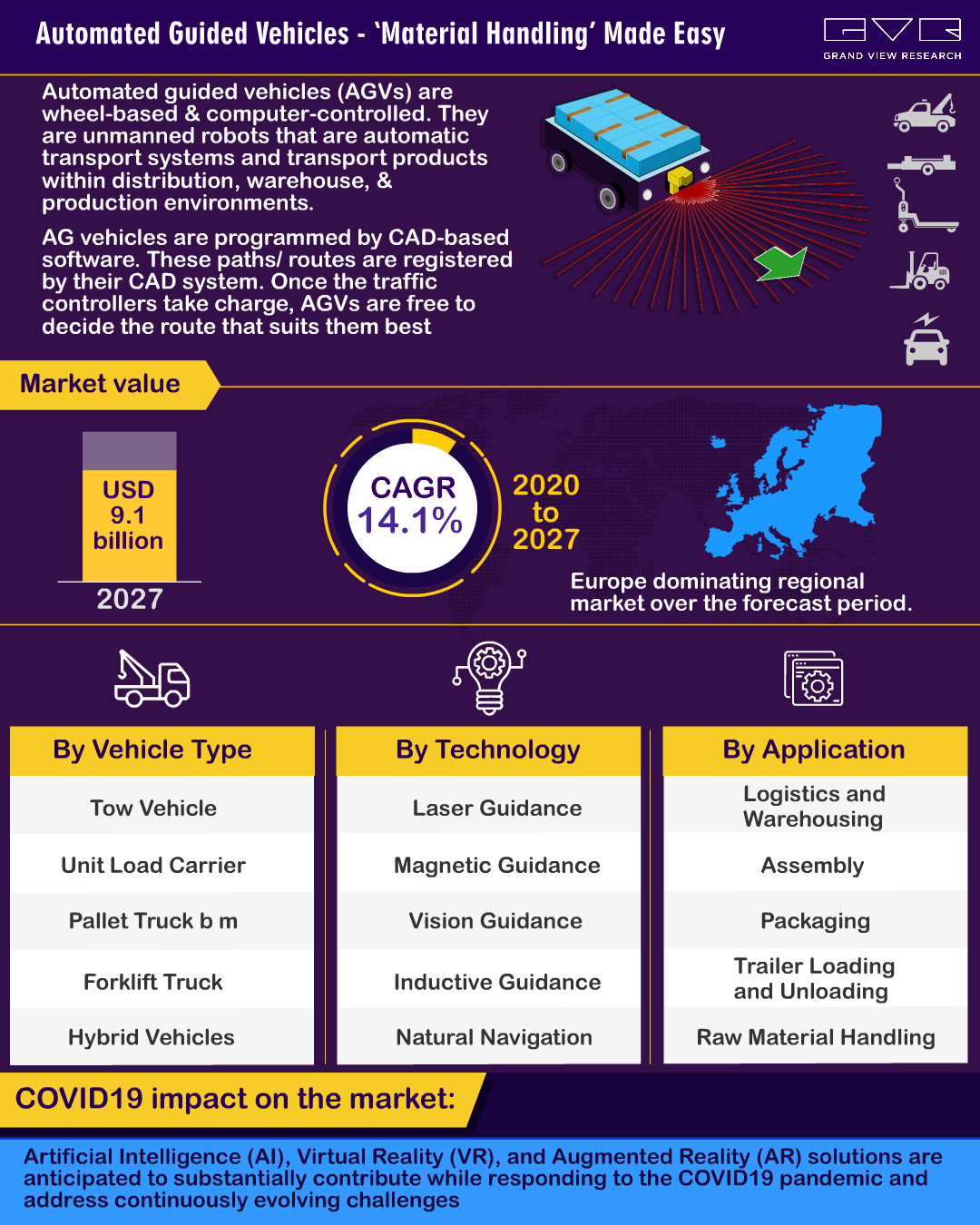 What are AGVs?
Automated guided vehicles (AGVs) are sometimes referred to as self guided or self propelled vehicles, as they are wheel-based & computer-controlled. AGVs are unmanned robots that are automatic transport systems. They transport products within distribution, warehouse, & production environments.
AGVs are electric or battery powered vehicles that are programmed to drive from & to specific points. This accurate programming helps AGVs execute tasks; like assembling parts, unloading or loading, transporting materials between conveyor belts, etc.
How Do They Work?
AGVs are highly adaptable, thus removing the need for other technologies & dodging physical barriers. Their automated nature helps them navigate easily & make real-time decisions. AG vehicles are programmed by CAD-based software. They are initially guided by humans on paths that need to be covered.
These paths/ routes are registered by their CAD system. Once the traffic controllers take charge, AGVs are free to decide the route that suits them best. Some of these vehicles are equipped with magnets, lasers, geoguidance, and vision guidance for navigation.
Applications
AGVs find applications across towing, forklift trucks, light load carriers, unit load careers, pallet trucks, and assembly lines. Their hybrid segment is equipped with forks and becoming popular. Some of their other end users include military & defense, aerospace, automotives, foods & beverages, healthcare, and retail. These vehicles can easily replace monotonous labor jobs. Eventually, they may reduce the costs and enhance the workflow.
AGVs are used in the medical sector to facilitate efficient transportation of medical equipment, surgical case carts, & patient meals. They are used to clean rooms in hazardous environments. These vehicles are also adopted by the automotives industry.
AGVs - Market Aspects
According to Grand View Research, Inc.; the global automated guided vehicles (AGVs) market is anticipated at USD 1.5 billion by 2024. Minimum operational costs and increasing productivity of AGVs should boost market demand in the near future. Moreover, high labor costs can prove beneficial for the industry.
Players
Bastian Solutions, Inc.; Daifuku Co., Ltd.; and Swisslog Holding AG are the dominating players. They focus on inorganic strategies to occupy greater shares.

In-depth research report by Grand View Research, Inc. :
Automated Guided Vehicle (AGV) Market Analysis And Segment Forecasts Till 2024