Increasing awareness among parents about baby nutrition, hygiene and safety is expected to drive the market over the forecast period. Rising female participation in the workforce has increased the spending capability, which is expected to drive the baby product market. The manufacturers of baby products are focusing on producing ready to use with premium quality in order to increase the number of customers buying baby products.
Baby cosmetics & toiletries product segment held the largest market share in the overall market. Rising awareness among parents about babies' soft and sensitive skin has boosted demand for baby cosmetics & toiletries and this trend is expected to continue over the forecast period. Baby health care experts have drawn parents' attention to baby hygiene, which is anticipated to fuel the growth of baby cosmetics& toiletries product segment over the next nine years.
The baby food product segment is growing on account nutritional value provided by ready to use baby food being better as compared with homemade baby food. Apart from this rising urbanization and increasing number of working women are looking for fully prepared baby food. Growing awareness among parents about the nutritional aspects of baby food is expected to propel the baby food market over the forecast period.
Global baby product market revenue by region, 2015, (USD Billion)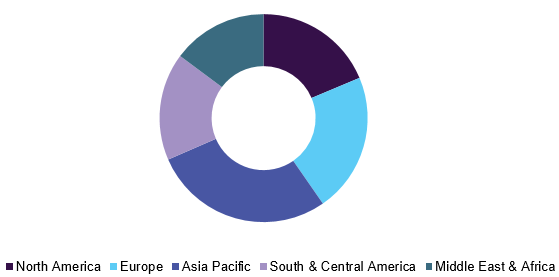 Surging demand from Asia Pacific region due to the rise in spending capability of customers for baby product is expected to augment the industry over the forecast period. The demand for baby product is rising due to increase in birth-rate among the countries such as India, and China. China has revised its one child policy and has allowed two children for each family which in turn is expected to drive product demand over the forecast period.
The strict norms for manufacturing baby products by government authorities have led to
the increased expenditure by the industry globally to produce products which meet the criteria's set by the regulators. Major players continuously innovate to provide better quality products to customers, which is likely to drive demand for baby products over the forecast period.
Positive outlook towards baby products in matured economies owing to parents concerned about the quality of the products is expected to boost the market. The online availability of different types of baby products is anticipated to propel the sales of products in matured economies, over the forecast period.
The global industry is fragmented owing to the presence of numerous manufacturers globally. Procter & Gamble Company, Kimberly-Clark Corporation, Johnson & Johnson Plc, Unilever Plc, Nestle S. A, and Abbott Nutrition. These companies manufacture baby products in various categories including baby cosmetics and toiletries, baby food, and baby safety & convenience products.

In-depth report on global baby products market by Grand View Research:
https://www.grandviewresearch.com/industry-analysis/baby-products-market