The escalating bearings demand across railway & aerospace applications offer significant avenues for market growth. The rise in the number of commuters using public transportation is expected to be a key market driver. Further, the availability of improved ways to assist local as well as worldwide transportation systems also provide opportunities for market growth.
There is a growing demand for long, hard rail sections, and in order to address these requirements, bearing manufacturers focus on enhancing capabilities to produce premium grade rails with longer life and reduced maintenance. Further, bearings are extensively used in applications including axle seating of freight wagons, electric & diesel locomotives, passenger coaches, and transmissions across the railway sector. This is expected to considerably drive market growth over the forecast period.
Global bearings market share by product, 2015 (USD Billion)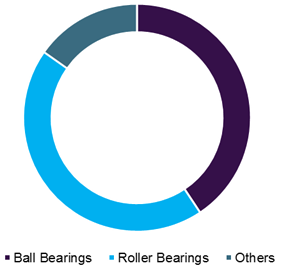 The industry is witnessing increasing product adoption across varied application sector including agriculture, industrial, mining & construction, and electrical. Agricultural equipment & machinery operate under rough conditions owing to which, driving elements in this equipment are subject to severe strain.
Manufacturers are observing increasing adoption of customized bearing solutions as against standard bearings. These bearings are manufactured for use in rough conditions to prevent machines and equipment from severe strain providing enhanced equipment life. Increasing utilization of these products is further anticipated to fuel market growth.
Analyst Perspective
The growing emphasis on cost-effectiveness and energy-efficiency has significantly resulted in elevating adoption of bearings across varied application areas. These applications include mining & construction, agriculture, industrial, automotive, and railway & aerospace. Bearings find application in all the aforementioned application areas resulting in significant market growth.
Technological advancements along with investments in R&D activities are expected to considerably drive market demand over the forecast period. Development of closure technologies, light weight elements in high performance bearings and lubrication technologies offer avenues for market growth.
Bearings help reduce energy consumption by plummeting friction between mechanical components in a wide range of industrial equipment and machinery. Manufacturers are foreseen to develop energy efficient products that lower the energy needed for equipment operation further resulting in increasing product adoption.
The industry is witnessing mounting adoption of smart bearings, particularly across the automotive sector. The growing demand for light-weight and high performance automobiles paired with rise in automobile demand and production primarily across developing economies such as Asia Pacific and Latin America is expected to foster market growth significantly over the coming years.

In-depth report on global bearings market by Grand View Research:
https://www.grandviewresearch.com/industry-analysis/bearings-market