The proliferation of portable smart devices and the increasing social media penetration have significantly resulted in the generation of large chunks of data over the recent past and the trend is expected to continue in the near future. The rapid growth in unstructured data has instigated companies to adopt big data solutions in order to collate information from social media, regulatory authorities' databases, and vendors' networks and derive considerable insights to attract new customers and retain the existing ones.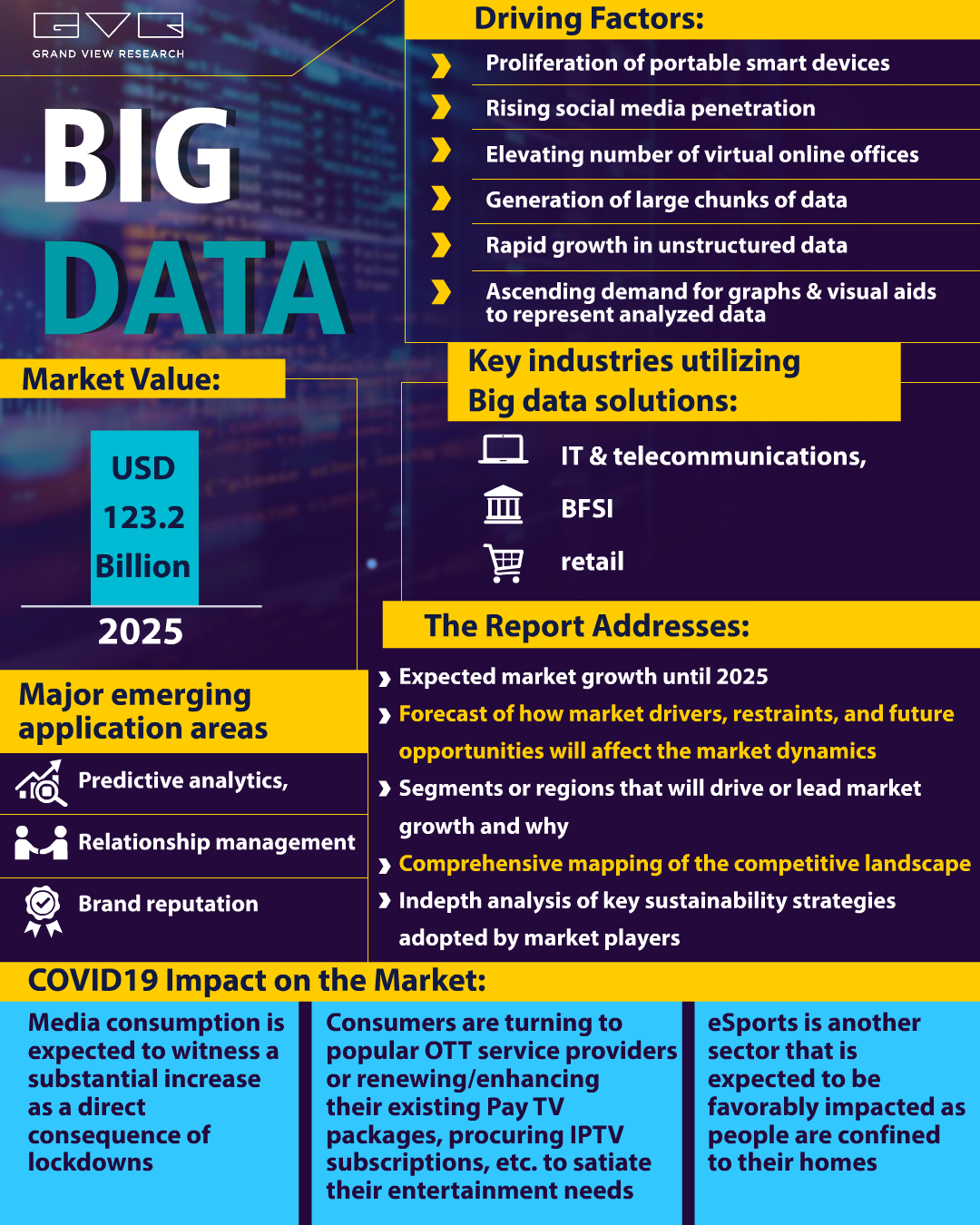 The industry is anticipated to witness increased adoption of big data analytics to remain competitive and sets the tone for the beginning of a new trend. Additionally, a spurt in visual data discovery tools is expected over the next few years on account of the growing demand for graphs and visual aids to represent the analyzed data for better data interpretation.
Global big data market share by software, 2015 (USD Million)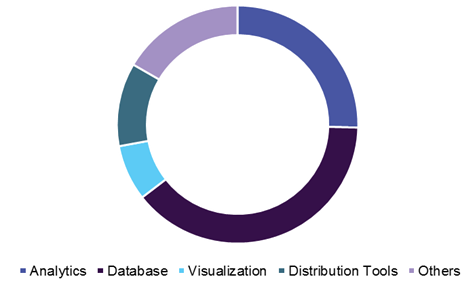 Increased spending on cloud-based and analytics solutions attributing to several benefits including cost effectiveness, enhanced efficiency, and reliable business decisions is also anticipated to significantly propel the big data market growth over the forecast period. In addition, the industry is also poised for substantial growth over the coming years ascribed to the escalating demand for a unified data platform architecture that can capture data from multiple sources, store it, and provide an array of out-of-the-box analytics options.
The emergence of Internet of Things (IoT) presents myriad new challenges and opportunities in the areas of safety, data governance, health, standards, and security. Vendors are increasingly implementing effective big data solutions to overcome these challenges. The industry is also witnessing an increasing number of new application areas adopting big data solutions to handle and manage mounting data volumes and storage facilities.
North America big data market share by end-use, 2015 (USD Million)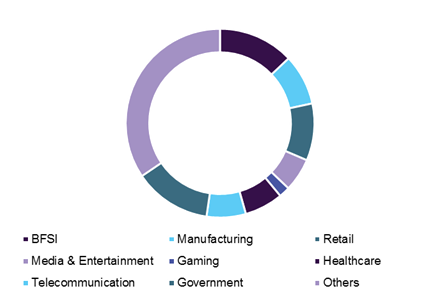 Analyst Perspective
The big data market is driven by the huge growth and availability of unstructured and structured data. Organizations actively seek methods and ways to manage these data volumes and storage facilities, which instigates them to adopt big data solutions. Implementation of big data platforms enables companies to effectively and efficiently capture data, process and analyze it, and provide a clear and complete understanding of the business. This leads to increased sales, efficiency improvements, reduced costs, and better customer service.
With a budding resource of customer data, available from numerous channels, companies take advantage of big data and analytics to efficiently run their businesses. These solutions facilitate companies to detect customer sentiments over services and products of an organization and gain a deeper visual understanding of the multiple channel customer journeys and then act on these insights to enhance customer experience.
The industry is witnessing manifold of challenges pertaining to data breach and security. However, advanced research and technological advancements have significantly overcome these challenges by reinforcing enhanced network security equipment. Further, big data also offers enterprise-wide insights, as it enables the development and installation of dynamic and interactive visualization tools that enable business users to analyze, view, and benefit from the data.

In-depth report on global big data market by Grand View Research:
https://www.grandviewresearch.com/industry-analysis/big-data-industry