Over the past decade, biologics have accounted for one-third of new medicine approvals
"Biologics" refer to a wide range of medicinal products such as blood or blood components, tissue, somatic cells, vaccines, recombinant therapeutic proteins, gene therapy manufactured from/comprising of living cells that are used as therapeutics to treat diseases. While chemical drugs are produced through chemical synthesis and mostly taken orally (as small molecules are easily absorbed in the body), biologics are made through complex biological processes and are mostly injected because proteins, which are large molecule substances, degrade in the stomach if administered orally. Due to their different molecular structure, chemical drugs are sometimes referred to as "small molecule" and biologics as "large molecule." These products have higher manufacturing costs, and therefore, higher drug prices.
First Generation versus Second Generation Biologics
Depending on the development period and the cell line used for the production, these products can be categorized into first generation and second generation biologics. First-generation biologics include insulins, growth hormones, and vaccines made from living cells, such as bacteria, yeast, and mold. Their cell culture and mass production are relatively easier, as they are produced using microbial cell lines.
Second-generation biologics are monoclonal antibodies and fusion proteins that are generated from animal cells in culture. These require relatively longer manufacturing processes, high costs, and high technology, because they can only be made with animal cells derived from mammals. Difference while using microbial and mammalian cell lines is that the latter require a post-translational protein modification system.

Biosimilars cannot be referred as Biogenerics
Biosimilars" took the place of "biogenerics," and the term "follow-on biologics" (FOB) is also broadly used in the US. As it is impossible to make identical generics due to the complex molecule structures involved. Biosimilars are known to be generic versions of biotech drugs, it isn't possible to create a generic biologic drug. Biobetters are built on the success of existing, approved biologics but are considered less of a commercial risk. These are not entirely new drugs and they aren't generic versions of drugs, either.
MABs: Leading core and next-generation technology for antibody optimization
Monoclonal antibodies driven by series of development in these products. IDT Biologika GmbH and CMC Biologics collaborated for manufacturing antibody drug conjugates (ADCs).
Discovery programs now leverage core antibody generating technology (transgenic mouse, phage display) and focus on next-generation techniques to enhance efficacy and safety i.e. Fc modifications, multivalent and bispecific antibodies.
In late May 2016, the United States Patent and Trademark Office issued Ajinomoto Althea a patent covering methods to crystallize monoclonal antibodies (mAbs) for the purposes of stabilization, storage, and safe delivery of active antibody crystal. It was developed to resolve issues related to stability, viscosity, and aggregation of complex biologic therapeutics.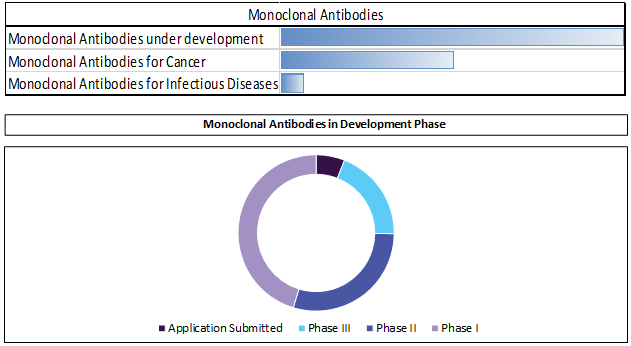 Competitive outlook
Biotechnology (biotech) companies can provide some of the most exciting investment opportunities – combining cutting-edge science and the hope of 'saving lives' with the potential for large returns. Companies are embracing hybrid business models. They begin as technology and service platforms, sustained by milestones and royalties from partnered programs. As such, all are well-networked within the pharma community. Cashflows generated from such collaborations enable investment in proprietary R&D; the fruits of which are now reaching latter stages of development.

In-depth report on global biologics market by Grand View Research:
https://www.grandviewresearch.com/industry-analysis/biologics-market