C-arms are imaging scanner intensifiers possessing radiographic capabilities. These devices are primarily used during surgical, orthopedic, cardiovascular, neurological, and emergency care. Technological advancements pertaining to C-arms are expected to improve the product's capabilities, hence, resulting in novel clinical applications. Certain features such as immediate responsiveness, precise control, and patient safety have made these devices a vital tool in advanced healthcare delivery.
The functioning of C-arms is controlled by a computer application that aids in controlling the movements of these devices on a real-time basis. As a result, high resolution images are obtained, which enable healthcare professionals perform critical medical procedures with utmost accuracy and reliability.
Mobile C-arms are expected to exhibit the highest growth rate as they offer higher image quality at a lower radiation dose in various clinical applications. This system enables visualization of kidney drainage, percutaneous valve replacements, abdominal & thoracic aortic aneurysm repairs, cardiac, & vascular surgeries and is used in orthopedics, gastroenterology, pain management, and neurology procedures.
Global fixed and mobile C-arms market, by region, 2016 (%)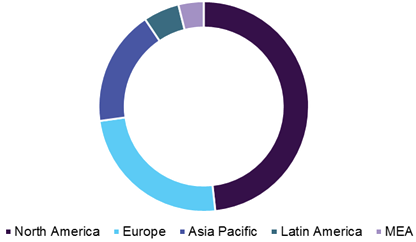 A number of companies consider revamping their products in order to increase their clinical value. For instance, GE Healthcare reintroduced one of its products named OEC 9900 Elite mobile C-arm system. The revamped system had few new features such as dynamic range management and motion-tolerant subtraction, which aid in receiving superior images in various situations. In addition, OEC's articulating SmartView pivot joint can get rid of positioning problems by allowing the C-arm machine to rotate and lock at any angle. Such flexibility helps healthcare experts achieve accurate images quickly with lower exposure, therefore improving the overall workflow and reducing radiation exposure of patients.
Similarly, Hologic Fluoroscan InSight Mini C-arm manufactured by Hologic, Inc. has undergone certain improvements, which has made the system more efficient, versatile, and cost-effective for performing complex surgeries. Furthermore, the company also made another improvement that includes a deeper C-arm that can accommodate any hand table and increases articulation range & maneuverability. Hence, with growing applications in orthopedics, cardiology, neurology, and pain management, mini C-arms have become standard equipment in hospitals, surgery centers, and clinics.
The C-arms market is consolidated with only few top companies occupying lion's share in the market. Players are investing heavily in R&D to expand their product offerings in order to maintain a competitive advantage over others. Some of the top companies operating in this market are GE Healthcare; Philips Healthcare; Siemens AG; Hologic Corporation; Shimadzu Corporation; Toshiba Medical Systems; Ziehm Imaging; OrthoScan, Inc.; Hitachi Medical Systems; and Eurocolumbus Srl.

In-depth report on global fixed and mobile C-arms market by Grand View Research:
https://www.grandviewresearch.com/industry-analysis/fixed-mobile-c-arms-market