Disorders related to the skin and hair are a matter of great concern for some people. Skin care treatments help improve appearance. These days, people are extremely conscious about their esthetic appeal, especially women. Hence, they adopt a large number of esthetic procedures including body shaping, acne removal, fat removal, and related procedures. These treatments are increasingly being performed by dermatologists and plastic surgeons to enhance their esthetic appeal. A survey conducted by the International Society of Aesthetic Plastic Surgery (ISAPS) in 2014 estimated that nearly 10,591,506 non-invasive esthetic procedures had been performed. The massive number of esthetic procedures is a testimony to the increased demand for dermatology devices. However, primarily, people with high disposable income are expected to go for esthetic procedures due to their high cost.
Global dermatology devices market share, by region, 2015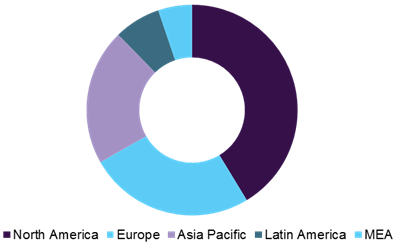 The rising incidence of skin disorders is one of the major factors driving the growth of dermatology devices market. Acne, skin cancer, eczema, psoriasis, and rosacea are some of the commonly observed skin disorders amongst the target population. According to the Right Diagnosis, in the U.S, 5.5 million people are affected with psoriasis. Hence, such high prevalence is continuously supporting demand for dermatology devices.
Skin cancer is a life-threatening disease, which may start from a small mole. Hence, there is a growing need for early diagnosis of skin cancer diseases, which is expected to minimize the number of deaths caused by skin cancer. Imaging devices have proved to be very effective in rapid diagnosis of skin cancer, for instance, melanoma. Dermatoscopes and microscopes are also very useful in accurate detection of skin disease at a faster rate. Vascular lesion is also a serious skin problem, which might lead to skin tumors resulting into a cancerous disease.
The dermatology devices market is rife with continuous technological advancements, which is further accentuating the demand for products such as laser treatment products, liposuction devices, and light therapy devices. For instance, the light therapy is an innovative treatment procedure that is used to treat acne at home settings. Key players are manufacturing various types of light therapy masks to cater to the unmet demand of the target population.
Tattoo removal and wrinkle removal are also being highly adopted by the aging population in order to eliminate the occurrence of adverse effects and improve their esthetic appeal. In addition, an increasing adoption of body contouring procedure has been observed amongst obese people. Plastic surgeons use liposuction devices to remove excessive fat and facilitate body reshaping of the patient.
Typically, women are highly concerned about their esthetic appearance, which positively influences the demand for dermatology devices. Women from the fashion and film industry are the primary target population and often opt for skin rejuvenation and facial & body reconstruction to enhance their esthetic appeal.

In-depth report on global dermatology devices market by Grand View Research:
http://www.grandviewresearch.com/industry-analysis/dermatology-devices-market