"The biggest opportunity for big companies has come by far in the digitization of internal processes"- Jack Welch
Technology has proved itself to be a boon for the mankind. It has transformed and revolutionized the human life, in more ways than one, for the better. Digitalization is just one new feather in the hat of technology, and it is set to transform data as a new currency. This provides a chance to capitalize on the data front with the efficient management of data using Digital Asset Management System (DAMS).
The combination of a DAM system and a Content Management System (CMS) offers more efficient processes in the publication and creation of content for social media channels, blogs, websites, and other online portals. Moreover, digital assets stored in a DAM system, cater offline distribution channels and non-web teams with seamless access to branded content. With the accumulation and expansion of devices and platforms used to deliver content, the management of digital assets has become increasingly necessary and complicated. The same can be achieved with the help of digital asset management. This has given the demand in Digital Asset Management Market a boost, so much so that it is expected to reach USD 5.60 billion by 2025, according to a new report by Grand View Research, Inc.
Before we go deeper in the market insights, lets first go through the nitty-gritties of the technology.
What Is A Digital Asset?
Digital assets are the digital contents like files, videos, photos and other media, which can be used as a data for multiple reasons. Digital assets are growing exponentially as digital content creation and sharing increases.
With the rise in proliferation of the digital infrastructure in the world, definition of digital asset is also changing rapidly, Rather than a definitive list of file formats that qualify as a digital asset, a digital asset can be any content, in any format, that is stored digitally and provides value to the company (or to the user or consumer). Some of the common files considered to be an asset are –
Photos

Videos

Slide decks (such as PowerPoint presentations)

Excel spreadsheets

Word documents

Plain-text files (such as Notepad files)

Graphics (such as logos and other brand assets)

HTML documents (and associated files, such as CSS)

Audio files

PDFs
2 Cents On Digital Asset Management
Digital Asset Management (DAM) is a system that stores digital assets in a central location and in addition to it shares and organizes it, so that it can be easily available when its need arises. It amplifies the benefits you receive from creative files such as images, videos and other media. Ultimately, DAM is a solution to a company's content sharing and storage. It enhances the creative potential in the company, by allowing them to quickly find the assets. A company with a strong DAM solution has consistent brand throughout each project and campaign.
Why DAM Is Damn Important?
Overabundance of digital assets is one of the problems major companies face, when it comes to reaping benefits from digitalization. DAM helps them take care of this problem in and easy way by organizing it. Along with these, other benefits are as follows:
Automates workflows and enhances team creativity

Locates media files quickly using sophisticated search capabilities

Manages press kits and picture collections

Automates watermarking for images

Manages permissions through extensive copyright functionality

Saves space with a seamless cloud experience

Tags images automatically and uses facial recognition
These benefits make it highly important for the big companies in the market, among which media and entertainment comes at top.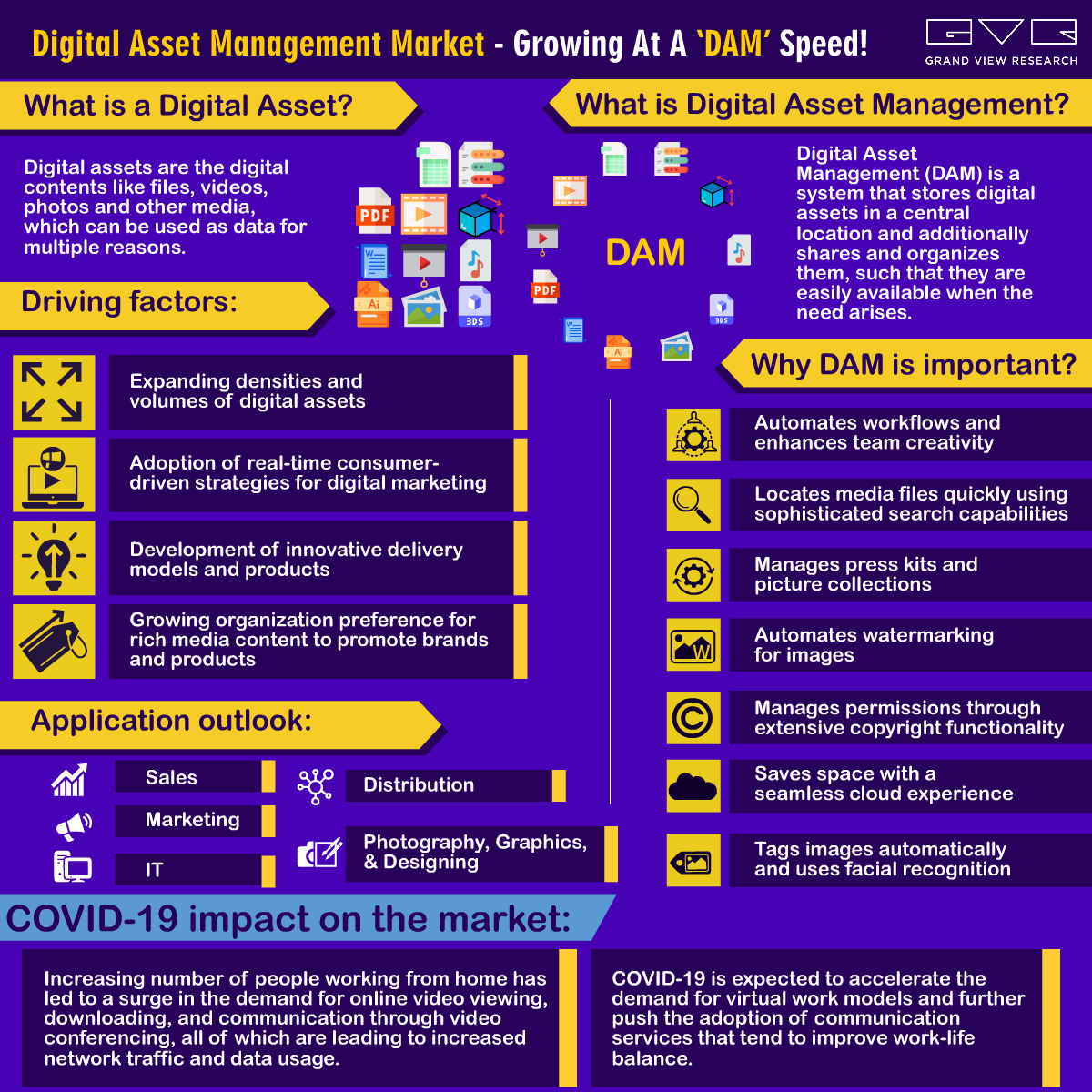 Competitive Insights
The surge in mobile device penetration and near pervasiveness of the internet, along with rising process digitization, have urged companies to adopt DAM solutions as an additional factor to encourage business development initiatives. Various industries have been increasingly using DAM solutions for managing massive digital content and are expected to leverage DAM solutions with technologies including mobility and next-generation interactive services.
SMBs and enterprises are adopting digital asset management solutions in order to centralize the digital assets. Furthermore, DAM helps organizations to manage, collaborate, store, and allocate metadata and asset tracking. Digital asset management solutions are deployed either on-premises or on cloud to provide users with cost-effective solutions. Cloud-based DAM solutions offer companies improved efficiency without expanding their IT resources.
The market consists of major players like OpenText, Adobe Systems, Oracle, ADAM, EMC, IBM, Widen, North Plains, and Cognizant. OpenText is one of the major players in this market and has adopted different strategies to cater to the demands associated with digital asset management, including new product developments and partnerships.
Recent Developments
Artificial Intelligence (AI) has brought some big changes in the DAM that led to improvement in efficiency of the softwares. For example, Brandfolder's smart discovery feature enables users to find text content from documents. Its AI-powered tools auto-tag assets upon import, which further allows users to search for images with specific criteria.

SaaS solutions are gaining demand as industry preference in the coming years. It was stated that nearly 51% of organizations today run their operations using SaaS applications and this number is expected to go further up. This shift is fueled by growth of mobile technology. Therefore, Software as a service has been accepted as a better option for the companies.

Syndicated Content is gaining ground in the digital communications arena. With the rise of Syndicated content, Boost to DAM is inevitable. Syndicated content can be stored, retrieved and shared easily, whether it's a blog post, video, or any piece of web-based content.

In-depth report on global digital asset management market by Grand View Research:
https://www.grandviewresearch.com/industry-analysis/digital-asset-management-market