The digital content evolution across different industries, including entertainment, finance, healthcare, and education, has resulted in an increasing competition within the market and has prompted companies in modernizing communication processes and systems. A majority of businesses are acquainted with the importance associated in adopting a content management system that helps in the seamless distribution, design, and creation of materials, which is expected to catapult Digital Asset Management (DAM) market growth
The combination of a DAM system and a Content Management System (CMS) offers more efficient processes in the publication and creation of content for social media channels, blogs, websites, and other online portals. Moreover, digital assets stored in a DAM system, cater offline distribution channels and non-web teams with seamless access to branded content. With the accumulation and expansion of devices and platforms used to deliver content, the management of digital assets has become increasingly necessary and complicated. The same can be achieved with the help of digital asset management.
The surge in mobile device penetration and near pervasiveness of the internet, along with rising process digitization, have urged companies to adopt DAM solutions as an additional factor to encourage business development initiatives.Various industries have been increasingly using DAM solutions for managing massive digital content and are expected to leverage DAM solutions with technologies including mobility and next-generation interactive services.
Global digital asset management market by end-use, 2015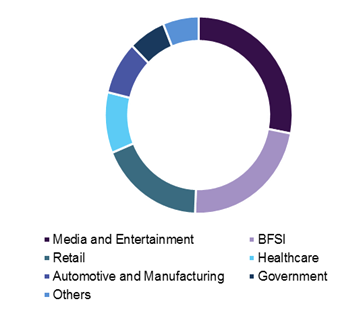 Asia Pacific offers high growth opportunities, which may be ascribed to the rise in technology penetration and larger investments in the cloud and digital technologies among small and medium enterprises as well as large enterprises to improve employee productivity.
Analyst Perspective
SMBs and enterprises are adopting digital asset management solutions in order to centralize the digital assets. Furthermore, DAM helps organizations to manage, collaborate, store, and allocate metadata and asset tracking. Digital asset management solutions are deployed either on-premises or on cloud to provide users with cost-effective solutions. Cloud-based DAM solutions offer companies improved efficiency without expanding their IT resources.
The DAM solutions' expansion on cloud has urged solution providers to offer cloud-based product offerings in order to enhance their market reach among different verticals of the industry. Moreover, DAM services and solutions are being exponentially used by a variety of industry verticals, including government, retail, media & entertainment, consumer goods, and healthcare. Nevertheless, the initial high investment and lack of knowledge about the right DAM solution are estimated to be the major deterrents to the industry growth over the coming years.

In-depth report on global digital asset management market by Grand View Research:
http://www.grandviewresearch.com/industry-analysis/digital-asset-management-market