Medical electrodes function by transferring the ionic current energy of the body into electrical current that can be amplified and examined for diagnosis of various cardiac, ocular, nervous, and muscular diseases. Medical electrodes play a vital role in providing ideal electrical contact between the patient and apparatus/device used to record or measure activity. Medical electrodes contain lead, metal, and electrode-conducting paste or gel.
The medical electrodes are of following types:
- Disposable or single-use (pre-gelled and without gel)
- Reusable disc (silver, gold, stainless steel, or tin)
- Saline-based
- Headbands
The medical electrodes are classified according to their diagnostic use into:
- Electrocardiogram (ECG): The ECG electrodes examines the electrical activity of the heart such as heart rate and size & position of the heart chambers
- Electroencephalogram (EEG): EEG electrodes measure and identify brain (neuronal) wave patterns by placing it over the patient's scalp
- Electromyogram (EMG): EMG electrodes evaluates muscular response by inserting needle electrodes through the skin in innervated muscle
- Electroretinogram (ERG): ERG electrodes record the electrical response of retinal rods and cones by placing it over the cornea of the eye in order to measure retinal electrical response to the - impingement of light, thereby evaluating retinal disorder
- Electronystagmogram (ENG): These electrodes record the eye movements by positioning metal electrodes around the eye to determine the presence of nystagmus
- Fetal Scalp Electrode (FSE): This electrode is used to measure the fetal heart rate (FHR) pattern when external monitoring is not possible
- Needle electrode: This electrode is used to evaluate the activity of a single motor or nerve units. Needle electrodes have two types such as simple straight needle and straight needle.
- Electrosurgical electrodes: The electrodes use the radiofrequency alternating current in order to perform Minimally Invasive Surgical (MIS) procedures
Global medical electrodes market, by region, 2016 (%)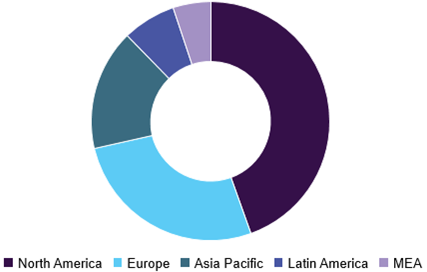 Medical electrodes: Market snapshot
Increasing demand for portable medical devices is observed around the world as they provide extended care from the doctor's clinic to their home for the treatment of associated diseases. The portable devices could manage major conditions such as heart diseases and diabetes at economic rates as they decrease the number of doctor visits or hospital visits for patients, therefore are anticipated to support market growth over the forecast period.
In addition, increased portability and introduction of nanotextured electrodes, a nanotechnology in brain monitoring & mapping devices, are expected to fuel the demand for electrodes in medical applications. In addition, increased funding from government agencies such as National Eye Institute (NEI), Department of Energy (DE), and National Science Foundation (NSF) are supporting R&D for this vertical.

In-depth report on global electrodes for medical devices market by Grand View Research:
https://www.grandviewresearch.com/industry-analysis/electrodes-medical-devices-market