Why Essential oils?
Essential oils have been used by many primitive cultures over thousands of years for various medicinal and health purposes. They are natural ingredients which are readily available in nature and can be extracted from flowers, barks, roots, leaf, fruits or fruit juices, vegetable or vegetable juices, herbs, spices etc.
The particles of the oils are obtained either by extraction or distillation process. Steam distillation is one of the most popular methods used to obtain essential oils, while other processes used include phytonic process and Enfleurage. Ancient Egyptians and Jews made them by soaking the plants in the oils and then filtrating them through a linen cloth.
These oils are gaining popularity in the modern era not only because of their medicinal value but also because of their nutritive, detoxification, antidepressant, anti-inflammatory, antimicrobial, and antioxidant properties. They act as natural medicines and refrain from any major side effects.
However, these oils are costlier than their synthetic counterparts owing to limited availability of raw materials and complex distillation process. Moreover, over-harvesting of trees for extracting essential oils such as frankincense, sandalwood, eucalyptus and others have adverse environmental impacts. Although strict laws are being made by the governments around the globe in this regard.
Essential oils as flavoring and fragrant agents
The application segments for essential oils can be broadly categorized as flavors, fragrances and aromatherapy. According to the studies conducted, flavors segment occupied the largest market share owing to rising popularity of adding authentic flavors to food & beverages. The essential oils such as thyme, lemongrass, rosemary etc., provide immense nutritive value to foods and increase the overall appeal of products with just a few drops, leading to a high value with less investment.
Essential oils are also generally employed as aromatic and flavoring agents across various industries such as home and cleaning, food and beverages, perfumeries, medical, spa and relaxation, and others. Increasing consumer demand for natural products owing to the health concerns related to artificial ingredients in food and drinks, cosmetics, medicines etc. is expected to boost the market.
U.S. Essential Oil Demand, By Application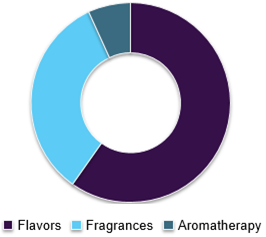 With rising popularity of these oils in aromatherapy, massages, stimulation, and relaxation techniques to heal skin, promote digestion, tone muscles, enhance circulation, and dispel viral disease, the fragrance segment is expected to generate the highest demand in the coming years.
However, rising demand in spas & salons for detoxification, relaxation, as well as growing importance of natural products for treating medical ailments are contributing towards the aromatherapy segment growth.
Largest importers and exporters of essential oils
More than 200 different essential oils are consumed all over the world, out of which around 75% of the market is captured by essential oils such as such as orange, asafetida, jasmine, rose, cardamom, chamomile, grapefruit, lime, mustard which are mostly used as flavoring & fragrant agents. Some of the other aromatic essential oils include frankincense oil, lemon oil, peppermint, lavender, clove oil, eucalyptus, cedarwood oil, sandalwood oil etc.
These oils have great medicinal as well as aromatic and nutritive values. It is said that the first ever medical prescription ever recorded was for frankincense oil which is followed by peppermint oil. More than 82% of frankincense is sourced from Somalia, while some frankincense is also gathered from adjacent countries such as India, Pakistan, Southern Arabia & Ethiopia, Sudan, & other Central African countries.
Most of the South Asian countries are major producers and exporters of essential oils. For example, India is a leading producer and exporter of high-quality sandalwood and lemongrass. Lemon grass also native to other South Asian, South-East Asian countries and Australia. Some other oils such as basil, thyme, rosemary are cultivated mostly in the European regions; France, Greece, Israel, Hungary, Egypt, Indonesia, Morocco & the United States being the major producers of basil oil.
Essential oil market in the U.S.
The United States is considered to be the largest importer of essential oils in the world. The growing food and beverages industries and rising demand for nature-based products are considered to be the reason behind the huge demand for essential oils in this region.
The absence of import duty and relaxed government regulations on selling and manufacturing essential oils is one of the most favorable factors for the market. The U.S. is also considered as the largest producer and exporter of cedarwood oil, owing to the suitable climatic conditions for the cultivation of cedarwood. U.S. mainly exports its products to Japan, United Kingdom, Canada, Germany and some other Asian countries.
While if the imports to the U.S. is to be considered then, the country is the largest importer of citronella oil followed by other European countries such as France, United Kingdom, Germany & Netherlands. The country fulfills its demand for frankincense oil and sandalwood by importing them from Somalia, India, and other Central African countries.

In-depth report on U.S. essential oil market by Grand View Research:
https://www.grandviewresearch.com/industry-analysis/us-essential-oil-market