The demand for floating solar power plants is expected to witness significant growth owing to the rapid depletion of fossil fuel reserves which is used for electricity generation and other applications. According to BP, the fossil fuel reserves were over 1,000,000 tons in 1994 which went down to around 890,000 in 2014. As a result, the energy producers are switching towards renewable sources with low environment degrading impacts.
As compared to regular solar plants, floating solar panels are easier to install and do not consume much time owing to the absence of a lengthy process of land acquisition. In addition, floating solar plants are efficient than the regular solar plants as the solar panels installed on the roofs and on buildings are prone to dust & pollution and shadow effect during sunrise and sunset. However, floating solar panels can be installed in the center of large water bodies where the pollution is minimal, and shadow effect is nearly absent.
Global stationery floating solar panels, 2015 (%)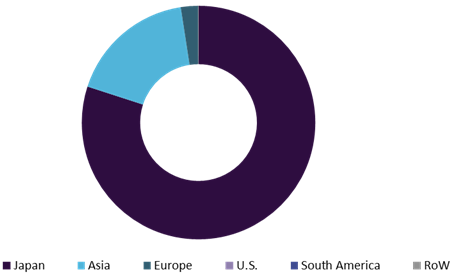 The stationery floating solar panels is expected to grow exponentially owing to the low cost of the installation coupled with high efficiency. In addition, high durability of stationery floating solar panels coupled with low maintenance cost is expected to bolster the industry growth, which in turn is expected to have a positive impact on the overall growth.
Solar tracking floating panels industry is expected to grow owing to the high-performance efficiency of the technology. However, high installation cost coupled with the low durability of the solar tracking systems is expected to hamper growth. In addition, the maintenance cost of the tracking technology is high, which is a major restraint to the market. However, the increasing investments by the panel manufacturers and the installers on research & development projects are expected to come up with new affordable solutions which are likely to aid market growth.
Japan is the leading installer of floating solar panels technology with over 90% of the cumulative installations across all the regions. Lack of natural resources in the country coupled with rising demand for power generation is expected to propel growth. The adoption of the technology is high in Europe.
The major players in the industry include Kyocera Corporation, Yingli Solar, Wuxi Suntech Power Co., Ltd., Trina Solar and Sharp Corporation. The small players in the market comprise Hanwha Solar, ITOCHU Corporation, Solaris Energy, Sunengy, Sinovoltaics Group, JA Solar Co. Ltd. and Mitsubishi Electric US, Inc.
Ciel & Terre is the major installer in the industry with over 50% of the total share. Its Hydrelio technology uses high density and sturdy plastic which increases the overall stability of the plant. The raw material cost is pretty low on account of which the overall cost of the plants comes down with low maintenance cost.

In-depth report on global floating solar panels market by Grand View Research:
https://www.grandviewresearch.com/industry-analysis/floating-solar-panels-market