Flow chemistry market is anticipated to witness significant growth over the forecast period on account of increasing focus towards manufacturing in healthcare and chemical sector. Flow chemistry is being increasingly utilized in diversified applications including pharmaceuticals, chemicals, petrochemicals, academia & research, and others.
Utilization of gas based flow chemistry technology is expected to prevail in the market. The technology is suitable for laboratory scale usage considering the process to be safe as well as adaptable especially when there is an involvement of hazardous material.
Global flow chemistry market revenue, by reactor, 2015 (%)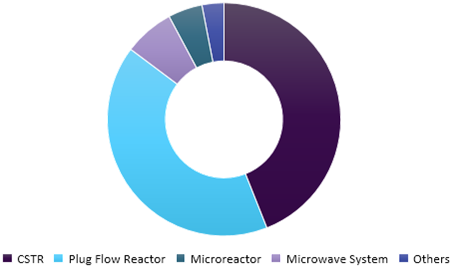 Microreactors are devices through which a chemical reaction takes place in micro-channels. These reactors are comparatively smaller in size as compared to other reactors thus enhancing the surface to volume ratio which ultimately improves the heat transfer and selectivity inside the reactor.
The relatively smaller size of this kind of reactors allow small-scale production, which enables their utilization in parallel with numerous microreactors in order to scale up the process. Moreover, lower reactor volume enables safe as well as easy handling of material that are hazardous or else unstable. However, high initial cost of the product has led to its low adoption in emerging economies.
Microwave technology is a typical process utilized by the chemists to perform synthesis but it witnesses a major drawback in scaling up. However, the flow chemistry process combined with the microwave technology addresses the problem. The combination of microwave and flow chemistry technology also simplified the process of synthesis and has escalated environmental feasibility for the reaction to take place including temperature, pressure and reaction time.
Continuous stirred tank reactors (CSTR) are the most commonly used continuous reactors for manufacturing biodiesel. However, other flow chemistry reactors can be utilized in the manufacturing process of fragrances, biofuels, and nanoparticles.
The agrochemicals industry is also expected to witness rapid advancements utilization of flow chemistry technologies in Europe. The manufacturers have been focusing on increasing the commercial scale utilization of process by intensifying technologies.
The U.S. is the largest market in North America. High chemical and pharmaceutical manufacturing coupled with increasing investment by the petrochemical manufacturers in the economy is expected to play a key role in augmenting the demand. Other key markets include Europe and Asia Pacific.

In-depth report on global flow chemistry market by Grand View Research:
http://www.grandviewresearch.com/industry-analysis/flow-chemistry-market