Emulsifiers are utilized as key additives in various food processing applications including bakery, dairy, meat, convenience products, and beverages. These products have contributed to a significant consumption of emulsifying agents since the past few years. Growing demand for convenience products is likely to open new avenues for emulsifying ingredients over the forecast period.
Convenience products mainly include processed and semi-processed victuals such as snacks, ready-mix or ready-to-eat packaged items, frozen products, and salty items. The consumption of convenience foodstuffs is increasing worldwide and is expected to rise in the coming years, owing to several socio-economic and lifestyle factors.
Changing consumer lifestyles across all regions is a major factor driving the demand for convenience products. Owing to the busy work culture, there is a noticeable increase in the consumption of semi-processed or convenient food products that require less time to be prepared or cooked. This scenario is currently reflected in developed and developing economies. Growth in the consumer household income coupled with changing consumer preferences for snacks with desirable tastes, especially in emerging economies such as China, India, and other countries in Southeast Asia, is another important factor.
The U.S. food emulsifiers market revenue share, by application, 2015 (%)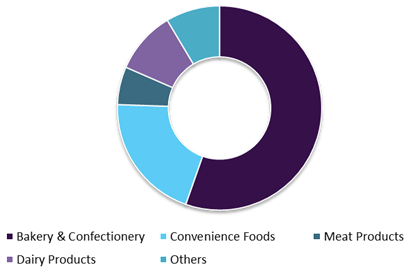 The U.S. is one of the key consumers of food emulsifiers industry. In 2015, bakery & confectionery accounted for the largest revenue share among the rest of application segments in the country. However, an increasing number of health-conscious consumers coupled with stringent regulations over the use of synthetically prepared emulsifying agents is expected to propel the requirements for natural food ingredients in the country. This factor, in turn, is likely to serve as a key growth driving factor for emulsifiers market in the U.S. over the next couple of years. Consumer preference for low-fat convenience foodstuffs in the U.S. is another driver of the industry.
The overall consumption of convenience products is likely to have a significant impact on food emulsifiers market over the years ahead. Various emulsifiers, including lecithin, stearoyl lactylates, and sorbitan esters that comply with food safety regulations are favorably used in the manufacturing of convenience products. These emulsifying agents help in maintaining the shelf life and overall stability of the food system. Furthermore, they are used for improving the volume and moisture retention properties of processed goods. These multiple uses of emulsifiers are expected to boost their consumption at a high growth rate, particularly in convenience products, in the near future.
Lonza Group, Cargill, Inc., Danisco, Riken Vitamin Co., Ltd., Palsgaard A/S, Beldem, BASF SE, Adani Wilmar Ltd., Archer Daniels Midland Company, Solvay S.A., Lubrizol Corporation, and Stepan Company are among the key players operating in the global food emulsifiers market. In 2014, Palsgaard A/S completed the installation operations of a new pilot plant for margarine production in Singapore. This strategy is estimated to boost the consumption of essential ingredients and additives required during margarine processing and also in offering low-fat margarine items to consumers in Asia Pacific region.

In-depth report on global food emulsifiers market by Grand View Research:
http://www.grandviewresearch.com/industry-analysis/food-emulsifiers-market