Increasing demand for chitosan in various end-use industries including wastewater treatment, agrochemicals, textiles, cosmetics, food & beverage and pharmaceuticals is expected to drive industry growth over the next eight years.
Chitosan from chitin can be achieved through both biological and chemical method. Chemical deacetylation is the most common commercial technique used for the manufacturing of chitosan. Chitosan manufacturing is a simple process and there is no standard method available for the purification of the product.
Global chitosan demand in pharmaceutical & biomedical, 2015 (%)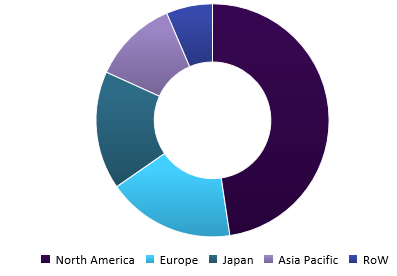 The majority of the chitosan manufactured has different physical properties including color, viscosity, and density. In addition, purity of the product differs from one manufacturer to another and manufactured chitosan is marketed under various grades including industrial, pharmaceutical, and food.
The product is a mucoadhesive compound and is used in transdermal drug delivery and has wide application scope in the biomedical industry. Rising consumer demand for chitosan as a fat binder and dietary supplement ingredient is likely to boost demand over the next eight years.
The pharmaceutical grade product has significantly high prices as compared to the industrial grades, and very few manufacturers manufacture highly pure grades of the product, which is anticipated to hamper the industry growth. The manufacturers across the world are likely to focus on developing technologies which will offer a high-quality product at minimum cost in order to tap the rising product demand in pharmaceutical & biomedical applications.
The product finds high demand in food & beverage industry owing to its biodegradability and low toxicity. Increasing penetration of the product as a food preservative and beverage stabilizer is anticipated to open new avenues for the product growth over the projected period.
Growing demand for frozen and packaged food products across the world owing to changing consumer eating habits coupled with increasing spending capacities is expected to drive demand over the forecast period. The product is likely to be driven by its application as a finishing agent in the winemaking process.
The industry has numerous players, however, a majority of them are small scale and give their product offerings in the local market. Increasing support for the fishery industry across various parts of the world is anticipated to ease raw material availability, thus driving the production volumes.
Initially, chitosan market was dominated by Japanese companies owing to the presence of key chitosan manufacturers including Dainichiseika Color & Chemicals Mfg. Co. Ltd., KIMICA Corporation, and Kyowa Technos Co., Ltd. However, major investments in the marine and fishery sector in the countries including India, Bangladesh, and Thailand have resulted in high production volume of shrimps.
In developing countries, the shell waste is often dumped directly into landfills or the sea. This disposal of raw material is costly, for example, it costs up to USD 150/ton in Australia, and hence raw material suppliers are likely to offer these products even at low costs which are expected to offer an advantage for chitosan manufacturers over the forecast period.

In-depth report on global chitosan market by Grand View Research:
https://www.grandviewresearch.com/industry-analysis/global-chitosan-market