Graphene is a thin layer of the purest form of carbon. It is a material stronger than steel and can be used in various industries such as electronics, energy, and composites among others. Production of high-quality graphene was initially a constraint to the commercial use of this material. However, with growing R&D and new technologies, this problem has been solved.
Graphene products can be broadly classified into nanoplatelets and oxides. Graphene nanoplatelets are manufactured using nanotechnology. They are extremely thin but strong and can be used for making touch screens for mobile phones and tablets.
In fact, these nanoplatelets can replace carbon nanotubes, carbon fiber and other such materials in composite applications. Courtesy their small size and material composition; these nanoplatelets can be used to improve properties of polymeric materials such as thermoset composites, synthetic & natural rubber.
Global graphene market, by region, 2015 (%)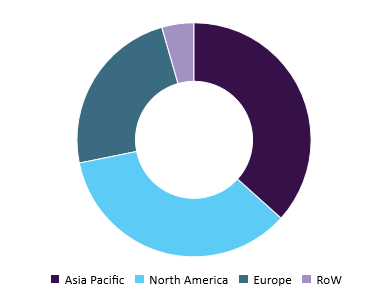 The electrical conductivity properties of the product are expected to give a major boost to growth owing to its application in photovoltaic cells, light-emitting diodes, batteries, touch-screen displays, and electronic transistors.
Graphene oxide products, which are used as transparent conductive films for applications such as smartphones, are also expected to increase the penetration of the product over the forecast period.
The rapidly growing electronics industry is the biggest driver of the global market. The growth of the electronics industry in the Asia Pacific region is expected to increase the demand for the product. The penetration of electronic products in the automotive industry of the region can be regarded as a key factor for the trend above. Major electronics companies such as Samsung, Asus, and Nokia are based in this region. The composites segment is projected to be the fastest-growing segment over the forecast period.
Growing aerospace and automobile industries, apart from the electronics industry, has driven the market in this region. The Asia Pacific region, with emerging countries such as China, India, and Indonesia, is projected to grow at the highest CAGR over the forecast period. Europe, which is home to some of the major automobile manufacturers, is projected to grow at the second highest rate from 2016 to 2024.
Major manufacturers include XG Sciences Inc., Angstron Materials, Inc., Graphenea SA, Thomas Swan & Co., and Xiamen Knano Graphene Technology Corporation Limited. Other major players include AMO Gmbh, Graphene Laboratories, Inc., Bluestone Global Tech, Group Nanoxplore Inc., Graphensic AB, Directa Plus, Vorbeck Materials, Grafoid Inc., and Haydale Graphene Industries PLC among others. These manufacturers are scattered throughout the world. Through strategic developments, these players try to enter new markets and consolidate their positions in the market.

In-depth report on global graphene market by Grand View Research:
http://www.grandviewresearch.com/industry-analysis/graphene-industry