Snacks is an important part of diet which helps to gain essential nutrients and maintain energy levels in a human body. Healthy snacks are emerging as alternative for traditional snacks. Healthy snacks have various advantages which include resistance to weight gain, curb the craving for additional food, boosting brain power, and improving health. Healthy snacks also provide an effective alternative to fit the much-needed essential nutrients such as vitamins, minerals, carbohydrates, fibres, and proteins in the diet. It useful to avoid over eating during meals, since snacks can always be consumed either, before or after a meal. In addition, healthy snacks also help to maintain the blood sugar level, which is particularly useful for people with diabetes, obesity, and heart diseases. These factors together are expected to boost the market growth over the next eight years.
Expert dieticians recommend having two meals and three snacks a day rather than consuming two meals, as this helps the body to regulate metabolism and get proper calories intake. Healthy snacks can be consumed at least three times in a day, which would help get the right calories. The granola & cereals snacks, nuts & seeds, meat snacks, dried fruit snacks are healthy snacks options which can be added to the daily diet plan. The granola & cereals bars held the largest market share of 33.5% in 2016, and the trend is expected to continue over the forecast period.
The rise in disposal income of population coupled with increasing awareness about healthy eating habits is anticipated to boost the healthy snacks market. The consumers are shifting focus from traditional snacks to healthy snacks, which offers enormous health benefits. Europe is leading the healthy snacks market as there is increasing conscious among consumers about benefits offered by healthy snacks.
Global healthy snacks market value (USD Billion), by region, 2016 (%)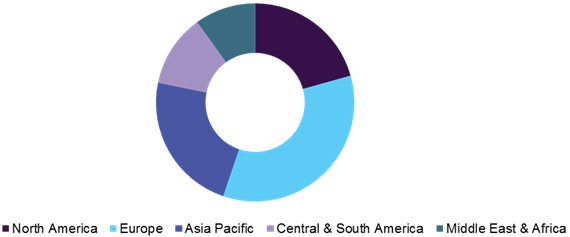 Surging demand for healthy snacks owing to various health benefits coupled with the advantage of low calorie content is expected to push the industry over the forecast period. The need for healthy snacks is on the rise owing to changing lifestyle which demands convenient and portable snacking option. However, high price of healthy snacks, compared to the traditional ones may have an adverse impact on the market.
Rising awareness for healthy snacks such as granola & cereals, nuts & seeds, fruit, meat, dry fruits snacks has led to increased spending by the consumer as these snacks are offered in different flavors. The various flavors aligned with the taste of consumers help to attract and retain more customers, which is anticipated to boost the market over the forecast period. Positive outlook towards healthy snacks among the U.S., UK, Germany, France, Spain, China, and India owing to rising young population is subsequently projected to drive the market demand.
General Mills, Mondelez International, Inc., PepsiCo Foods, Nestlé S.A., B&G Food Inc, and The Kellogg Company are companies with significant presence in the healthy snacks market. These companies are engaged in the production of various categories of healthy snacks with product differentiation strategies to maintain the market share over the forecast period.

In-depth report on global healthy snack market by Grand View Research:
https://www.grandviewresearch.com/industry-analysis/healthy-snack-market