Palm oil is the most efficient seed crop in the world. India's market is expected to be driven by the increasing demand for sustainable palm oil in edible & non-edible applications and rising hostility towards GMO based oils.
Indonesia and Malaysia are the largest producers of palm oil accounted for about 85%, and other manufacturer includes Thailand, Nigeria, Columbia, Ecuador and Papua New Guinea. Domestic production levels are significantly lower compared to consumption needs to be met through imports.
However, investments through foreign private entities and government funding could boost palm cultivation, thereby yielding greater volumes in the long-term.
Roundtable Sustainable Palm Oil (RSPO) certification ensures consumers that the standards applicable to palm oil are sustainable. RSPO brings stakeholder, as well as Non-Governmental Organizations and social groups along with the process value chain of palm oil production to promote the growth and use of sustainable products.
Domestic Crude Palm Oil Production
The raw material required for the production of RBD palm oil, palm olein and palm stearin is CPO. In 2015, India produced about 200 kilo tons of CPO while the rest is sourced through Indonesia and Malaysia. They are widely utilized in various food applications such as biscuits, ice cream, bakery, snacks and fast foods.
Only a small portion of CPO is utilized directly for cooking applications as edible oil. Palm kernels undergo crushing, refining, and fractionation to obtain derivatives such as kernel olein & stearin.
Domestic businesses are mainly impacted by differential duties imposed by Indonesian and Malaysian governments for the export of CPO and RBD palm olein. Duties on CPOs are higher than compared to the negligible amount charged for RBD palm olein.
The Government of India (GOI) has undertaken programs and scheme in order to increase production considering the high dependence of edible oil imports. Programme of oil palm area expansion (OPAE) under Rashtriya Krishi Vikas Yojana (RKVY) and oil palm development programme (OPDP) under Technology Mission on Oilseeds Pulses and are some of the challenging schemes of the Government.
Domestic palm oil production, (Metric Tons)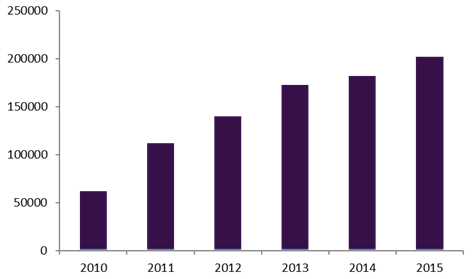 Economic instability as result of frequently altering export policies & regulations, tax regimes, and exchange rates is a huge challenge for the development of domestic production. They also face sustainability issues in terms of price sensitivity, supply chain inefficiencies, and low capacity utilization.

In-depth report on indian palm oil market by Grand View Research:
https://www.grandviewresearch.com/industry-analysis/indian-palm-oil-market