Insulating glass is commonly referred as single glazing, double glazing or triple glazed glass. It belongs to the category of value addition products which not only improve the aesthetics but also play a major role in reducing the energy consumption inside the building. The thermal insulation provided by the insulating glass is expected to reduce the costs spent on air conditioning by around 30%. The air spacing material, sealants, and desiccants are the important components of the insulating glass. The choice of sealants and desiccants has a major impact on the cost of insulating glass.
In the recent times, the world has been facing serious issues such as security of energy supply, climate change, and fluctuating energy costs. It is well-known facts that as the prices of basic raw materials go on increasing the costs of energy consumption are also going to increase. As the energy consumption goes on increasing the pollution resulting from it also increases. It has been estimated out of total energy consumption buildings & construction consumes about 40% of the world's total energy.
Share of Total Europe Energy Consumption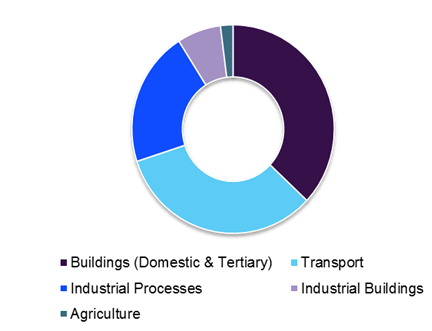 The process of manufacturing insulating glass is extremely cost intensive and the installation of insulating glass adds up to the costs. However, the longevity of the installation is generally profitable in terms of costs saved on energy consumption and the resulting carbon emissions from this usage. Insulating glass is recyclable, which means even at the end of its lifecycle the valuable resource is never lost.
Recently, a study was conducted on how much the European economy would be benefitted by the installation of energy efficient glass. The study shows that installation of energy efficient glass such as insulating glass would result in the rise in employment by about 70 person-years. If the energy efficiency of a residential building increases then it directly has a positive impact on the fuel poverty.
The new product development in the insulating glass market is the major influencing factor which is expected to boost demand for this product. The heat insulating properties provided by the insulting glass is expected to boost demand for insulating glass in cooler regions. The non-residential construction is expected to be a major consumer of acoustic insulating glass. The insulating glass is combined with other types of flat glass such as laminated and tempered glass to obtain the necessary properties.

In-depth report on global insulating glass market by Grand View Research:
https://www.grandviewresearch.com/industry-analysis/insulated-glass-market