The 3 E's - Eco-friendliness, Environment consciousness and Energy conservation - have meant a more demanding consumer crowd in construction space. How does it help out the insulated glass market?
In recent years, the world has been facing serious issues such as shortage of energy supply, climate change, and fluctuating energy costs. Energy conservation has become the name of the game, and this fact is not lost on organizations and institutions. It is widely accepted that as the prices of basic raw materials go on increasing, the costs of energy consumption are also going to increase. As the energy consumption goes on increasing, the pollution resulting from it also increases. It has been estimated that out of total energy consumption, buildings & construction consumes close to 40% of the world's total energy, with a similar figure for energy-related CO2 emissions. With construction being carried out in an unstoppable and almost reckless manner across the globe, there is a need to minimize energy consumption, and that is where insulated, or insulating glass comes into the picture.
The Concept
Insulated glass consists of 2 or more glass windowpanes that are separated by a gas filled space or vacuum, in order to reduce heat transfer across the building envelope. It is commonly referred as single glazing, double glazing or triple glazed glass. It belongs to the category of value addition products which not only improve the aesthetics but also play a major role in reducing the energy consumption inside the building. The thermal insulation provided by them is expected to reduce the costs spent on air conditioning by around 30%. The air spacing material, sealants, and desiccants are its important components. The choice of sealants and desiccants has a major impact on the cost of insulating glass.
Share of Total Europe Energy Consumption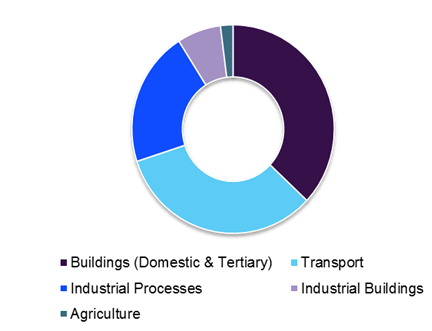 The process of manufacturing insulating glass is extremely cost intensive and its installation adds up to the costs. However, the longevity of the installation is generally profitable in terms of costs saved on energy consumption and the resulting carbon emissions from this usage. Insulated glass is recyclable, which means even at the end of its lifecycle the valuable resource is never lost. Also, to be effective, the glass needs to be sealed with a silicon sealant so that air between the glass panes is not leaked. If that happens, the glass will degrade over time and will have to be completely replaced, as it cannot be repaired.
An Efficient Solution
A study was conducted a while ago about how much the European economy would be benefitted by the installation of energy efficient glass. Results showed that installation of energy efficient glass such as insulated glass would result in the rise in employment by about 70 person-years. If the energy efficiency of a residential building increases, then it directly has a positive impact on the fuel poverty.
The main purpose that the insulating glass fulfils is in insulation by reducing both the gain and loss of heat. The energy efficiency of the building rises and power consumption is reduced significantly. With the use of reflective coatings and low e-glass, the heat transfer can be further reduced. The glass provides insulation in the aural sense too, as besides cutting out outside noise, it helps in improving the acoustics of the place. UV rays from the sun are also minimized, which otherwise can cause fading of colors of different objects in the room such as paintings, curtains and photos. The window is also much more secure than a normal single-pane window, as it is much harder to break.
The new product development in the insulated glass market is the major influencing factor which is expected to boost demand for this product.

Rapid construction, along with the awareness about the importance of energy conservation is expected to propel market growth.

The heat insulating properties provided by the insulting glass is expected to boost demand for insulated glass in cooler regions.

LEED (Leadership in Energy and Environmental Design) is a popular certification program for green buildings used globally, and with the growing popularity of the green building concept, this certification is highly desired by organizations, which positively affects the market.

The non-residential construction is expected to be a major consumer of acoustic insulated glass. The insulated glass is combined with other types of flat glass such as laminated and tempered glass to obtain the necessary properties.

Acoustic insulating glass is highly desired in cities with space crunch, as they help to cut out noise, while also being energy efficient, and with cities becoming increasingly starved for space, it is expected that consumers will make a beeline for these glasses.
Cost effectiveness is still a major bugbear for the market, as good quality and advanced glasses are more expensive, and this becomes a major constraint for consumers, even if they want to buy them.
Competitive Developments
The industry has few big-name manufacturers such as NSG(Pilkington), Saint-Gobain, Guardian Glass and Viracon, along with some others such as Cardinal Glass, Vitro Architectural Glass, Tower Insulating Glass Inc., Strathclyde Insulating Glass, Eco Glass, JE Berkowitz, United Plate Glass Company, Fuso Glass, Bystronic Glass and Ann Arbor Glass. Some of the recent developments from these companies include:
In August 2019, Vitro Architectural Glass announced that the Jewel Changi airport in Singapore has been making use of the Solarban® 72 Starphire Ultra-Clear® and Solarban® 70, a couple of low-emissivity solar control glasses, in its glass dome structure. The structure, which is worth USD 1.2 Billion, makes use of more than 550,000 sq.ft of Solarban® 70 glass, which has also been used in the construction of two glass-walled pedestrian bridges in the building.

In October 2019, Pilkington United Kingdom Limited, a subsidiary of the NSG Group, introduced a new toughenable dual coated glass, called the Pilkington Activ Suncool Pro T, which has self-cleaning, thermal insulation and solar control properties. The solar control performance will be available at 2 levels – 61/34 & 45/27 (61 and 45 stands for %age of light transmittance, while 34 and 27 stands for %age of solar energy received). The glass will be manufactured in 6mm and 8mm thicknesses.

In May 2019, Saint Gobain announced that they had acquired Pritex, which is a major player in acoustic and thermal insulation solutions, with the aim to provide solutions for the mobility market, with the purpose of safety, comfort and energy-saving.

In September 2019, Guardian Glass, a subsidiary of Guardian Industries, which specializes in making mirrored glass, consolidated glass and vacuum insulated glass, announced that it would be shutting down operations at its Millbury fabrication plant.

In-depth report on global insulating glass market by Grand View Research:
https://www.grandviewresearch.com/industry-analysis/insulated-glass-market