Krill oil is one of the major products that are projected as a direct replacement for fish oil owing to the high content of fatty acids such as the eicosapentaenoic acid (EPA) and docosahexaenoic acid. The fatty acids of fish oil are attached to triglycerides which can also have the adverse effect on the health but krill oil contains choline-containing phospholipids and a phosphatidylcholine which is more beneficial and easily absorbed by the body.
Global Fish Oil Consumption, 2015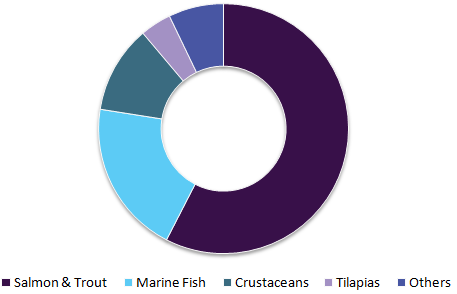 The fish oil market is dominated by salmon & trout. Crustaceans, from which the product is extracted, forms a very small part of the total fish oil market but is expected to develop huge opportunities for the manufacturers over the forecast period. However, the product demand has been low from its inception and the demand has been suppressed by the presence of another omega 3 supplements in the market. The growing acceptance of other fish oils over krill fish is one of the major reasons for the subdued growth. The industry is likely to be driven by growing demand of omega 3 substitutes and marketing campaigns aimed at educating the masses about the benefits of consumption of the product.
The companies featuring in the industry have a marked presence in the fisheries industry as it helps them to gain advantage for the backward integration in the market. The companies have established collaborations with shipping companies or have their own shipping vessels to ensure efficient supply of krill fish. Aker BioMarine which is a major player and part of the Aker Group is using services of Aker Shipping and Shipyard Company to ensure non-disrupted supply of raw materials. The Commission for the Conservation of Antarctic Marine Living Resources (CCAMLR), which is the authority that works towards protection of krill fish, has set certain strict measures owing to which the catch of krill fish every year is controlled.
The major reasons responsible for low awareness is the lack of consumer attention generated by the manufacturers. The makers of MegaRed, which is among the largest selling products, are working effortlessly to educate consumers about the product and its benefits. The market in the future faces heavy competition but it can be overcome by generating consumer interest in the current period.

In-depth report on global krill oil market by Grand View Research:
https://www.grandviewresearch.com/industry-analysis/krill-oil-market