The rising need for laser processing in the industrial solar module is expected to drive the market growth. The upsurge in demand from the industrial sector is expected to spur the growth of high-power lasers. High-power lasers that are used in hard facing or laser cladding act as alternatives to methods such as oxy-fuel gas welding, arc welding, and thermal spraying.
Laser processing systems have a wide range of uses in industrial applications including segments such as micro-processing and macro processing. Different processes, such as marking & engraving, micro-machining, shaping, and sizing of objects, employ laser technology. The micro-processing applications include the production of printed circuit boards, flat panel displays, semiconductors, and solar cells, while the macro processing applications include welding, cutting, and marking applications.
With surging advancements in the laser technology, the demand for the technology in medical applications is expected to rise at a significant rate over the forecast period. The technology offers faster recovery time, lesser pain, and smaller incisions. Lasers are also used in applications such as oncology, ophthalmology, cardiology, cosmetic surgery, gynecology, gastroenterology, dentistry, dermatology, and urology. Furthermore, with the rising adoption of laser procedures, the demand for surgical lasers is also anticipated to increase considerably. Additionally, surgical lasers have evolved from large and complicated equipment to fiber lasers and handheld diode lasers.
Global laser processing market by process, 2015 (USD Million)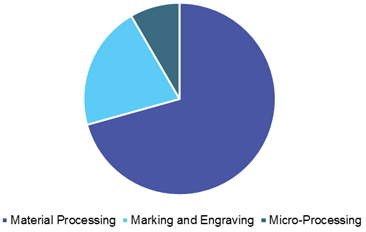 The graph above suggests that the materials processing segment accounted for a significant share in 2015. This trend is expected to continue over the forecast period and could be accredited to the usage of laser processing in several industrial applications.
Analyst Perspective
The Asia Pacific region is projected to witness high growth over the forecast period, owing to the growing number of OEMs in the region. Further, the widespread adoption of these technologies across several end-use industries is also expected to offer growth opportunities in the region.
In semiconductor manufacturing process, material processing is predominantly carried out with lasers. The surging demand for speed and precision is the key driver for the adoption of laser technology in this sector. The miniaturization of electronic goods is also carried out in this process itself. Applications in the semiconductor industry range from marking & separating of finished components and wafers to defect analysis.
Furthermore, factors, such as the escalating demand for mobile electronic devices & automobiles, the increasing espousal of disk lasers, the emerging applications of laser technology, LasSol (laser doping of solar cells), and use of green laser devices for projection applications, are anticipated to provide significant opportunities over the forecast period.

In-depth report on global laser processing market by Grand View Research:
https://www.grandviewresearch.com/industry-analysis/laser-processing-market