Lead acid batteries are used in various applications including automobiles, uninterrupted power supply systems, telecommunication, electric bikes, transport vehicles, and marine. Growing demand for these applications in emerging countries including China, Mexico, India, Japan, South Korea, Brazil, and South Africa on account of rapid economic growth and increasing population is anticipated to stimulate industry growth.
Lead acid batteries are expected to witness gain in light of their recyclable nature. Lead as an element is toxic in nature and should not be disposed. Therefore, it is recommended to recycle and reuse lead for the production of new batteries. Lead acid batteries are the most suitable to recycle as 70% of their weight contains reusable lead and are anticipated to observe market growth over the forecast period.
Abundant availability of lead in countries including China, the U.S., Australia, and Peru on account of growing mining activities is expected to increase the supply of the metal for manufacturing batteries. However, surging demand for lithium-ion alternatives owing to its efficiency and user friendliness is anticipated to pose challenges for the market over the upcoming years.
Germany lead acid battery market revenue, by application, 2015 (%)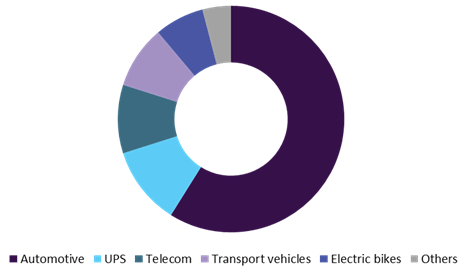 Europe lead acid battery market is driven by the growing production of automobiles in the region. Regulatory inclination aimed at promoting domestic vehicle production is anticipated to augment demand over the forecast period. Increasing wind and solar energy installations in Germany is expected to fuel the usage of these products in energy storage systems in the future.
Asia Pacific is projected to witness significant rise due to the presence of battery manufacturing bases in China, Japan, and India and various governments in the region pledging their support for infrastructural development. Furthermore, increasing spending on infrastructure and rapid industrialization coupled with increasing FDI in the manufacturing sector are expected to fuel product consumption over the next nine years.
The increasing number of solar energy harnessing facilities in China is anticipated to stimulate the requirement of these products in energy storage systems. Moreover, rapid industrial development along with the increasing number of players operating in China including Chaowei Power Holdings, China Shoto, Coslight Technology International Group, and Shandong Sacred Sun Power Sources is expected to propel industry growth.
The industry is highly competitive in nature with the presence of numerous big and small scale companies. Various players include NorthStar, East Penn Manufacturing Co., ATLASBX Co., Ltd., Crown Battery Manufacturing, Leoch International Technology Ltd., GS Yuasa Corp, C&D Technologies, Inc., Narada, CSB Battery Company Ltd., B.B. Battery Co., Ltd., Coslight, EnerSys, Inc., and Zibo Torch Energy Co., Ltd. In April 2012, Exide Industries Ltd. fully acquired UK-based distributor Espex Batteries Ltd. to strengthen its business sales in the Europe and the Middle East & Africa region.

In-depth report on global lead acid battery market by Grand View Research:
https://www.grandviewresearch.com/industry-analysis/lead-acid-battery-market