Plastic compounds have recently gained high attention in the expanding end-use sectors of Malaysia owing to their inherent lightweight and durable characteristics. The development of innovative plastics with bio-based ingredients and the integration of smart electronics into plastic films, sheets and compounds have attracted high interest from multinational plastic firms.
Companies such as Polyplastics Co. Ltd. have also announced the expansion of production capacities in Malaysia, to tap lucrative opportunities from this emerging economy. Additionally, the favorable regulatory framework in the form of government tax incentives and subsidiary schemes are providing a boost to the local automotive & manufacturing industries, which in turn are utilizing higher amounts of plastics.
The free trade agreements (FTA) between Malaysia & other countries, such as Trans-Pacific Partnership Agreement have further widened the market for Malaysian plastic products providing an opportunity for the plastic market in the country.
Over the past few years, Malaysia has been one of the major exporters of plastic products, among the ASEAN countries, for large destinations including Europe, China Singapore, Japan & Thailand. The Malaysian Government has also provided several incentives to foreign owned companies in order to attract FDI, that were operating in the export processing zones (EPZs). These include pioneer status, labor utilization relief, investment tax credits, accelerated depreciation allowances & export refinancing facilities.
Expanding automotive sector and rising consumer disposable income are expected to remain macro factors driving industry growth. The introduction of the 'Youth First Vehicle Scheme' has encouraged working class young consumers to opt for locally-assembled cars on a lower budget. Automotive emerged as the fastest growing end-use segment for plastic compounds in Malaysia with over 7.3% CAGR.
Automobile manufacturers are thus integrating a large number of plastics into their low-end car models to foster inexpensive, lightweight and sustainable vehicles that meet consumer & environmental standards in a limited budget.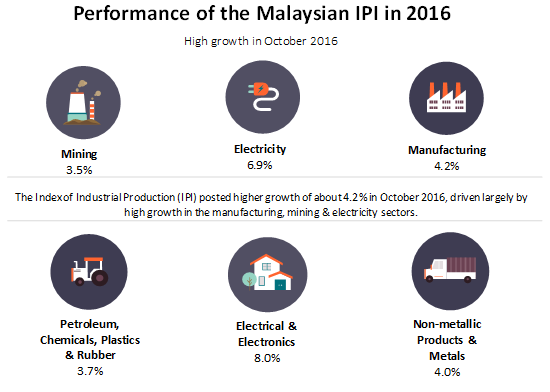 The sales value of the manufacturing sector in Malaysia rose by 8.2% in November 2016 as compared to the previous year. The Industrial Production Index (IPI) also grew moderately by about 4% in 2016, with expansion recorded in the manufacturing, mining and electricity sectors. These factors have contributed substantially to the rise in demand for sustainable materials such as plastics in the aforementioned industries.
Furthermore, plastic compounders in the region are attempting to streamline and improve their production technologies and capabilities in a bid to boost output levels. The dwindling reserves of non-renewable resources across the globe has led to an upsurge in technologies utilizing lower energy & materials to produce higher amounts of plastics.
Technological advancement in improving thermoplastic vulcanizate (TPV) grades and its biocompatibility has opened up avenues in medical devices segment. High potential applications in medical devices that range from syringe plunger tips & surgical cable coating to filter elements & diaphragms shall drive the product's demand in future. The product is expected to emerge as the fastest growing segment with over 8.7% CAGR.
Malaysia Plastic Compounding Industry Overview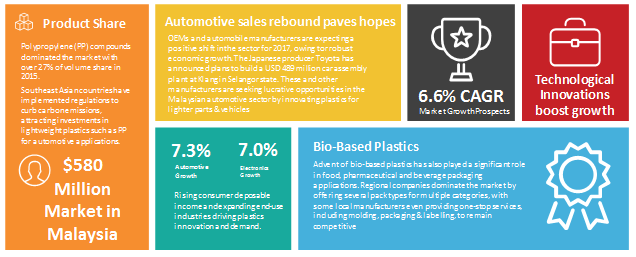 Other products such as polycarbonates (PC) are also witnessing high growth since PC sheets have experienced steady demand from the Malaysian market. High demand from global automotive OEMs on account of the product's high impact strength, UV protection, lightweight & better aesthetic value in vehicles has contributed to segment growth.

In-depth report on global malaysia plastic compounding market by Grand View Research:
http://www.grandviewresearch.com/industry-analysis/malaysia-plastic-compounding-market