The waste generated from medical devices manufacturing, expired medicines and other hospitals-clinics materials is categorized into different segments. The infectious material including human or animal tissues, blood soaked bandages, cotton, discarded blades, scalpels, surgical gloves, cultures, stocks, other substances may spread infection, if not handled with care. The non-infectious material includes paper, plastics and other general material; pharmaceutical waste such as returned, damaged medicines; and radioactive by-products generated from diagnostic and imaging tests.
Growing prevalence of infectious and chronic diseases requires various solutions such as diagnostic tests, biopsy, blood testing and other medical and surgical aids. The increasing usage of such systems resulting into generation of large amount of wastes and by-products are propelling the market growth. Supportive government initiative in funding medical waste management programs in developing countries is triggering the market growth. All these factors are anticipated to spur the market growth.
Global medical waste management market, 2016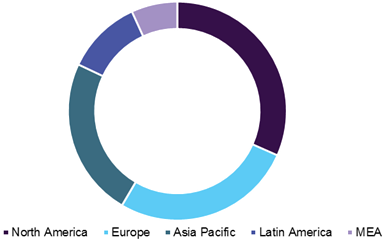 These materials and by-products can be managed offsite by outsourcing the services where service providers collect, store and disposal. However, with advancement in technologies many firms, hospitals, and clinical institutes are observed to manage their medical waste onsite, in order to reduce cost and decrease the holding time.
The treatment and disposal of waste segment hold the largest revenue share in 2015. However, recycling segment is expected to be the fastest growing segment due to rise in awareness with regard to ecofriendly manner of treatment and disposal of byproducts and residues and adoption of advanced technologies in recycling procedures.
Incineration is the most common treatment used for disposal which involves heating the material at high temperature. This leads to release of hazardous gases and emit mercury and dioxin in air resulting into air, water and land pollution. Hence, market is driven by introduction and adoption of advanced and sophisticated technologies which include non-incineration methods such as chemical treatment, autoclaving and other recycling methods.
North America dominated the market by capturing the largest revenue share due to highly developed healthcare sector and rising prevalence of infectious and chronic diseases requiring advanced medical and surgical assistance thus, generating large number of by-products and residues.
The growth in Asia Pacific is expected to exhibit the highest growth in near future due to rising social awareness and setting of stringent gudillines for proper disposal and treatment of medical wastes in very economical and ecofreindly mannner.
Very few players such as Remondis Medison GmbH; Republic Services, Inc.; Sharp Compliance, Inc.; Stericycle, Inc.; Suez Environment, Inc.; Veolia Environment S.A.; and Waste Management, Inc. hold a firm position in the market. On the other hand, many local players are operating in the market.

In-depth report on global medical waste management market by Grand View Research:
http://www.grandviewresearch.com/industry-analysis/medical-waste-management-market